Amy Schumer Responds to That Callout in the 'Gilmore Girls' Revival Trailer
So...would she be friends with Lorelai, y/n?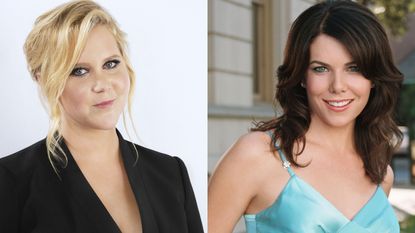 (Image credit: Getty Images)
In case you haven't heard/seen, Netflix finally dropped the trailer to Gilmore Girls: A Year In the Life (as well as a release date: November 25th) on Wednesday afternoon. True to the bantering nature of the show, Lorelai and Rory spend almost an entire minute debating whether or not Amy Schumer would like Lorelai. Lorelai makes a good case for herself, but ultimately Rory says no for just one reason: water sports.
"Every single time I see her in a magazine, she's on vacation doing water sports," Rory says.
"Ugh, no that would not work at all," Lorelai responds.
Well, mere moments later, Amy herself took to Twitter to express her thoughts on the matter:
Annnd Gilmore Girls responded:
Laying is perfect. We're good at laying. Much better at laying than water sports. Movie night sometime?July 27, 2016
See more
Safe to say she and Lorelai would be fast friends.
Follow Marie Claire on Facebook for the latest celeb news, beauty tips, fascinating reads, livestream video, and more.
My writing has regularly appeared in The New York Times, The Paris Review, Salon, VICE, Guernica, The New York Observer, BuzzFeed, Cosmopolitan, Seventeen, Esquire, Elle, Harper's Bazaar, and many more publications.

I was previously the Senior News Editor at Best Life Online and the Viral Content Editor in the Newsroom of Hearst Digital Media. My portfolio consists of a vast and diverse body of work that includes personal essays, lifestyle articles, breaking news posts, and viral content. My areas of expertise, however, are Russia, sex and relationships, and mental wellness.