Cher Has a, Uh, Creative New Nickname for President Trump
Is it dark in here? Or is Cher just throwing shade again?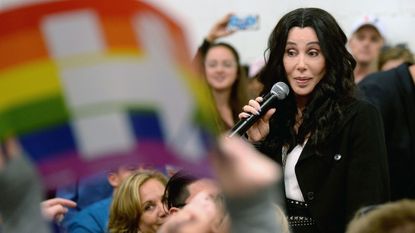 (Image credit: Archive)
It goes without saying that Cher is the Queen of Shade and that an entire generation learned how to throw it thanks to her. She even slayed her own mother in 1996 (opens in new tab) with this mic-drop moment:
Ever since Donald Trump won the Republican nomination, Cher has been extremely vocal on social media about how much she hates our new POTUS—or as she calls him, https://abs.twimg.com/emoji/v2/72x72/1f6bd.png (opens in new tab).
Donald Trump Says"I Could Knock @JoeBiden Out With ONE🌬BREATH....SURE HE CAN...🚽 HAS HALITOSIS🌬October 28, 2016
See more
world will never be the same. I feel Sad for the young.🚽will never be more than the toilet, I've used as a symbol 4 Him.U Can't Polish 💩November 9, 2016
See more
Many Presidents Have Hoped 4 aBetter Relationship With Strong man,Dictator of Russia,But None Have Bought The💍,& Registered at Tiffany'sJanuary 16, 2017
See more
DONT🐝FOOLED BY TRUMP'S SHINY(THE DOG ATE MY POPULAR VOTE)TOY‼️GOP WET DREAM HAS ALWAYS BEEN2 EXPAND VOTER SUPPRESSION (OF BLK & LATINO)LAWSJanuary 25, 2017
See more
trump is a thug,He talks & Acts like a thug.Hes like a low Class" DonCorleone"without EmotionsFebruary 9, 2017
See more
On Friday, Cher responded to the moment during Trump's incendiary press conference (opens in new tab) when he said, "this administration is running like a fine-tuned machine" with this gem:
🚽Says "his administration is running like a fine tuned machine".Yes....a Garbage DisposalFebruary 17, 2017
See more
President Trump is notorious for clapping back at his Twitter opponents, but so far he has kept his reaction to himself.
Follow Marie Claire on F (opens in new tab)acebook (opens in new tab) for the latest celeb news, beauty tips, fascinating reads, livestream video, and more.
My writing has regularly appeared in The New York Times, The Paris Review, Salon, VICE, Guernica, The New York Observer, BuzzFeed, Cosmopolitan, Seventeen, Esquire, Elle, Harper's Bazaar, and many more publications.

I was previously the Senior News Editor at Best Life Online and the Viral Content Editor in the Newsroom of Hearst Digital Media. My portfolio consists of a vast and diverse body of work that includes personal essays, lifestyle articles, breaking news posts, and viral content. My areas of expertise, however, are Russia, sex and relationships, and mental wellness.