The Best Reactions to the 2018 Oscar Nominations, from the Outraged to the Overjoyed
People are pissed that Tiffany Haddish got snubbed.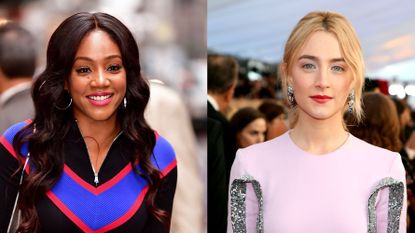 (Image credit: Getty Images)
The 2018 Oscar nominations were announced earlier this morning, and barely a moment passed before Twitter chimed in to do what it does best: Fervently react. From the applause for Greta Gerwig's best director nomination to the anger on behalf of Tiffany Haddish, people had a lot to say. See below:
A reminder of how many times a woman has actually won best director. #Oscars2018 pic.twitter.com/675ehCoQzKJanuary 23, 2018
See more
Greta already received an Oscar in my heart for incorporating Dave Matthew's Crash into her movie so poignantly. And now she did in real life!!!! Congratulations #LadyBird! 👏🏾👏🏾👏🏾January 23, 2018
See more
This is what you call a snub #OscarNoms.. You don't deserve Armie Hammer in that blue shirt. pic.twitter.com/MIvrphlWPpJanuary 23, 2018
See more
I love that Netflix finally broke through in the Oscar categories with a movie directed by Dee Rees, a Black woman. Please remember this - don't ever undervalue or underestimate us. #OscarNomsJanuary 23, 2018
See more
Really dig how 4 of the 5 directors nominated were nominated for the first time. Go Greta! #OscarNoms pic.twitter.com/WEoCdWaP0iJanuary 23, 2018
See more
When Armie is snubbed #OscarNoms #Cmbyn pic.twitter.com/WpUMFm5P7TJanuary 23, 2018
See more
My heart is breaking for Tiffany Haddish right now. #OscarNomsJanuary 23, 2018
See more
give tiffany haddish a fucking oscar for the way she says call me by your nameJanuary 23, 2018
See more
Saoirse Ronan got an Oscar nomination for Lady Bird. It's her third Oscar nom. She's just 23.Legends only. #OscarNoms pic.twitter.com/syIfn7v9cAJanuary 23, 2018
See more
90 years and now we we have one full hand of females nominated for best director.Lina Wertmuller (Seven Beauties), Jane Campion (The Piano), Sofia Coppola (Lost in Translation) Kathryn Bigelow (The Hurt Locker).Greta Gerwig - @LadyBirdMovie #OscarNomsJanuary 23, 2018
See more
Don't you think maybe they're the same thing — love and attention? Congratulations to Greta, Saoirse, Laurie, and the whole #LadyBird family on a landmark 5 #OscarNoms! #TimeToFly @TheAcademy pic.twitter.com/JT8H1Ru2VqJanuary 23, 2018
See more
I'm currently working at Dotdash Meredith as the Celeb & Entertainment E-Commerce Lead contributing affiliate content for People.com and InStyle.com. I'm basically like your personal shopper, from writing about that cozy loungewear set you didn't know you needed to keeping tabs on the best sales and deals on the internet. I'm also a pro at finding affordable dupes for celebrity looks and I love to dig into the data to strategize content opportunities.