Gisele's a Surfer Girl in Chanel No. 5 Campaign
If only we looked that good on the beach.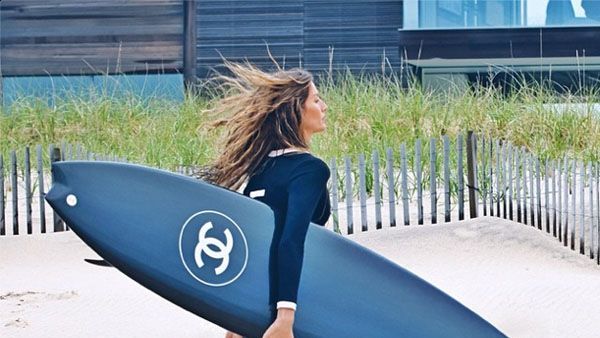 (Image credit: Courtesy of Gisele Bundchen)
There's a new lifeguard on duty, and she's most definitely not going to trade in her designer swimwear for a regulation suit.
Gisele Bündchen posted a behind-the-scenes image of what is possibly her Chanel No. 5 campaign , which shows the uber-model prancing gracefully on a beach as if she were on her way to rescue some poor soul from drowning. Clutching a surfboard emblazoned with that interlocked-C logo, she wears a navy-and-white bouclé jacket—or even better, a trompe l'oeil wetsuit—and presumably high-cut bikini briefs.
It was announced last May the supermodel would be following in the footsteps of Nicole Kidman and Vanessa Paradis as the star of the new No.5 campaign, and will team up with acclaimed Australian director Baz Luhrmann on the advertising campaign. By the looks of this picture, we'll be in for something great.
Related Links:

You Can Thank Marie Claire for Revealing Marilyn Monroe's Obsession with Chanel


Gisele Bündchen Dons Underwear as Outerwear With Ease


Chanel Nail Art How–To: The New French Manicure

Image via Instagram