Blake Lively and Melania Trump Wore the Same Ralph Lauren Suit
Each woman styled the print of the season differently.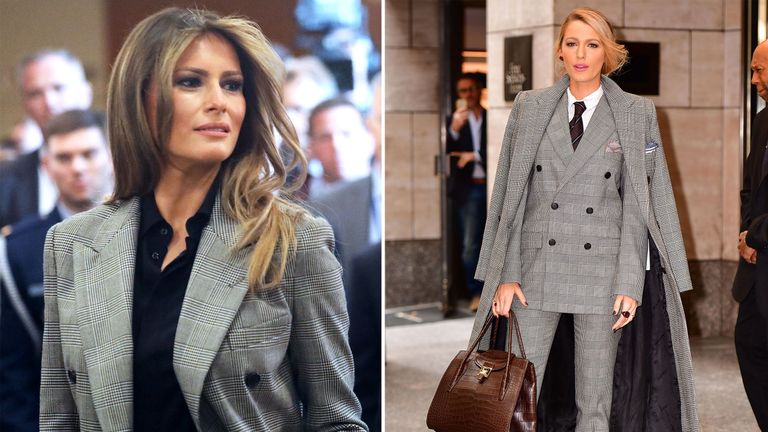 (Image credit: getty image)
Emerging as one of autumn's hottest trends, grey checked suiting has taken over everywhere from the street-style scene to the A-list to Instagram (if you haven't seen at least five bloggers wearing a grey plaid blazer, you may want to consult your optometrist for an eye exam). The latest to test-drive the look is none other than Blake Lively, who opted for a grey checked Ralph Lauren suit yesterday during one of her seven outfit changes (opens in new tab).
RELATED STORY
But the actress wasn't the first to step out in Ralph Lauren's Spring 2018 menswear-inspired suit. In September, First Lady Melania Trump wore the same double-breasted suit to hear her husband speak at the United Nations, making for an unexpected twinning moment.
Melania Trump: How she found her style groove
Image 1 of 66
Back in the late Nineties, Trump was a big fan of bejewelled embellishment – case in point at the annual Fragrance Foundation Fifi Awards in 1999.
Image 1 of 66
Back in the late Nineties, Trump was a big fan of bejewelled embellishment – case in point at the annual Fragrance Foundation Fifi Awards in 1999.
Image 2 of 66
She chose another sequinned, thigh-baring gown for VH-1 Divas 2000 tribute to Diana Ross.
Image 3 of 66
In the early Noughties, she stayed true to a questionable trend of the time – the ruched corset top.
Image 4 of 66
Trump is a long-standing fan of a fur coat, dressing like an extra from Narnia at the 2002 Victoria's Secret show.
Image 5 of 66
Nothing says an early-Noughties Christmas more than red taffeta.
Image 6 of 66
Trump opted for a Marie Antoinette look, complete with chiffon ruffles, candy-pink silk and silk slippers, at The Film Society 2003 gala tribute to Susan Sarandon.
Image 7 of 66
She attended Marc Jacobs' 2005 show wearing low-rise flared jeans and a pink floaty cami top.
Image 8 of 66
For the Breast Cancer Research Foundation's annual 2006 Red Hot Pink Party, she wore an empire-line babydoll dress in an appropriate shade of pink.
Image 9 of 66
By 2006, we begin to see a hint of what we can expect from the new First Lady – a demure lace shift dress.
Image 10 of 66
Trump was formerly big on empire-line satin and silk dresses, as seen when she hosted the New York premiere of 2007's Cadillac.
Image 11 of 66
In 2008, she showed a real commitment to the traditional glossy style of wealthy New York women in a matching two-piece suit in tan.
Image 12 of 66
She made quite an entrance in a shocking-pink gown at the 2008 Met Ball.
Image 13 of 66
Trump loves a strapless neckline and chose such a style for the 2009 Met Ball.
Image 14 of 66
Another dramatic gown – this time a midnight-blue creation by Christian Siriano – for the 2010 Met Ball.
Image 15 of 66
She chose a feminine skater dress and towering platforms for the 2011 premiere of Tower Heist.
Image 16 of 66
In 2012, she eschewed her usual Met Ball uniform of a dramatic gown for a pointed-shoulder cocktail dress by Marc Bouwer.
Image 17 of 66
Trump rarely wears trousers, preferring the obvious glamour of a fitted dress, but in 2014 she went for a change – wearing a panelled jumpsuit for the 20th-anniversary benefit for the European School Of Economics.
Image 18 of 66
She arrived at the Trump Invitational Grand Prix Mar-a-Lago Club in Florida with her son and husband wearing a little white dress.
Image 19 of 66
As the presidential campaign heated up in 2016, Trump swapped her favoured plunging dresses for a more conservative white Mugler gown.
Image 20 of 66
For the Republican National Convention in 2016, she showed her growing style prowess by wearing a white Roksanda Ilincic dress.
Image 21 of 66
Here we see Trump's style evolving to a more corporate look, as she leaves her husband's private jet in a classic belted LBD and understated court shoes.
Image 22 of 66
Her reserved demure look continued at the GOP Presidential Candidates Debate in 2016, with a fitted cobalt-blue dress.
Image 23 of 66
She chose a simple LBD for a Republican presidential debate.
Image 24 of 66
As her husband celebrated being made US President, Trump sported an asymmetric Ralph Lauren jumpsuit.
Image 25 of 66
Trump saw in 2017 with a Dolce & Gabbana black cocktail dress.
Image 26 of 66
Trump wore a gold shimmering Reem Acra dress to the pre-Inauguration Candlelight Dinner.
Image 27 of 66
First lady-elect Melania Trump departs St. John's Church on Inauguration Day wearing a powder blue Ralph Lauren outfit and matching shoes.
Image 28 of 66
First Lady Melania Trump wore a white Hervé Pierre dress to the Freedom Ball at in Washington which she part designed herself.
Image 29 of 66
Trump wore a black belted coat and navy patent Christian Louboutin heels to the National Prayer Service at the Washington National Cathedral.
Image 30 of 66
For her first appearance since the Inauguration weekend, Melania Trump was spotted landing in Palm Beach, Florida, wearing a red dress with split sleeves, and matching ballet pumps and clutch bag.
Image 31 of 66
Continuing her love of matchy-matchy styling, the First Lady opted for a fuchsia gown and co-ordinating pink pumps to attend the 60th Annual Red Cross Gala at the Trumps' Mar-a-Lago estate in Palm Beach.
Image 32 of 66
She opted for a powder blue cashmere jumper and white skinny jeans to attend a Super Bowl viewing party at the Trump International Golf Club in Palm Beach.
Image 33 of 66
To welcome the Israeli Prime Minister and his wife, Trump opted for a chic white suit, which she paired with matching white heels.
Image 34 of 66
The First Lady also appeared to have lightened her hair ahead of the occasion, sporting much blonder locks.
Image 35 of 66
FLOTUS opted for a pretty pink gown with caped detailing to attend a wedding.
Image 36 of 66
Melania drew some criticism (opens in new tab) for meeting with the Prime Minister of India in this boho Emilio Pucci maxi dress.
Image 37 of 66
FLOTUS wore a classic white shirt and Altuzarra pencil skirt to head off on a family weekend away.
Image 38 of 66
Melania welcomed the President of the Republic of Korea and his wife to the White House wearing a nude Roland Mouret peplum dress.
Image 39 of 66
She appeared on the White House balcony for a 4th July address wearing a navy blue dress with white-trimmed ruffles.
Image 40 of 66
The First Lady departed for a state visit to Poland wearing a black thin-knit jumper, checkered cropped trousers and black courts.
Image 41 of 66
For her arrival in Poland, she changed into a green suede trench coat.
Image 42 of 66
Her next look for the Poland state visit consisted of a brightly patterned midi-length Delpozo dress and fuchsia court shoes.
Image 43 of 66
Trump wore a feminine, midi-length Delpozo dress to conclude her family holiday at their New Jersey house in August 2017.
Image 44 of 66
25 August Melania Trump stepped out in a dark green shimmering dress with a striped edge detailing.
Image 45 of 66
29 August Donald and Melania Trump left the White house to to observe the Hurricane Harvey relief efforts in Texas. Melania was criticised for wearing black cropped trousers, a green bomber jacket and black stilettos.
Image 46 of 66
2 September Melania wore a more appropriate outfit upon arrival in Texas wearing cropped black chinos, a denim shirt and Converse trainers.
Image 47 of 66
10 September Melania Trump was spotted wearing a statement Calvin Klein colour-block shirt with black trousers and sunglasses.
Image 48 of 66
5 November Melania Trump wore a belted coat dress to visit the Mikimoto Ginza Main Store in the Ginza district of Tokyo with Akie Abe, the wife of the Japanese Prime Minister.
Image 49 of 66
6 November FLOTUS wore a navy dress with flared sleeves and metallic court shoes for a meeting at Akasaka Palace in Tokyo.
Image 50 of 66
7 November Melania Trump arrived at Osan Military Airbase in Osan, South Korea, wearing a structured burgundy coat, blue suede courts and square-frame sunglasses.
Image 51 of 66
8 November A classic black coat and courts for a tour of Beijing's Forbidden City.
Image 52 of 66
9 November The First Lady wore a floral maxi dress to attend a welcome ceremony at the Great Hall of the People in Beijing.
Image 53 of 66
Image 54 of 66
9 November The dress featured a knee-high split, showing off her towering pink stilettos.
Image 55 of 66
10 November A rare sight of the First Lady in flats for a visit to Beijing Zoo.
Image 56 of 66
21 November FLOTUS wore an autumnal ensemble of brown leather skirt, orange turtleneck jumper and brocade floral coat for the National Thanksgiving Turkey pardoning ceremony.
Image 57 of 66
30 November Melania wore a festive red coat and nude courts to switch on the National Christmas Tree in the President's Park next to the White House.
Image 58 of 66
31 December 2018 The First Lady rang in 2018 wearing a sequinned Erdem dress (opens in new tab) and bubblegum-pink courts for a New Year's Eve party at Mar-a-Lago.
Image 59 of 66
5 February Melania paired yellow and brown shades with leopard print heels on her return to the White House after a day trip to Cincinnati, Ohio.
Image 60 of 66
15 March A clear fan of leopard print, she wore a green leopard print midi-dress for a presentation at the White House.
Image 61 of 66
19 March She donned knee-high brown leather boots and a navy mac coat to travel to New Hampshire.
Image 62 of 66
2 April Melania wore a pastel blue coat for the 140th White House Easter Egg Roll.
Image 63 of 66
18 April She opted for a teal belted shirt dress when on a tour of the Flagler museum at Palm Beach.
Image 64 of 66
23 April The First Lady wore a black Givenchy cape for a tree-planting ceremony at the White House.
Image 65 of 66
24 April She went for a glamorous Chanel evening gown for a dinner at the White House with the French Prime Minister Emmanuel Macron and First Lady Brigitte Macron.
Image 66 of 66
24 April An all white Michael Kors outfit for a tour of the National Gallery of Art in Washington.
Proving the versatility of this season's ubiquitous suit trend, Lively fully committed to the menswear-inspired look, leaving her blazer buttoned up with a matching overcoat draped on top, and accessorising with lace-up boots, a briefcase-like Michael Kors bag, a black tie, and pocket squares. FLOTUS, meanwhile, went for a more relaxed take with her jacket unbuttoned, revealing a black blouse underneath.
The power of the power suit, indeed.
Lauren Alexis Fisher is the former market editor for HarpersBAZAAR.com. While studying fashion and business at LIM College in New York, she held internships at Diane von Furstenberg, Donna Karan, College Fashionista, and Harper's BAZAAR. Lauren covers fashion news, trends, shopping, travel, celebrity style, and more for Bazaar.com. When she's not glued to her phone or laptop, she enjoys traveling, brunching, and tweeting bad jokes.