Twitter Is *Not* Happy That This Model's Fall Was Aired During the VS Fashion Show
"WHY DID THEY INCLUDE XI'S FALL BUT NOT ARIANA'S ICONIC HEAD-STUMP."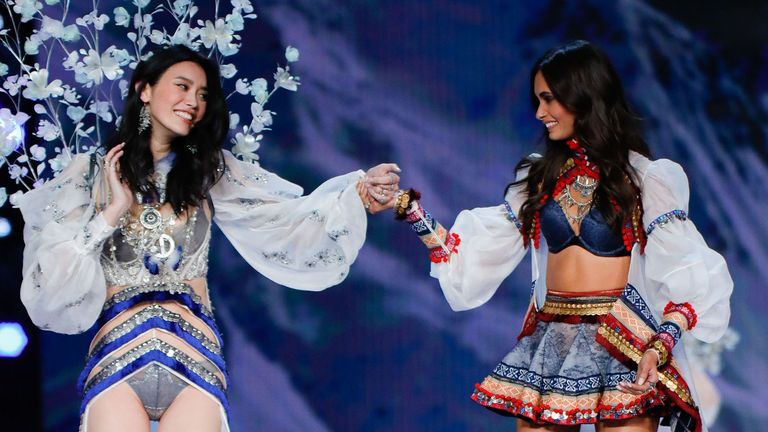 (Image credit: Getty Images)
If you stalk all the VS Fashion Show happenings, you probably knew before the show aired on Tuesday night that model Ming Xi would take a tumble on the runway.
But what the world/Twitter wasn't prepared for was whether the edited-for-TV version of the show—the live event took place November 20—would include her graceful fall or not. After all, the infamous collision between Elsa Hosk's furry wing and Ariana Grande's head from the 2014 VS show didn't make the final cut that year.
But gasp! Ming's fall in its entirety, complete with the heartbreaking behind-the-scenes footage afterward, was indeed televised for the world to see, and Twitter was NOT happy about it.
aaw they really did show ming xi falling like that in her hometown 😪 pic.twitter.com/SDfG2SxAptNovember 29, 2017
See more
omg and she's crying (tbh its a bit fucked up to air this part imho but then i recorded the footage to share on twitter so i dont really have a point i guess) pic.twitter.com/BvRpu0XANvNovember 29, 2017
See more
OH MY GODDDDDDDD I CANNOT BELIEVEEEEEEEE THEY SHOWED MING FALLING WHY WOULD THEY NOT USE THE REHEARSAL FOOTAGE MY GODDD I KNOW IT WAS NICE THAT GISELLE HELPED HER BUT STILL THAT'S HORRIBLE TO SHOW HER UPSET STOP #VSFashionShowNovember 29, 2017
See more
#VSFashionShow Me when she fell.😨 pic.twitter.com/thy3nGtSdPNovember 29, 2017
See more
#VSFashionShow No baby don't cry. You did your best and kept on going.👏🏾❤️ pic.twitter.com/ikhU2G0jv3November 29, 2017
See more
But you know what? Ming is a pro, and she finished that catwalk with more grace than I or you will ever have. This supportive Twitter user below said it best:
She fell but she put on a smile & finished that walk. You go, girl. #VSFashionShowNovember 29, 2017
See more
Brooke Shunatona is a contributing writer for Cosmopolitan.com.