Designing Bikinis for Trump's Bevy of Babes
Iranian designer Tala Raassi designs swimwear for the 2010 Miss Universe Pageant.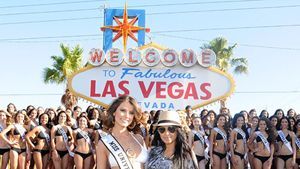 (Image credit: Courtesy of Tala Raassi)
Recently we told the life story of a young fashion designer in D.C. named Tala Raassi, who draws her inspiration from an unbelievable event in her past: When she was a 16-year-old girl in her native Iran, she was sentenced to 40 lashes for wearing a miniskirt to her own birthday party at a friend's private home. The event changed the course of her life, ultimately leading her to become a designer of women's clothing, because, as she says, "To me, fashion equals freedom." We hear that. Her latest project? Designing the swimwear for Donald Trump's 2010 Miss Universe pageant in Las Vegas. She's pictured here with the former Miss Universe and this year's global contenders, clad in bikinis she designed. Tune in to watch the pageant live — and see if any babes fall on their butts — on August 23 at 9 p.m. ET on NBC.
Abigail Pesta is an award-winning investigative journalist who writes for major publications around the world. She is the author of The Girls: An All-American Town, a Predatory Doctor, and the Untold Story of the Gymnasts Who Brought Him Down.