Why Does This Bag Cost $1,550?
Fashion Deconstructed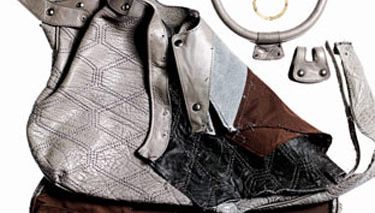 (Image credit: Jeff Harris)
Salvatore Ferragamo is brilliant at disguising comfort within luxe packages. The legacy lives on with the deceptively simple, softly gathered Eleanora shoulder bag. It took us one hour and seven razor blades to pry it apart. Somewhere, an Italian craftsman is crying.
MATERIAL WHIRL
Calfskin and pigments are spun in wooden barrels, then sponge-pressed.
SEW COOL
A hand-guided sewing machine effects the Celtic-style geometric stitching.
BUMPY RIDE
A chrome-and-salt treatment gives the leather its pebbled texture.
REALITY CHECK
An original serial number ensures authenticity.
TEST TIME
To test durability, it's loaded with weights and subjected to high humidity and extreme light.
TOTALLY TUBULAR
Soft calfskin-covered rope makes for an easy-carry handle.
RING ME
Signature brass gancino (Italian for "metal hook") displays the logo.
SO TOGETHER
Thick calfskin cutouts are secured with brass studs.
WHAT A MESH
Thin polypropylene is stitched to the pattern.
ZIP ME
Brass zippers are cradled by dyed cotton.
OPEN UP

The lining is a 65 percent polyester/35 percent cotton blend.