Editors' Picks: Our Favorite Looks from New York Fashion Week
Our fashion team has selected the most awe-inspiring fashion statements to hit the runway at New York City Fall 2011 Fashion Week.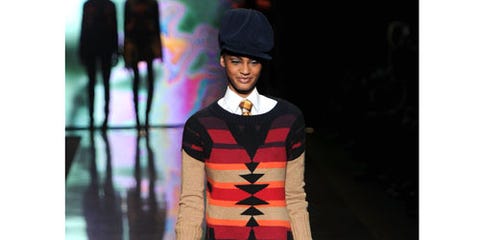 Frazer Harrison/Getty Images
Each day of Fall 2011 Fashion Week, dozens of designers showcase dozens of models wearing dozens of amazing new looks. So how do you keep track? With the help of our fashion team, who has selected the most awe-inspiring fashion statements to hit the runway.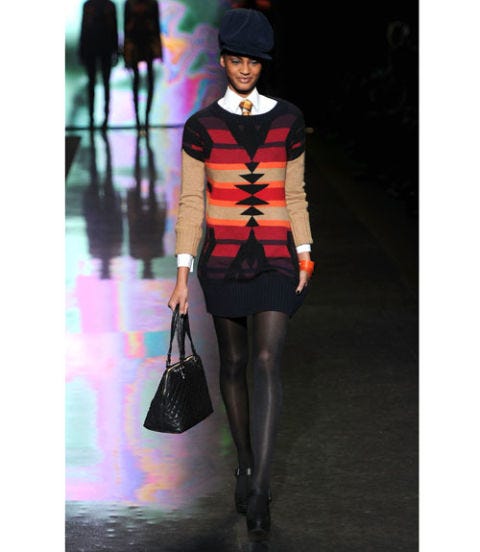 Frazer Harrison/Getty Images
L.A.M.B.
Gwen Stefani's fabulous Navajo prints in sunset shades at L.A.M.B. put us in the mood for some premature leaf-peeping.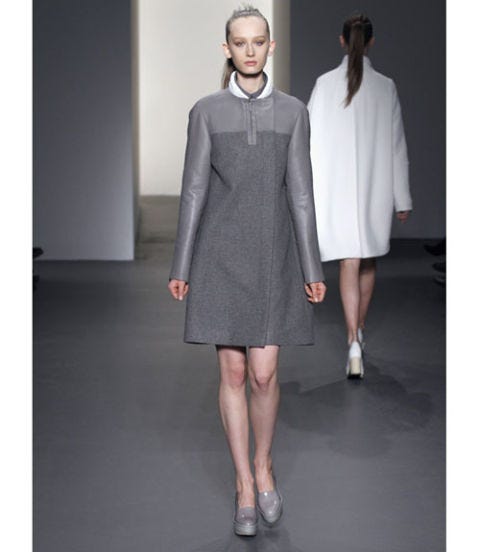 Calvin Klein
The must-have jacket for fall 2011 mixes rich textures. At Calvin Klein, it's all about buttery gray leather and wool.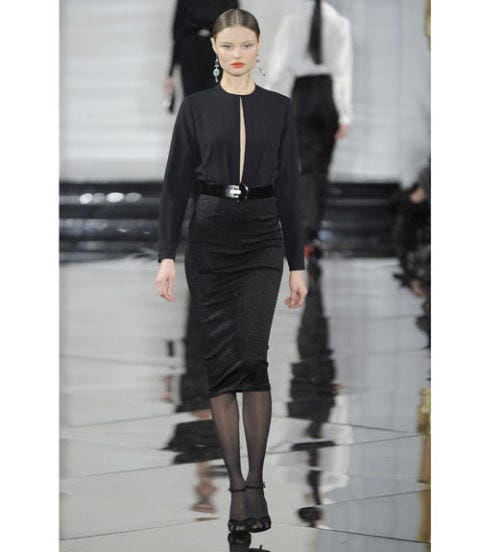 Ralph Lauren
With just a hint of skin, Ralph Lauren's little black dress is breathtaking. The art deco accessories nod to the past while staying firmly grounded in the right here, right now.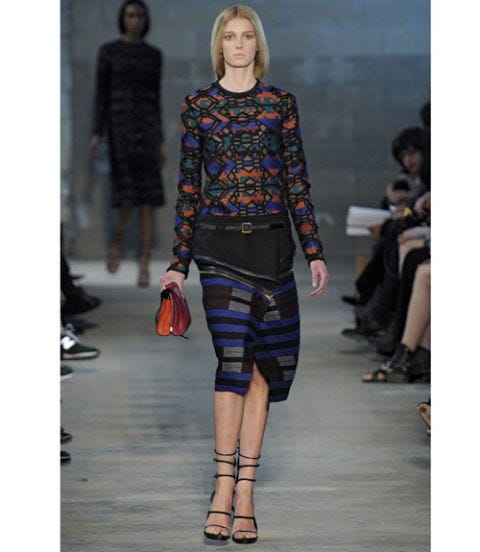 Proenza Schouler
Choosing a favorite look from the Proenza collection is like saying you love one child more than the other. We didn't think we could fall any harder for Jack and Lazaro until yesterday. The prints, the colors, the textures! The love affair continues.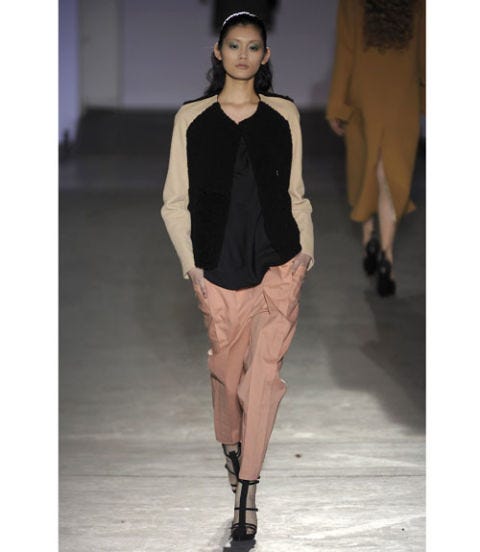 3.1 Phillip Lim
He may have made green a focal point when he designed his fall collection but it's the blush basics in Phillip Lim's fall collection that have our hearts racing. The slouchy pants with his take on a letterman jacket (curly black shearling with leather sleeves) are simply divine.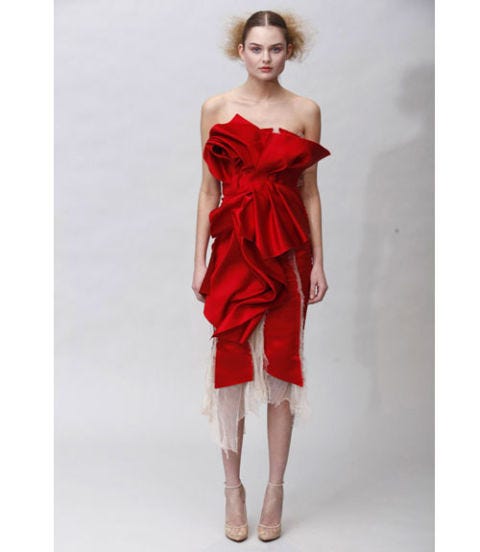 Marchesa
Georgina Chapman and Keren Craig at Marchesa are always a favorite on the red carpet. Sculptural and slightly deconstructed, this dress has the look of modern art.
Marc by Marc Jacobs
Only the bravest of souls can pull off head-to-toe hot pink leopard print, but when they do, the look is unforgettable. Note the red bag. If Marc says red and pink can be worn together, then it shall be so!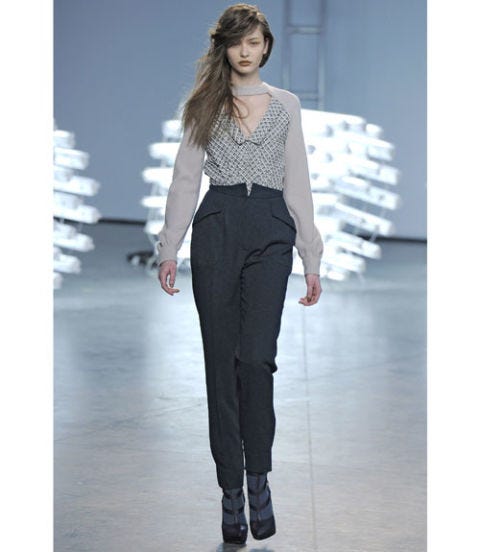 Rodarte
For fall, the Rodarte girls take on more wearable (if no less affordable) for the average gal. Loving the prairie-inspired looks with a futuristic feel.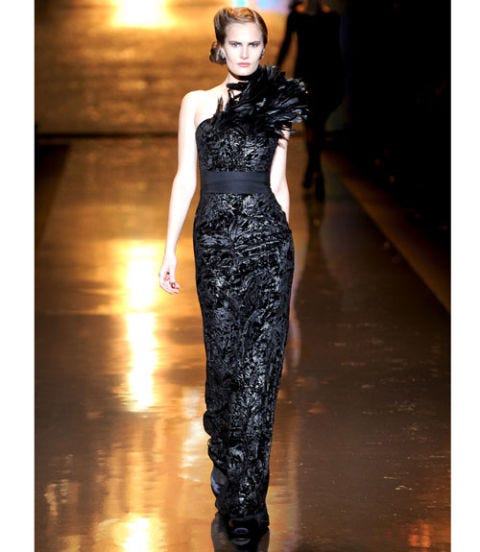 Badgley Mischka
Why hello there, Black Swan! If only Natalie Portman wasn't knocked up, this could be a solid contender for her gown at the Academy Awards.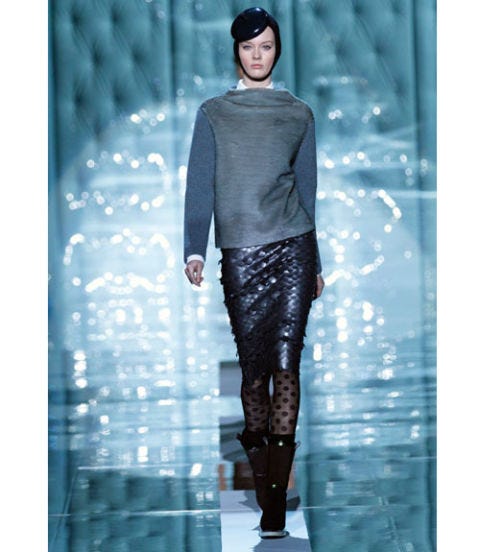 Marc Jacobs
The bellwether of fashion, Marc Jacobs, surprised yet again using latex paillettes for a sequin effect. So very Splash.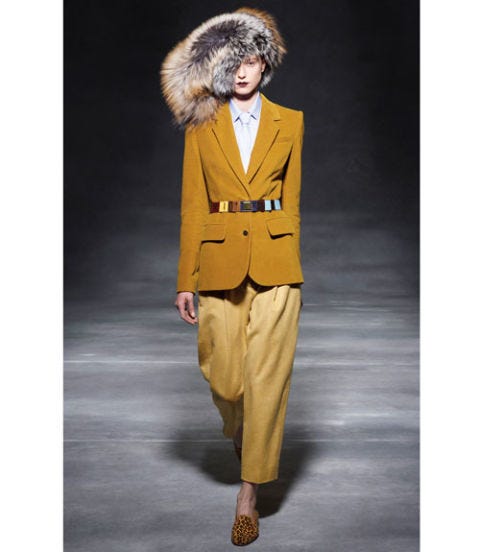 The Row
Updated menswear by Mary-Kate and Ashley Olsen for The Row looks delicious in mustard yellow.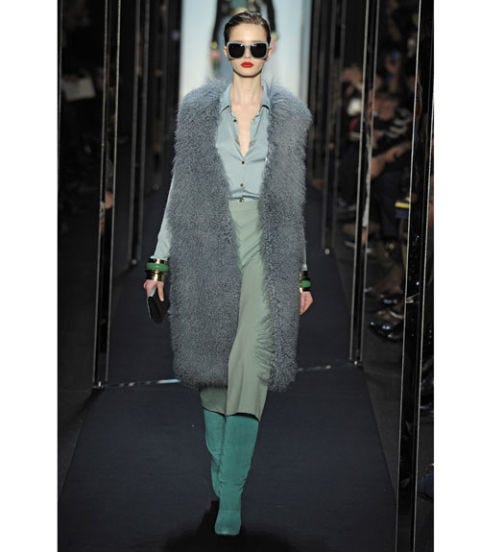 Diane von Furstenberg
Since handing over the design reins to Yvan Mispelaere, the house of Diane von Furstenberg has become so much more than wrap dresses. The mix of minty greens in this single look is so fresh for fall.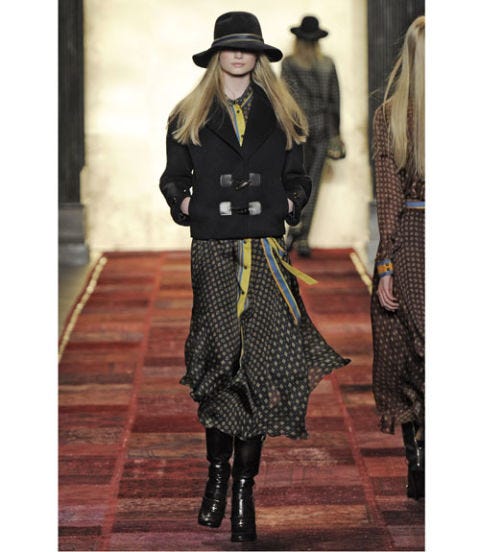 Tommy Hilfiger
The pajama game from spring carries over into the fall season. Tommy Hilfiger's men's PJ print dresses are a fresh and perhaps more wearable version of the trend.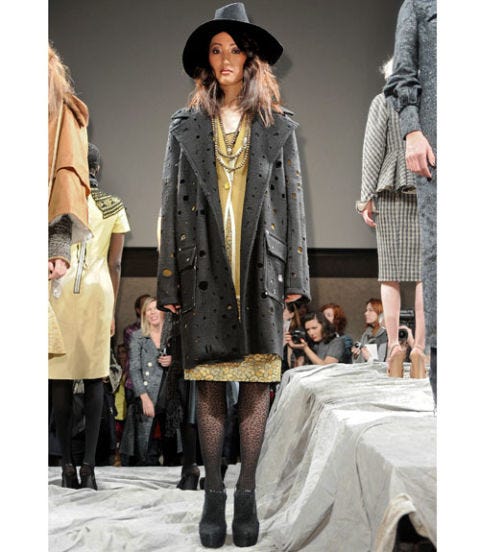 Chris Benz
Chanel did it for spring 2011, now Chris Benz for fall: Could moth holes be the new studs?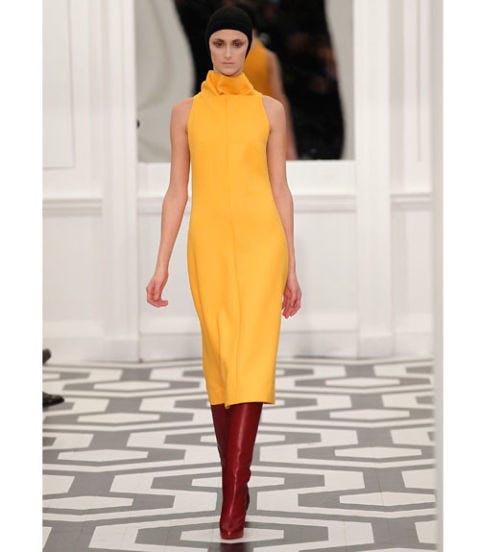 Victoria Beckham
Victoria Beckham loosened up her fits (the better to dress the bump, my dear) and gave them a slightly French twist for fall. It's another home run for Mrs. Becks.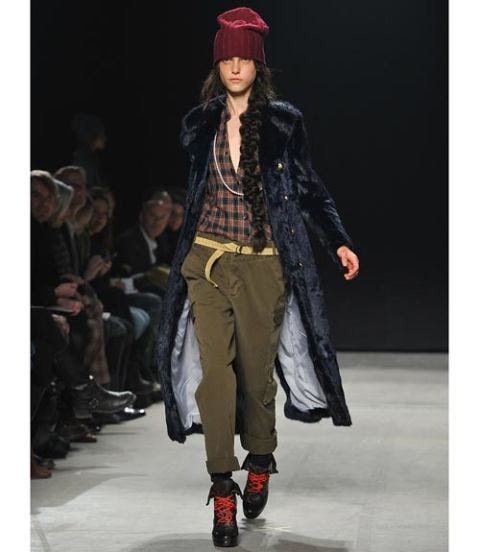 Band of Outsiders
Just when you thought there couldn't be another iteration of the trench coat, Band of Outsiders covered the wardrobe staple in fur and lined it in satin.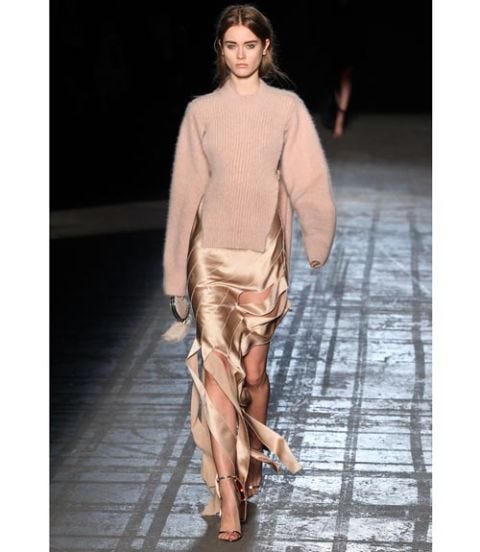 Alexander Wang
The typically stark colored collections of Alexander Wang (think all black and white) took an unexpected turn with hints of blush pinks and bright yellows. Love how this look takes a practical yet edgy approach to evening wear for winter — cozy and sexy at the same time.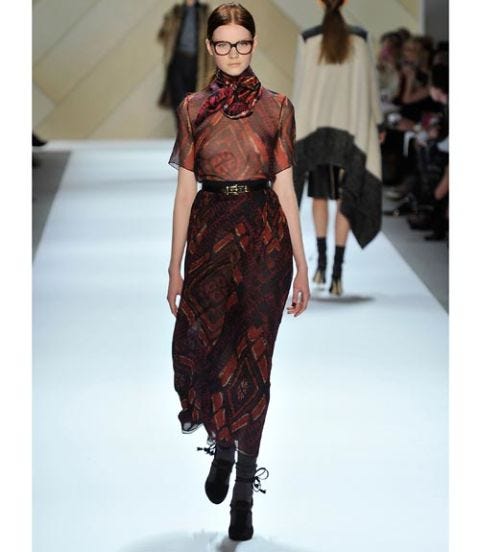 ADAM
There's been a surprising amount of sheer fabrics on the runways for fall. Adam Lippes played with varying degrees of transparency to keep this all-over pattern from looking too busy. Very clever.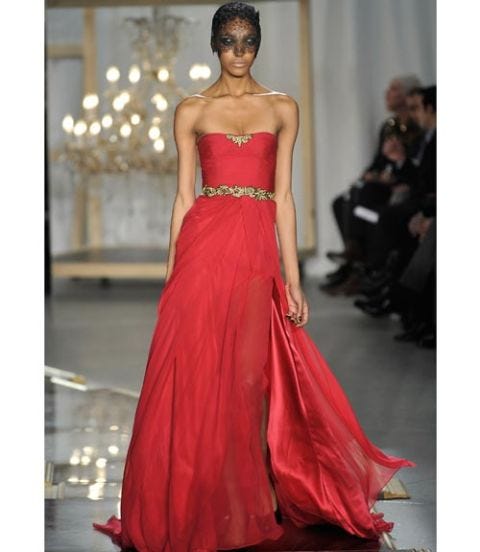 Jason Wu
Something tells us that the next time the First Lady is in need of a red strapless gown for a state dinner, she'll know just what all-important American designer to turn to.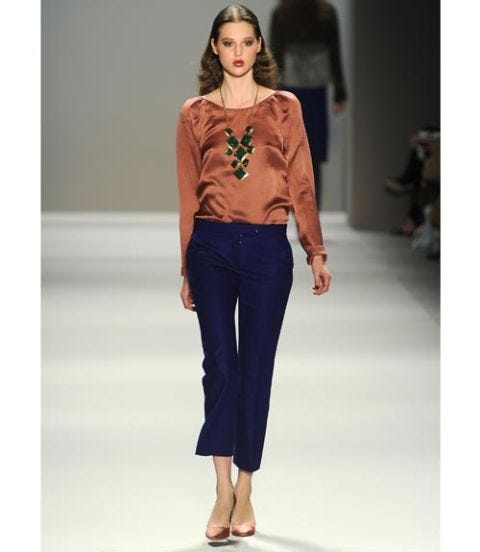 Rebecca Taylor
It's always a thrill to see a look that you want to wear directly off the runway. Rebecca Taylor's cigarette pants and satin blouse with statement necklace is effortless-chic perfection.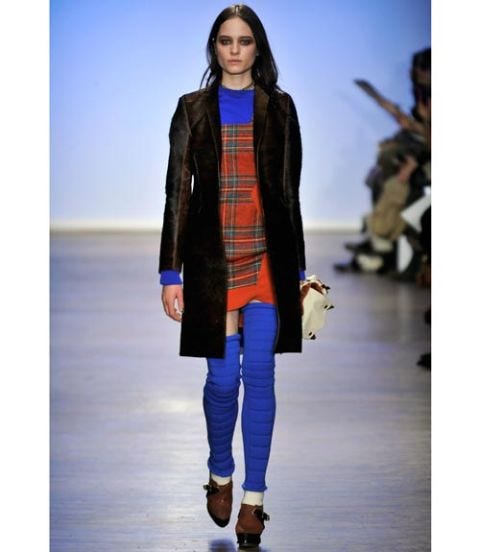 Rag & Bone
Pictures don't do it justice, but this mottled pony-hair coat is truly a sight to behold. It glistened down the runway!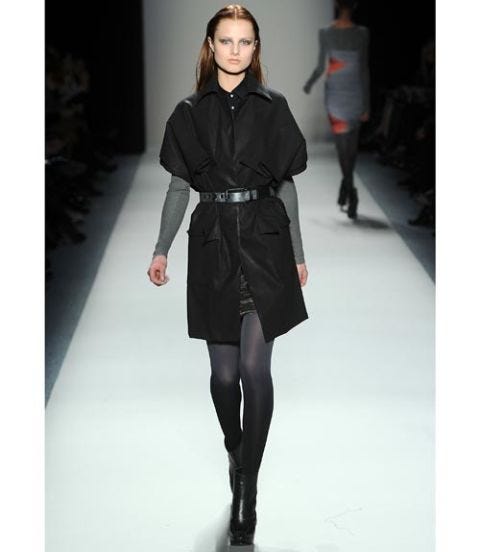 Nicole Miller
Obsessing over the dual-toned tights at Nicole Miller — such a subtle way to take a look from dull to dynamic.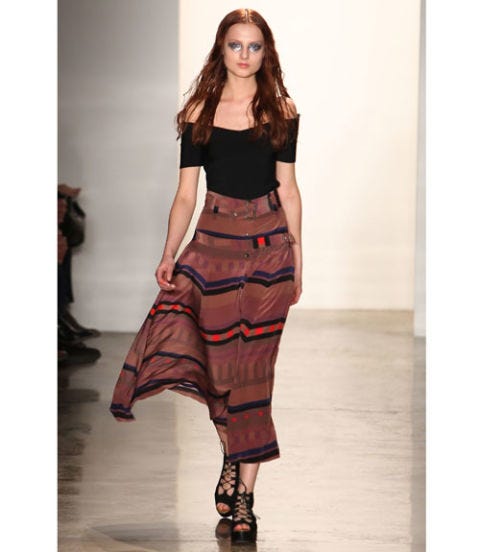 Vena Cava
It's always a wonderful thing to see unexpected color combos come together beautifully. If only this skirt were available for spring. Sigh.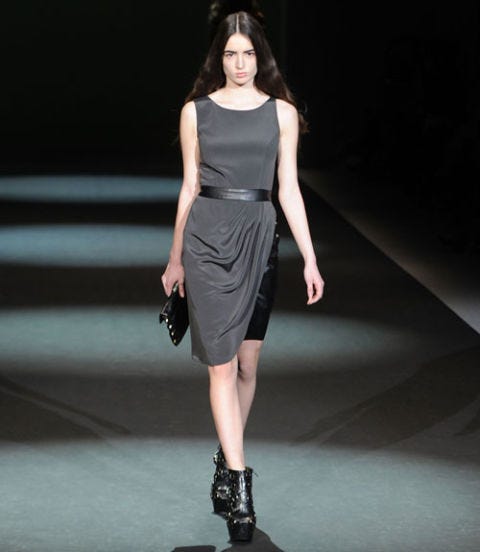 Christian Siriano
Looks like Project Runway alum Christian Siriano is toning down his game from the over-the-top gowns of last season. This dynamo little black dress manages to be both structural and draped at the same time. Gorge!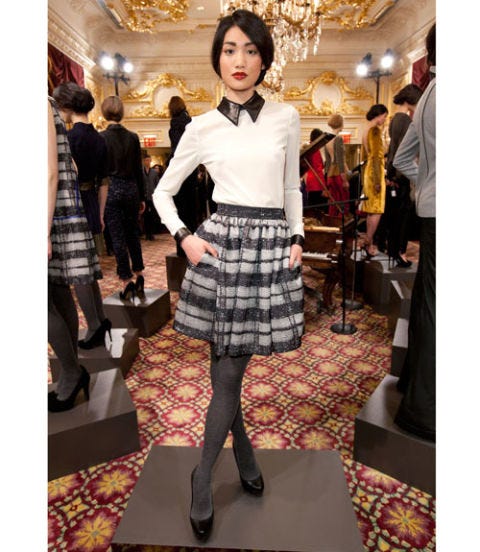 Wes Gordon
Up-and-coming New York designer Wes Gordon does luxe lady-wear. We can totally see Alexa Chung rocking this look come fall. The leather collar and cuffs give the shirt a total cool-girl vibe.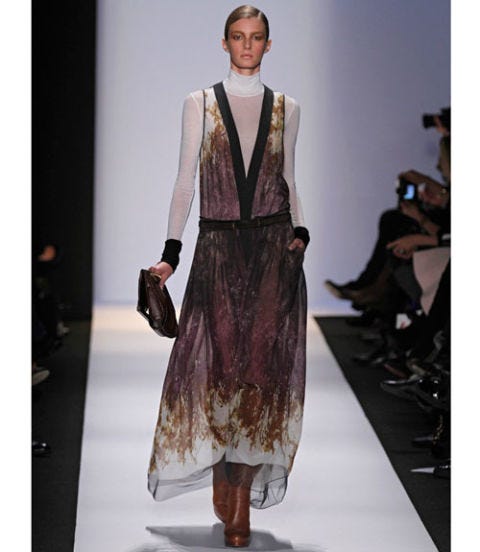 BCBGMaxAzria
Turtlenecks usually are a turn-off but this look from BCBGMaxAzria is a fail-proof way to transition summer dresses into fall. The black trimming at the wrist makes all the difference.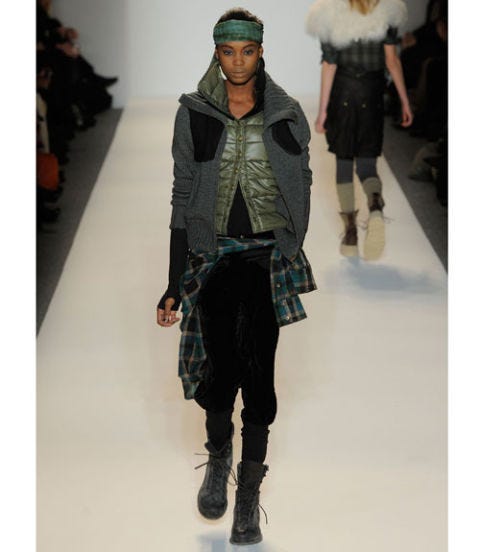 Nicholas K
Puffer vest under a knit sweater? What a novel idea. So very renegade.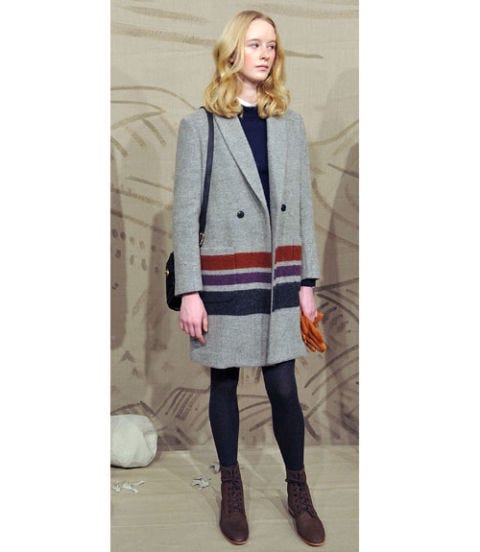 Steven Alan
Not your ordinary gray wool coat: a sweet eighties-style number with Pendleton-inspired stripes.
This content is created and maintained by a third party, and imported onto this page to help users provide their email addresses. You may be able to find more information about this and similar content at piano.io