Reformation: The Cool Girls' Answer to Eco-Friendly Fashion
The bi-coastal sustainable fashion brand Reformation already has a loyal following of local fanslovingly dubbed "Ref babes"and their eco-friendly movement seems to be growing by the minute. Here, we take you on a tour of the label's newest add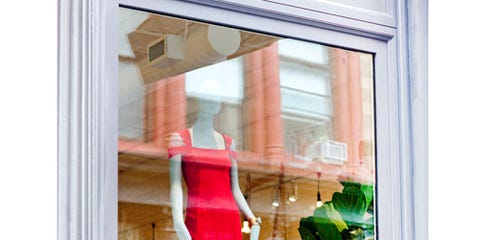 The bi-coastal sustainable fashion brand Reformation already has a loyal following of local fans—lovingly dubbed "Ref babes"—and their eco-friendly movement seems to be growing by the minute. Here, we take you on a tour of the label's newest addition: a store on Howard Street in Soho.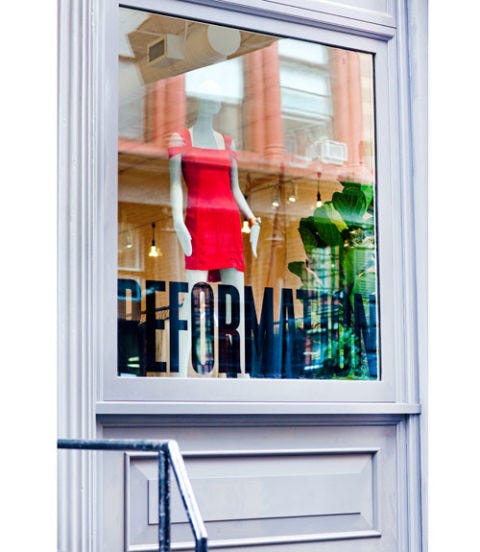 Join the Reformation
Anyone who lives in downtown New York could tell you that there are a handful of stores and labels that have such a cult-like following that you'd be hard-pressed to find their loyal fans shopping anywhere (or wearing anything) else. The Reformation is one of said stores.
For the uninitiated, Reformation is an environmentally sustainable label that repurposes vintage clothing and surplus fabrics found by its in-house team. With two successful stores already in place—one on the Lower East Side in New York and one in Los Angeles—a location in Soho seemed like the natural next step for the young brand. Yael Aflalo, the brand's founder and creative director, wants this new space to be an intersection for good design and sustainability.
"I was really into the whole concept of 'fast fashion,' but the part about it being so disposable was something I couldn't stomach," she explained. "We only design our collections a few weeks in advance of them arriving in our stores—we aim to be a sustainable fast fashion brand."
All of the pieces you'll find in Reformation stores and on its e-commerce site are produced in limited quantities in Los Angeles. Instead of blindly following seasonal runway trends like many other brands tend to do, Yael and her designers base their collections on what they want to wear. "I draw a lot of inspiration from my friends and the Reformation team—it evolves from our own style," she said. "I've always liked personal style more than runway style—I think runway style can be a little fussy—so I'm inspired by what I see girls wearing on the street."
We visited Yael and her team as they prepared to open the new store at 23 Howard Street. Read on for a peek inside the gorgeous (and green!) space and to learn more about the burgeoning brand.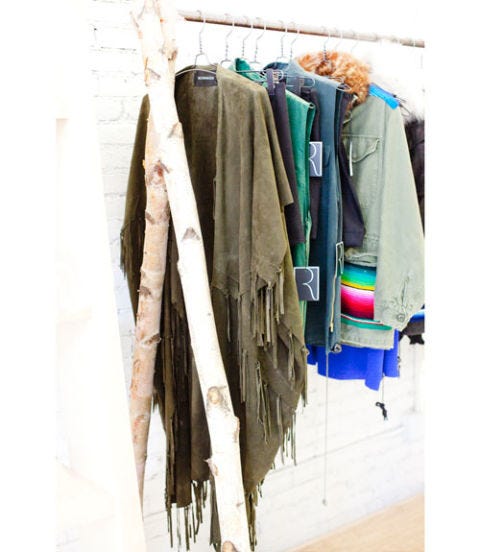 Join the Reformation
Although Reformation's two New York locations are in relatively close proximity, the team plans to keep the inventory at each store very different. "We're carrying different products—Soho has its own energy and so does the Lower East Side," Yael explained. "A lot of our things are one-of-a-kind, so we go through piece by piece and decide which store we should send it to. We definitely have our customer in mind—the Lower East Side girl is chic and edgy, but a little tougher and a bit more punk."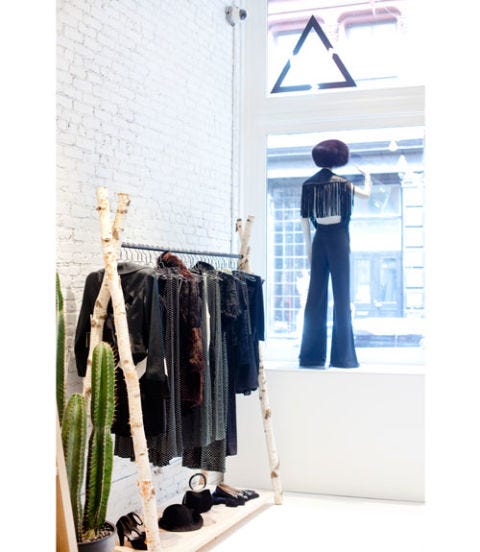 Join the Reformation
Huge windows give the airy space plenty of natural light.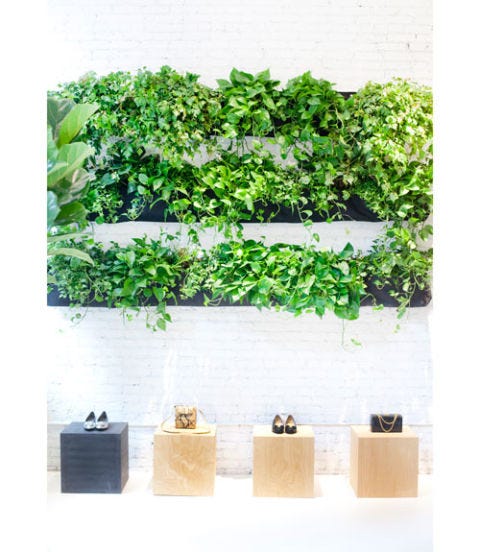 Join the Reformation
Along with Reformation's namesake label, the Howard Street store will stock a number of other small, well-designed brands, including handbags by Reece Hudson, jewelry by Bing Bang, and lingerie by Cosabella.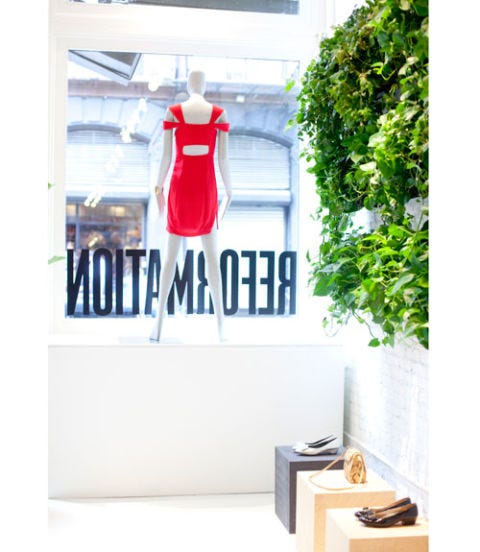 Join the Reformation
To keep Reformation's carbon footprint as close to zero as possible, the new store is comprised mostly of birchwood—the most sustainable hardwood on the market today—and features Plumen designer energy-saving lighting.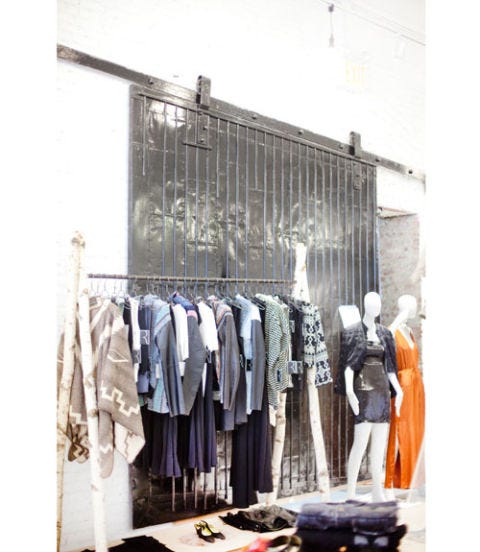 Join the Reformation
A rack of Aztec-patterned jackets at the Howard Street store.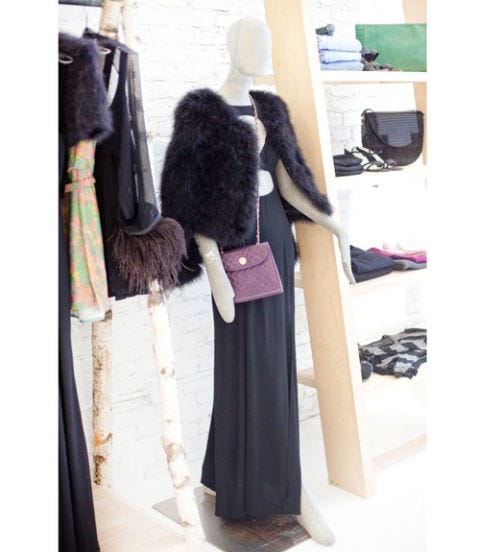 Join the Reformation
The new Howard Street location houses Reformation's hand-picked collection of one-of-a-kind vintage pieces—curated by the brand's in-house vintage buyers in New York and Los Angeles—including luxe furs like the one pictured here.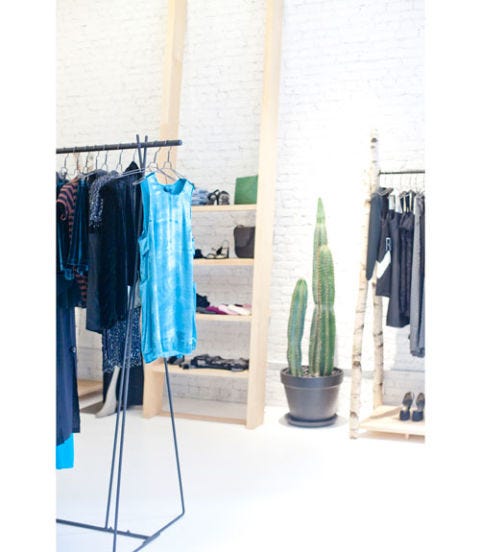 Join the Reformation
One of the brand's cult-favorite dresses, the Clay dress, is shown here in blue velvet.
This content is created and maintained by a third party, and imported onto this page to help users provide their email addresses. You may be able to find more information about this and similar content at piano.io