On-Trend Winter Dresses to Keep You Warm This Season
Stylist-approved styles to leave heads turning all season long.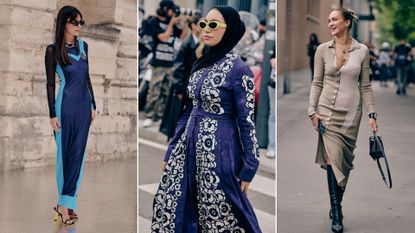 (Image credit: Tyler Joe)
Now that the days are significantly shorter, we all want to spend as little time getting dressed and as much time out and about as possible. So, naturally, when picking an outfit, it's easy to opt for a quick option like a dress, which simplifies your routine and looks effortlessly chic. But when looking for the best dresses for winter with which to restock your closet, it's best to understand which options suit the weather best, channel current trends, and are able to transition seamlessly from workday to nightlife.
Marissa Galante Frank, the fashion director at Bloomingdale's, is an expert in dressing for any season, so I asked for her advice on how best to find and accessorize winter dresses. Below, her take on trending winter dress styles along with advice on how to style them. Your new favorite winter outfit awaits.
Styling Winter Dresses
When wearing a dress, it's easy to throw one's hands up and consider oneself done. After all, we wear dresses because they're easy, right?
In reality, when opting for a dress, the accessorizing possibilities are endless. Frank notes that oversized winter coats, Mary Janes, and tights all look fabulous with winter dresses and channel a sense of "really polished femininity." Tights, in particular, look great with mini dresses and feed into this year's sheer trend, adding a bit of texture to an otherwise plain outfit.
Another method of accessorizing, she says, is to go for a monochromatic look, which she says is "a great way to feel put together, look chic, and again, have that 24-hour item," so you can go from works to dinner to drinks with ease. An example, she says, is wearing a slip dress with a same-colored sweater over it, which "goes back to that sort of texture play."
Finally, she calls the belt "a key accessory for the season," particularly when cinching the waist over a blazer dress, maxi dress, or pleated dress.
Textured Winter Dresses
Incorporating texture into your outfit is a great way to keep things interesting, and Frank agrees wholeheartedly, citing a few textures that are particularly in style this season. One of them? Sequins, which have taken over runways over the past few months.
"We love sequins, right?" says Frank. "They're so fun, they're so festive, and I think that that's a great way to dress for the holidays." She also notes that lace, mesh, and velvet are classic looks for the holiday season, whether they're included in the design of your dress or channeled in your accessories.
And for those who are feeling particularly romantic this season, Frank recommends dresses with rosettes—a detail she says has been "everywhere" lately.
"We love them," she gushes. "They're so feminine and we just think that within dresses, this is a great new update and detail, and we feel like these are going to continue into 2024."
Cozy Knit Dresses
Sweater dresses are a natural go-to during long, cold winters, and Frank adds that they're an option "you can really wear all day long and really [lend themselves to] that 24 hour dressing." In terms of accessorizing this cozy option, she says, "you can layer them, of course, and I think that that's key in the winter months."
Lingerie-Inspired Dresses
"This season, something that is a major trend across dresses and beyond the ready-to-wear is lingerie dressing, so anything that really nods to that lingerie aesthetic," explains Frank. "So lace, sheerness, corset details, and, of course, the slip dress, which is such a big favorite."
More specifically, she calls slip dresses versatile and "key," noting that they're "always a chic option." She suggests "layering a blazer or a sweater over for the office with a chunky boot, and wearing them out at night," reiterating that they "can be dressed up and dressed down"—something that's essential for the woman who doesn't have the time (or purse space) for midday outfit changes.
Other lingerie-inspired looks include options that include lace or corset detailing, which can also be made versatile with layering.
Structured Dresses
In contrast to lingerie dressing, Frank says that structured styles are also in vogue this winter, saying that "a big, boxy blazer" is an option that "feels very cool and effortless." Like the slip dress, it can be worn at work and then to late-night drinks, and can even be paired with the svelte slip dress for a balanced, versatile look.
Maxi Dresses
Frank also counts maxi-length dresses among the top trends this winter season.
"I think in the summer, the maxi dress is something that I feel like everyone's familiar with, but I think what's interesting this season is that this winter, the maxi dress is also really important," she says. "So whether that's in a slip or that's a sweater dress that you're belting, that's a great option for the winter season, because it's also a little bit warmer and little more comfortable, which is something that I feel like we all can appreciate." Plus, when the hem of your dress reaches your ankles or lower, you can relax and leave the tights at home.