The 10 Best Snakeskin Boots to Buy Right Now
They're not intimidating to wear, I promise.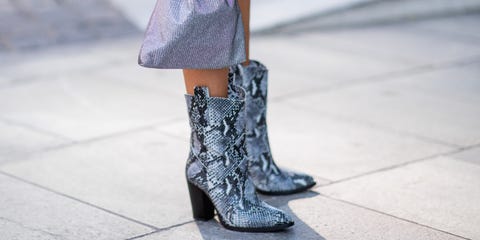 Some fashion stories I write are a little self-indulgent and this is one of them. Ever since I spotted snakeskin ankle boots on the Fall '18 runways, I've been searching for the perfect pair. My goal: Find one that would go with these off white/cream-colored pants I just bought. A more difficult task than I thought it would be at the outset. But you work in fashion, how's that possible? I'm aware, I've asked myself that too.
I thought I found my dream boots on Black Friday, but when they were delivered to the wrong address, I took that as a sign that they weren't meant for me. The search continued. After examining every major fashion house's collection and browsing more than, what seemed like, 50 pairs, I found 10 that I love and are within my budget. (Okay, a few would be a splurge.) On a quest to find your perfect pair? Start with the options below.
1
Zara Snakeskin Print Boots
A good way to dip your toe in the snakeskin boot trend before fully spending $500 on it, is with this knee-high option from Zara. It's only $99 and comes in classic brown and beige coloring. Wear under your knitted black dresses or with blue jeans and a white blouse.
Snakeskin print makes noise all on its own, but add a black buckle detail and you have a statement boot. The slightly angled heel adds yet another small point of interest to help this bootie stand out.
3
& Other Stories Velvet Snake Ankle Boots
The Little Mermaid herself would trade her tail for this pair of velvet snakeskin ankle boots. The teal color shimmers and shines and the cylinder-shaped heel is much cooler than a block heel. Wear with a cream-colored sweater and black jeans.
"Snakeskin" may sound limiting, but this trendy material is seen on a variety of silhouettes this season. This particular pair is western-inspired and features a thin stiletto high heel. A pointed toe box further emphasizes that sleek and smooth look. Perfect for the woman whose style could be described as "elegant urban cowgirl."

5
Mango Snake-Effect Ankle Boot
Cue These Boots Were Made for Walkin'. These red sock booties will catch everyone's eye as soon as you step...well, anywhere. They can be worn under dresses or with a pair of cropped blue jeans—just make sure the print is visible for maximum visual impact.
6
M.Gemi The Cavallo Boot
If there's such thing as an "every day" snakeskin boot, this is it. The black and gray hues go well with any sweater-and-jeans look, while the cool python print gives your ensemble a boost in style.
7
Free People Vegan Going West Boot
This textured vegan leather ankle boot only imitates the look of snakeskin, which is suitable for ethically conscious consumers. It comes in eight (!) colors and the western-inspired silhouette is right on-trend for the season.
8
Casadei Pointed Ankle Boot
Not ready to fully commit to the snakeskin look yet? This mostly-black ankle boot with a splash of snakeskin print is FOR the faint of heart. It's almost like the design was stripped away from the boot, a truly high-fashion look. You won't find another pair like it, I've tried.
9
Something Navy Elisa Colorblock Bootie
I call this boot the half-and-half. It's hard to tell in this photo, but the other side of this turquoise snake print shoe is black suede. This design comes from fashion influencer Arielle Charnas, who always has her finger on the pulse on what's new, and knows exactly what her fans want. Who wants a classic pair when you could wear THESE?
10
Dolce Vita Nilani Boot
Online reviews for this shoe include comments about how pretty they are and "nice leather and nice quality." For $125, you can't ask for anything more. The tan color coupled with the slim heel separates this footwear from its chunky cousins and is on my personal must-have-for-December wishlist.
This content is created and maintained by a third party, and imported onto this page to help users provide their email addresses. You may be able to find more information about this and similar content at piano.io