Editors handpick every product that we feature. We may earn commission from the links on this page.
The 10 Best Snakeskin Boots to Buy Right Now
They're not intimidating to wear, I promise.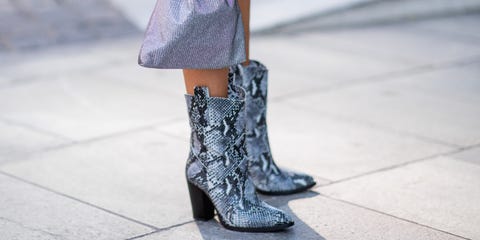 Some fashion stories I write are a little self-indulgent and this is one of them. Ever since I spotted snakeskin ankle boots on the Fall '18 runways, I've been searching for the perfect pair. My goal: Find one that would go with these off white/cream-colored pants I just bought. A more difficult task than I thought it would be at the outset. But you work in fashion, how's that possible? I'm aware, I've asked myself that too.
I thought I found my dream boots on Black Friday, but when they were delivered to the wrong address, I took that as a sign that they weren't meant for me. The search continued. After examining every major fashion house's collection and browsing more than, what seemed like, 50 pairs, I found 10 that I love and are within my budget. (Okay, a few would be a splurge.) On a quest to find your perfect pair? Start with the options below.
This content is created and maintained by a third party, and imported onto this page to help users provide their email addresses. You may be able to find more information about this and similar content at piano.io