Editors handpick every product that we feature. We may earn commission from the links on this page.
5 Cute Yoga Outfits to Get You Motivated for Your Next Class
Design by Morgan McMullen
For yoga, the right clothes are key. You need garb that won't restrict your movements (if the pants don't stretch when you do chair pose, please leave them at home). Alternatively, if you're wearing an oversize t-shirt or very loose tank top, while comfortable, they will, annoyingly, fall into your face as you go into downward dog (happened to me). You need to be able to focus your energy and attention on the poses at hand, not your outfit. Whether you have an upcoming Bikram class or an intro to Vinyasa session, I've come up with five wearable and cute—but not distractingly cute—outfits to wear, below. Namaste.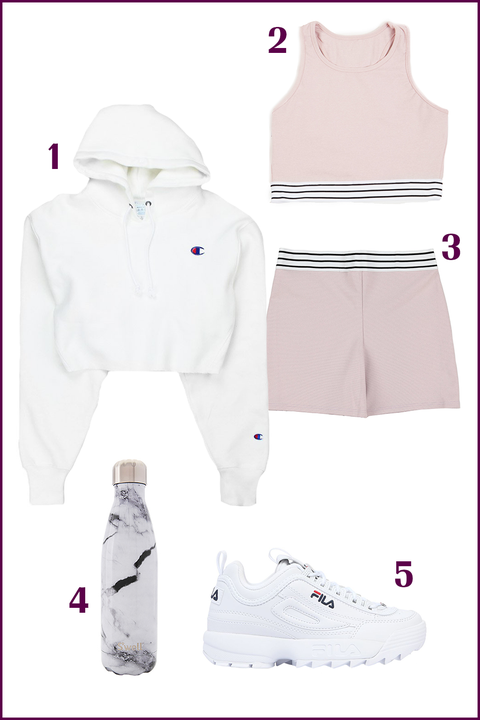 Design by Morgan McMullen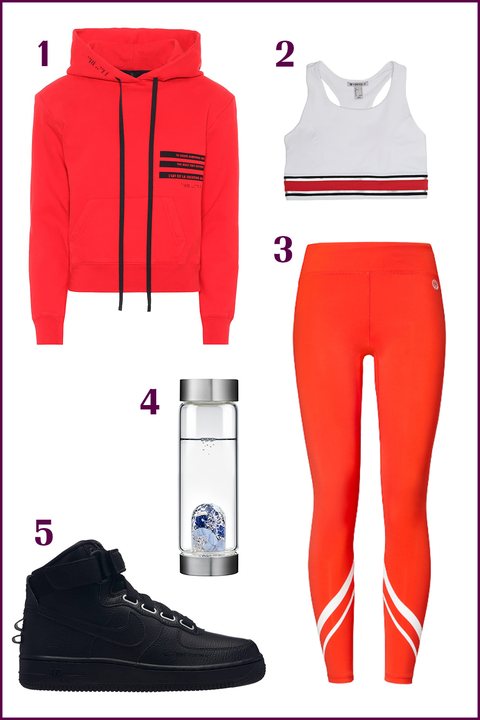 Design by Morgan McMullen
Your athletic nature won't go unnoticed by your yoga peers when you arrive to class in this outfit. The stripe details, bold color, and high-top sneakers casually give your ensemble that too-cool-for-school vibe. To help you feel quiet and centered, this gem pod water bottle claims to keep your mind, body, emotions, and spirit in harmony.
Shop similar: 1. Unravel cotton hoodie, $495; 2. Forever 21 sports bra, $18; 3. Tory Sport chevron leggings, $125; 4. Vitajuwel balance water bottle, $98; 5. Nike Air Force utility sneakers, $110
Design by Morgan McMullen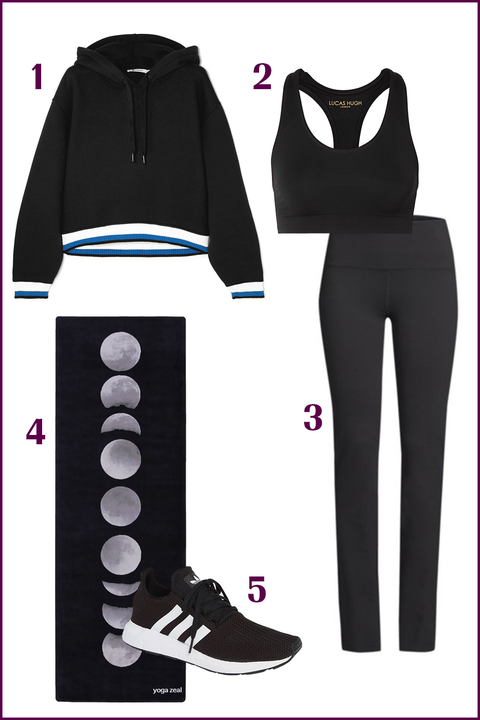 Design by Morgan McMullen
Sweating in yoga is inevitable. If, like me, you want to discreetly conceal sweat stains, an all-black outfit is the solve. Throw on a black hoodie afterward and you're ready to run errands post-class. You can spot me in the cheese aisle at Whole Foods. What? I worked hard for it.
Shop similar: 1. T by Alexander Wang hoodie, $198; 2. Lucas High sports bra, $100; 3. Beyond Yoga original pants, $59; 4. Yoga Zeal yoga mat, $78; 5. Adidas swift run sneakers, $85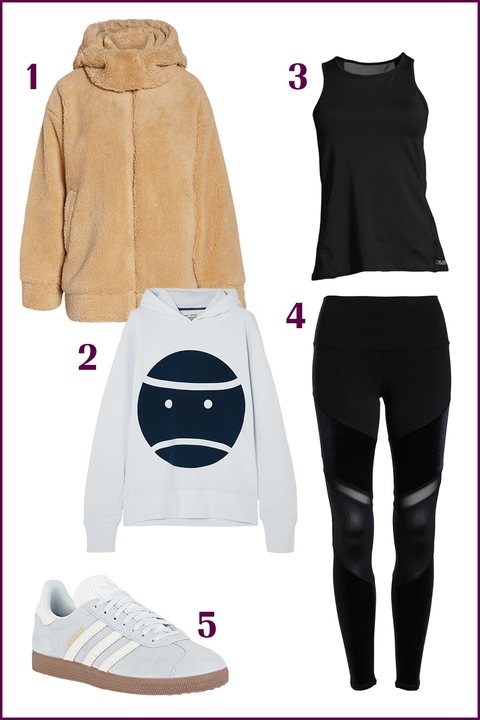 Design by Morgan McMullen
Lots of yogis like to practice in just their sports bras. If you're not comfortable with that look just yet, stay modest with a tank top and leggings. A cute hoodie like this one from Tory Sport and a teddy-inspired coat put the finishing touches on this athleisure outfit. Both pieces are also versatile enough to wear with jeans outside of the yoga studio.
Shop similar: 1. Alo sherpa coat, $210; 2. Tory Sport hoodie, $170; 3. Casall cut tank, $38; 4. Alo high-waist leggings, $112; 5. Adidas suede sneakers, $90
•••

For more celebrity news, beauty and fashion advice, savvy political commentary, and fascinating features, sign up for the Marie Claire newsletter.
This content is created and maintained by a third party, and imported onto this page to help users provide their email addresses. You may be able to find more information about this and similar content at piano.io