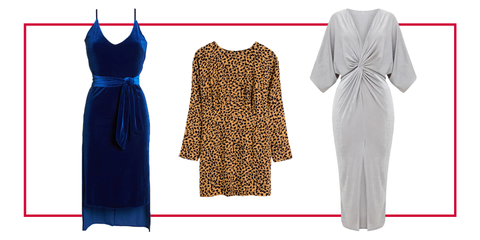 It's October, which means the holidays and time of giving splurging nears. Thanksgiving, Christmas, Hanukkah, and New Year's Eve are on the horizon, which means a full slate of Thanksgiving, Christmas, Hanukkah, and New Year's Eve parties and dinners are fast-approaching too. (Not to mention, those fall/winter weddings you just got invited to.) Consider it a miracle if you don't have to buy a new dress for any of these events, but on the solid chance that you do, I have recommendations. And because we all have credit card limits, I've selected best, most stylish, most festive ones—all under $100! My gift to you.

Zara minidress, $50
If you're going to add another black dress to your closet, pick one with a unique detail, like the sheer, puffy sleeves on this otherwise simple minidress. This versatile piece can be worn with velvet pumps or black ankle boots. Bring it to life at your next holiday party with a red lip and silver chandelier drop earrings.
NSR velvet dress, $69
This rich blue velvet evening dress is festive without being cheesy (a.k.a. red or green). And ultra flattering: It features a scoop neckline, a knotted belt to cinch your waist, and a high-low hemline that plays with proportion. Don't be surprised if you and your new party dress are the center of attention. Wear with black accessories.
3
An Office-Appropriate Dress
Pretty Little Thing twist front dress, $38
Deciding what to wear to your company's holiday party can be stressful, but not if you have this dress. Sleeves and a hemline that goes past the knees (save for a small split) ensure a sense of modesty around your directors. Meanwhile, a knotted design makes the dress more dynamic and imaginative—perfect for a party! Style with colorful baubles and a clutch.
Topshop bow twist dress, $65
Show off your shoulders with this strapless bow-front dress that's equal parts cute and feminine. I love this shade of pink, but FYI, it also comes in black and red. It's one of those pieces you can buy now—or in multiple colors—and wear season after season, thanks to its timeless silhouette. Pair with a pair of silver strap heels.
Boohoo velvet sequin dress, $70
It doesn't take much to dress up this shimmery, mermaid-inspired minidress—just add a pair of heels. To dress it down, wear an oversize blazer. Hope you're prepared to be the life of the party because no one will be able to take their eyes off you as you shimmy around the dance floor.

Silvian Heach dress, $28
There's lace, there's ruffles. What more can you ask of a party dress that's only $28? The neutral colors provide a nice base for which to up your accessories game—might I suggest oversized emerald earrings?

7
A Showstopper of a Dress
Topshop jacquard dress, $95
Not afraid of color? This hot pink Topshop jacquard dress is calling your name. Sure it has a lot going on—we'll call them unique details—the one-shoulder sleeve, the asymmetrical pleated hem, but isn't that the point of a party dress? That it has a little something extra? Since it is so bold, go easy on the jewelry; a simple pair of diamond earrings or gold hoops is perfect.

Sequin Hearts foiled floral fit & flare dress, $79
A floral dress as timeless as this shimmery piece will work for any occasion, whether it be your birthday party or your mother-in-law's Christmas dinner. The strappy back adds a hint of sexiness but not a whole lotta sexiness. Pair with these flats, especially if you'll be on your feet all night.
9
An Out-of-the-Box Dress
& Other Stories leopard print dress, $89
This leopard print dress is short and fierce—like you. (Unless you're tall and fierce, in which case this dress would still be awesome.) It's not your traditional party dress adorned with sequins or ruffles, but then again, you're not traditional, are you? To make this piece suitable for chilly weather, style with black tights and black suede pumps. Cover up with a black or beige wool coat.
Lulus strapless maxi dress, $72
For more upscale holiday parties, reach for this dress code–appropriate strapless black dress (which also comes in red). It looks classy and sexy thanks to the slight ruching on the bodice and front slit—a peekaboo detail that conveniently shows off your favorite pair of heels. In a daring move, wear only one earring, like this gold bar and chain.