Feel-Good Find: BeGood Clothing
We're in love.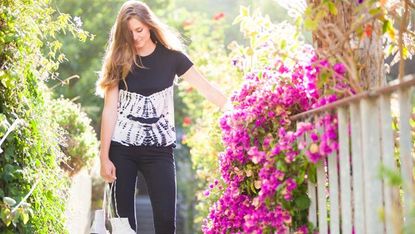 (Image credit: Archives)
What's better than a clothing line with super-soft fabrics, impeccable fit, and a timeless quality that allows its pieces to stay in your closet forever? When the brand has all of that and also makes a positive impact.
BeGood Clothing's web site launched this June when founders Mark Spera (who cut his teeth at Gap) and Dean Ramadan realized consumers wanted to buy eco-friendly pieces, but they didn't want to sacrifice price or quality of fabric. In honor of the summer's outdoor music festivals, the cool new brand is debuting its limited-edition 100 percent organic low-impact tie dye Clarion Tee on its web site today (the hope is that it will raise awareness about how traditional cotton T-shirts use one-third of a pound of toxic chemicals in production).
What's more? For every sale the brand makes, it helps make twelve gallons of water safe to drink in Kenya and Uganda through non-profit Evidence Action's Dispensers for Safe Water program. When it comes to the Clarion Tee, we'll take one in each color.
BeGood Clothing Clarion Tee, $35; begoodclothes.com
Photo courtesy of BeGood Clothing