Club Monaco and Tommy Ton Launch Handbag Collection
Photographer and blogger Tommy Ton teams up with Club Monaco to design handbags.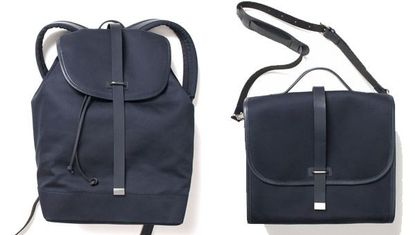 (Image credit: Archives)
We spend way too much of our days on Jak & Jill, so we were thrilled to hear that the fashion blogger and photographer behind the site, Tommy Ton, is teaming up with Club Monaco. The top-notch street style chronicler, best known for his offbeat snaps of fashion hotshots, is dipping his toes into design this spring.
Tommy, who admits that he's worn Club Monaco since his teenage years, was drawn to the affordable luxury brand's emphasis on functional basics. Together, Tommy and Club Monaco developed two handbags: a messenger style for women and a backpack for men, though we'd most certainly carry either. Both are made of blue cotton twill, and feature brushed nickel hardware and leather trim.
You may get a glimpse of the bags on Tommy's close friends during New York, London, Milan and Paris Fashion Weeks, and on March 20, they will become available for purchase at select Club Monaco stores for $198 to $225.