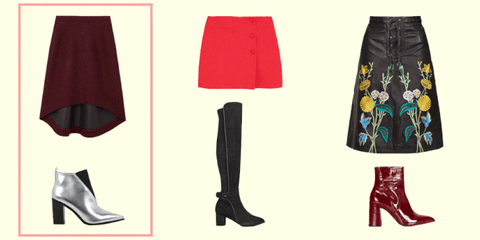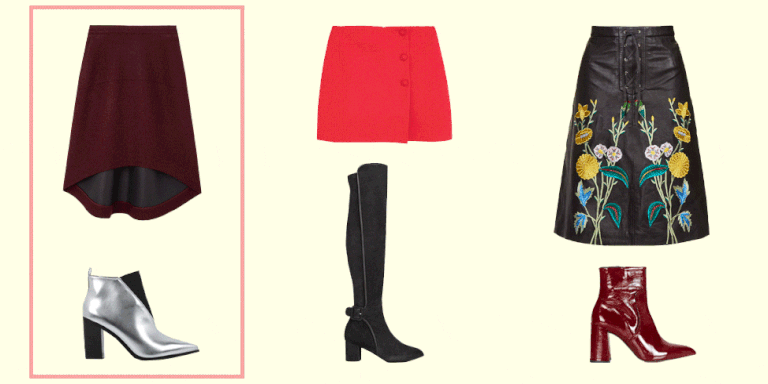 Let's talk about shafts *snicker*—boot shafts, that is. The right height and style can make the difference between an okay/chilly outfit and a great/warm one, so follow along as we give a brief presentation on the shoe-and-skirt combos you need to know.
No exposed skin means no *frostbitten* skin. The vibes here can be '70s or Victorian, depending on the fabric and the styling, but whatever time period you're going for, watch out for proportion. Wide on top + wide on the bottom = you're a pillow.
L.K. Bennett over-the-knee boot, $695, lkbennett.com; Zara midi skirt, $13, zara.com.
Tall Boot + The Skirt of the Season
Oh? You don't have an accordion-pleated, preferably foil-finish skirt yet? Me neither, but we should really get on that because they are swishy! And Gucci. Alessandro Michele started out pairing them with loafers and pumps, but for pre-fall, he went with tall, metallic boots. Don't tell him this, but I like the more recent footwear choice better—less precious, you know?
Zara pleated skirt, $40, zara.com; L.K. Bennett over-the-knee boot, $695, lkbennett.com.
Alternatively, a high-rise boot with a modest heel can de-sexify a miniskirt when it's too cold out to wear your regular glitter socks and brogues.
A Common Space grommet skirt, $20, acommonspace.com; L.K. Bennett suede knee-length boots, $695, lkbennett.com.
Sock Boot + Knee-Length Skirt
If you're afraid the proposed formula will chop your body into weird segments, don't be—the point of a sock boot is that, while it covers part of the shin, the stretchy upper molds to the leg.
Topshop embroidered skirt, $210, topshop.com; Topshop curved-heel boots, $170, topshop.com.
But more leg—thanks to lower-cut boots and a non-cheesy high-low hem—is cool too.
COS skirt, $62, cosstores.com; Charles & Keith block-heel boots, $80, charleskeith.com.