Holy #%$: 12 Fashion Epiphanies from the Latest Gucci Show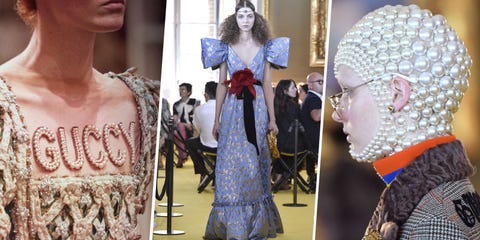 Shift the sequins and bleached eyebrows aside for a bit, and you'd see that Alessandro Michele doesn't muck around when it comes to his juxtapositions. Referencing "Et tu, Brute" toga times but through the lens of disco and the '70s—and with clothes so new they can't be worn until half a year later. Faux ripoffs ("Guccy") against the realest deal (legit Botticellis at the Palazzo Pitti). But back to the bigger picture—here, take a closer look at some of the best looks and accessories from a megawatt show.
1
This If-Napoleon-Had-Made-It-to-Russia Coat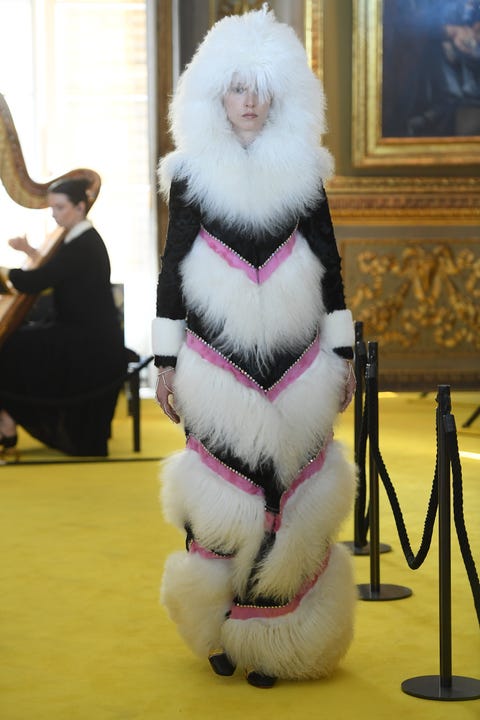 Nobody gets past the cold and general gloom. But if they did, there'd be lots of grain-based alcohol and probably this tiered topper—with furry bits and a hood and diamanté chevron trim—waiting. Onward, then!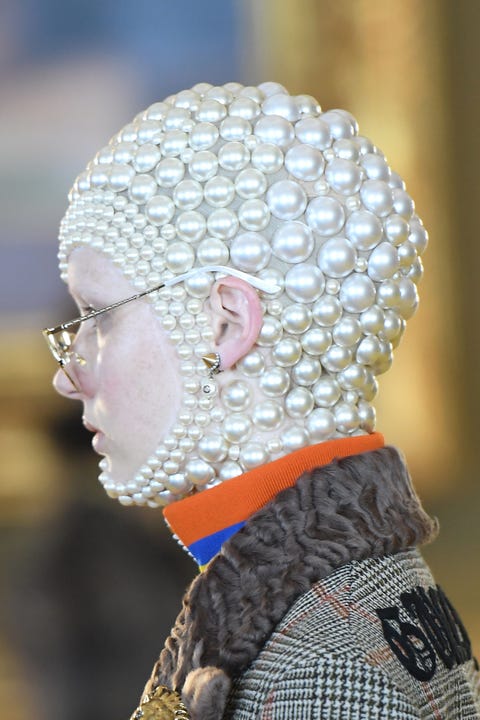 I want to contract this calcium-carbonate-skull disease.
4
This Empress Josephine-in-the-'80s Dress
At the club knocking people out left and right with your shoulders as you bop to Bananarama so hard your tiara bruises your forehead. Worth it.
5
This Suit That Makes Me Want a Baked Potato
With a side of furry cuffs.
6
This Actual Disco Goddess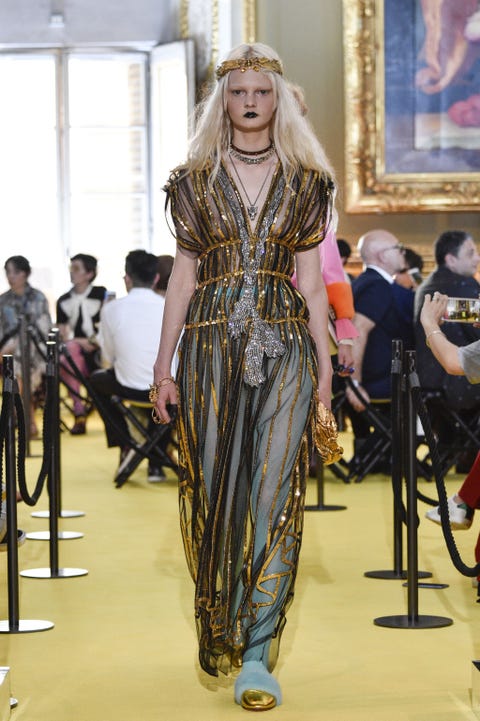 The cleverest thing about this is not the allover sparkle (though YESYESYES), but the slight off-ness of the teal tights. While Chanel might have said to take one thing off before you leave the house, Gucci says add seven and make sure they're weird.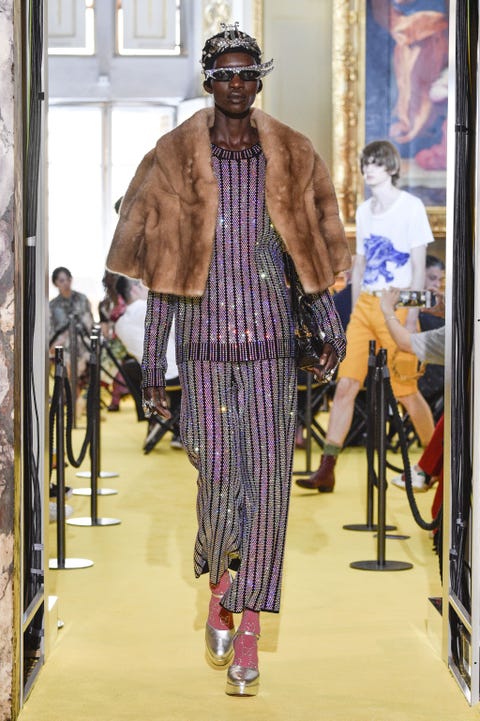 8
The Floating Hair Pearls!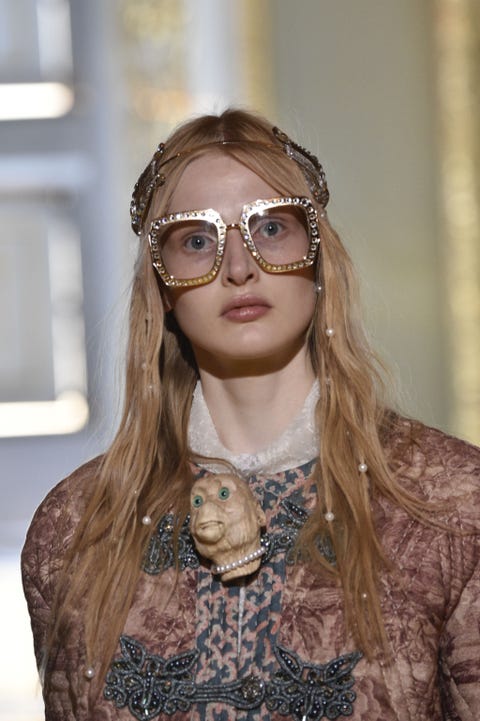 Like those Velcro-backed crystals you bought at Claire's back in the day but so, so much better.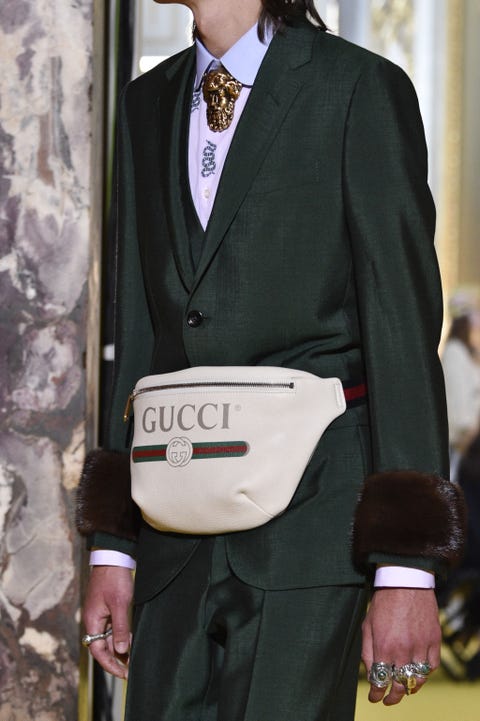 "Death to the fanny pack," they said. "I lived, b*tch." —the fanny pack
10
The Furry Mules (and the "Counterfeit" Shopper)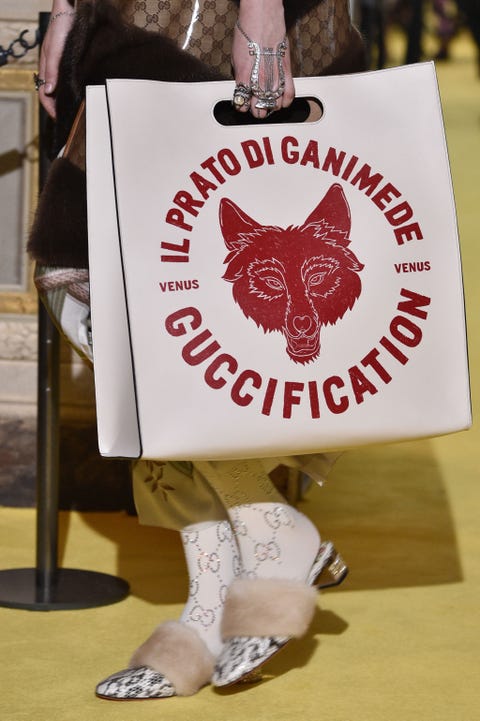 What's real? What's fake? What's gucci?
11
This Smiling Franken-Bag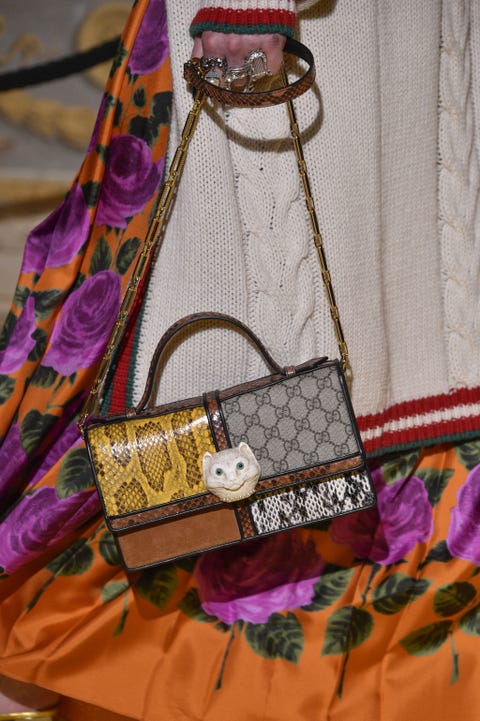 Cute but kinda psycho (with the mask decal and the multiple prints and skins). But cute.
This content is created and maintained by a third party, and imported onto this page to help users provide their email addresses. You may be able to find more information about this and similar content at piano.io