This Delightful New Instagram Algorithm Will Tell You How to Dress Better
For *maximum* likes.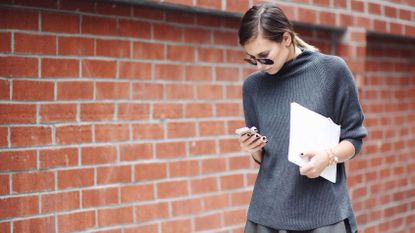 (Image credit: WeWoreWhat)
If you're anything like us, your Instagram feed is full of carefully framed selfies and snaps of your latest #ootd. (Because, what else?) The app was pretty much made for fashion. And while we're not style blogger status and getting paid thousands for a single post, we've all gone to embarrassing extremes to get a good photo, a.k.a. one that will get maximum likes. Now there's a new tool to improve your Instagram pictures, starting at the foundation of it all: your outfit.
Researchers at the University of Toronto have developed an algorithm that will analyze your photo and make suggestions to improve it. As explained in the report provided by the Computer Vision Foundation, "People want to look good; business or casual, elegant or sporty, sexy but not slutty, and of course trendy, particularly so when putting their picture online. Our goal is to learn and predict how fashionable a person looks on a photograph and suggest subtle improvements the user could make to improve her/his appeal." Um… yes, please!
The researchers mined data from chictopia.com, a social website where users share photos of their outfits. Using the site's 144,169 posts, the team was able to amass highly detailed statistics for each user, their photo and the fashion it features, along with the comments and response it received from the rest of the Chictopia community. This Fashion144k Dataset, as it's called, revealed certain correlations and patterns between aspects of a post and the interest it generated, which information the smart folks in Toronto then crunched and coded into their intricate (and seriously brilliant) fashionability-predicting algorithm.
Input a photo and the algorithm assesses "the type of outfit and garments, the type of user, the setting/scenery of the photograph, and fashionability of the user's photograph." Then, the code will churn out a rich set of feedback including outfit recommendations, suggested locations to show off your look, plus notes on how well it fits, the lighting and angle of the photo, and other similar elements that may affect the aesthetic quality.
Can you say GAME CHANGER?!
I am an experienced editor, writer, and creative strategist, specializing in fashion, beauty, and lifestyle content for digital media outlets, as well as video and social platforms. While I currently operate as a freelance contributor/consultant, with such clients as The Zoe Report, my 10+-year background in the industry was cultivated at the dot-coms of elite publications, including Harper's BAZAAR, ELLE, and Marie Claire.