How to Find Authentic Gladiator Sandals
Check out the real deal when it comes to summer's hottest sandal.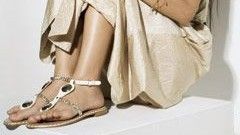 (Image credit: Sarah McColgan)
You've seen or worn them at some point, perhaps stamped with Tory Burch and Steve Madden logos, but authentic Greek-style shoes are as far from corporate as possible. The small, family-owned shoe shops lining the streets of the Plaka (a famous flea market in Athens) have been passed down from generation to generation. This ancient craft takes the love of shoes to a whole new level–from aesthetic to historical.
The most well known of these stores is Melissino's, whose owner is famous for his poetry and art as well as his sandals. The shop itself is truly a work of art–it has low, cave-like ceilings, and the walls are covered in leather, large black-and-white sketches, and of course, shoes (both finished and works in progress). The sandal workshop is right by the cash register, as if the strong smell of leather were not enough to convince the customer that what he or she is buying is, indeed, handmade. Unfortunately, it's not possible to place an order from Melissino's online (the owner cites several specific reasons for this), but we tracked down Ananania's Sandals on Etsy, a great handmade alternative!
Also check out summer's 10 best gladiator sandals!