How Being a Plus-Size Nude Model Made Me Finally Love My Body
I'm plus size, but after I decided to pose nude for photos, I suddenly felt more body positive.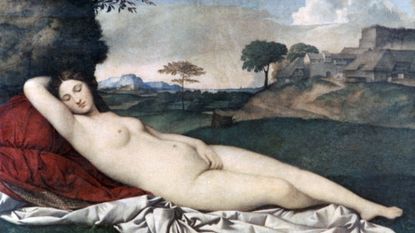 (Image credit: Getty Images/Print Collector)
I pulled into the dingy parking lot of an industrial building on the outskirts of Boston.
"This is it?" my mother asked, looking at me skeptically. I knew where her concern was coming from. The building was somewhat isolated, maybe even sketchy. But soon, if all went as planned, I would be taking off my clothes and posing nude for a photographer...who I had met on Craigslist.
"This is it," I replied, trying to sound confident. Internally, I was very thankful that I had confided in my mom about my plan—she had insisted on coming with to make sure I was safe.
I parked the car and walked in, not knowing that in that old industrial building, wearing nothing but my pearls, I would have one of the most transformative experiences of my life.
Growing up, I was overweight, bookish, and very self-conscious. I was always known more for my academic achievements than for my enviable figure. As a plus-size woman, the idea of drawing attention to my body was something I never thought I would do by choice.
But sometime during college, I started working out. Not to lose weight, but to see my body as strong. Now, just before my wedding, that strength I felt had made me the most confident I had ever been. I wanted to capture that essence, and I thought nude pictures would be the right way. I'd recently started hearing about boudoir photography, where wives take sexy photos for their husbands as wedding gifts. So I set out to do it.
After trolling the creative gigs section for weeks, I saw the ad I had been waiting for: Figure models wanted, for trade. The photographer would be experimenting with new lighting techniques, and in return for posing, I would receive edited copies of the images and maintain all the rights. I sent an email, and after a quick reply from the photographer, we set a date and signed a contract.
When I stepped out from behind a partition in the studio, I was wearing just a sarong and a pearl set that my husband had bought me. I blushed, thinking about how silly it was to wear anything at all. Moments later I would be naked, my body studied through a camera lens.
My first pose–on a stool, with my knees folded into my body–was a classic setup, and exactly what I was hoping for. I wanted simple, beautiful photographs.
Over the course of the three-hour session, I did a bunch of poses: sitting, standing, and lying down. In some, I covered my breasts. In others, I turned away from the camera. But my favorite images from the sessions ended up being full frontal nudes, where I was hiding nothing. As the morning progressed I went from "I can't believe I'm doing this" to "Damn, I feel beautiful."
That confidence showed in the photos. When I first saw them, cliché as it may sound, they took my breath away. Seeing myself through the photographer's eyes reinforced what I already knew: that every single body is perfect and beautiful in its individual way.
I do not look like a model in the photos–I have stomach rolls and wide-spread breasts, but I look gorgeous. It affirmed the fact that confidence is the sexiest attribute.
My husband was thrilled when he opened the photo album that I made for him, but now, years later, I've decided he can't possibly love the photos as much as I do.
When he looks at the pictures he sees his pretty wife. But when I look at them, I see an entire transformation: a shy girl ashamed of her body who grew into to a brave, confident woman.
Follow Marie Claire on Facebook for the latest celeb news, beauty tips, fascinating reads, livestream video, and more.
Kelly Burch is a freelance writer and editor living in New Hampshire. She shares stories of addiction, mental illness and anything else that catches her interest.