In Newly Leaked Tapes, Donald Trump Rates the Attractiveness of Hollywood Actresses
He thinks Ivanka is more attractive than Charlize Theron and that Angelina Jolie is a "seven out of 10."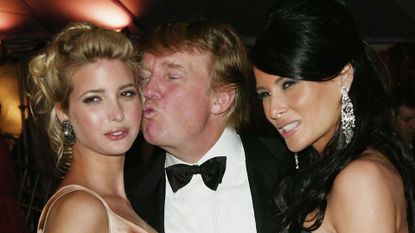 (Image credit: Getty Images)
Marie Claire newsletter
Celebrity news, beauty, fashion advice, and fascinating features, delivered straight to your inbox!
Thank you for signing up to . You will receive a verification email shortly.
There was a problem. Please refresh the page and try again.
Fifteen hours of interviews between radio host Howard Stern and Donald Trump were leaked earlier this week, and the treasure trove finds the President of the United States admitting to groping Melania Trump in public (opens in new tab) and rating the attractiveness of both his own wives and some of the most famous women in film and television.
RELATED STORY
The new interviews, Newsweek writes (opens in new tab), "are a rich, Freudian...gold mine for anyone trying to understand the President of the United States." This is the window they give into his psyche:
At one point, because it's so much fun to appraise women's bodies for public consumption, Stern suggests that Trump launch a new TV show devoted to rating women's looks. "Now, that may be the best idea of all," Trump responds.
When conversation moves on to Trump's obsession with cleanliness, Stern asks him whether he has the women he dates get tested for STDs. "I own 25 percent of Goodyear Tire and Rubber," Trump, who is now President of the United States responds, an apparent reference to the number of condoms he goes through.
According to tapes transcribed (opens in new tab) by the Washington Post, Sterns demands to know whether it's true that Trump has "banged some of the greatest beauties on the planet"
"True," Trump answers. "Some of the greats." It's an achievement that he seems to think gives him the credentials needed to rate female celebrities on a literal 1–10 scale, which he and Stern go on to do.
Trump comments on Kim Kardashian's "huge trunk," Halle Berry's "beautiful" skin, and ex-wife Marla Maples' "beautiful structure." He deems Elin Nordegren "a solid nine" and Angelina Jolie "a seven" (and "a seven is not a 10") for her skin and face.
He tells Stern that Anne Hathaway once lived in Trump Tower: "I like all people that live in my building. Anybody that lives in my building, even if they're really unattractive, I consider them to be beautiful," and while he "wasn't a fan," Hathaway has since "grown on" him.
When it comes to Charlize Theron, "To be honest, I think Ivanka is much better-looking."
RELATED STORY
And that Post isn't even done. His assessmentsin all their gross, blatant sense of entitlement—continue. Read them here (opens in new tab).
During the presidential race, Stern declined to re-air any of his conversations with Trump. "I feel Donald Trump did the show in an effort...to have fun with us," Stern said (opens in new tab). "And I feel like it would be a betrayal to any of our guests if I sat there and played them now where people are attacking him."
Mattie Kahn is a writer who lives in New York. She covers politics, style, culture, and dangerous women. As far as she's concerned, candidates come and go, but the Oxford comma is forever.