Donald Trump Appears to Have Forgotten the Words to Our National Anthem
But he's a very stable genius!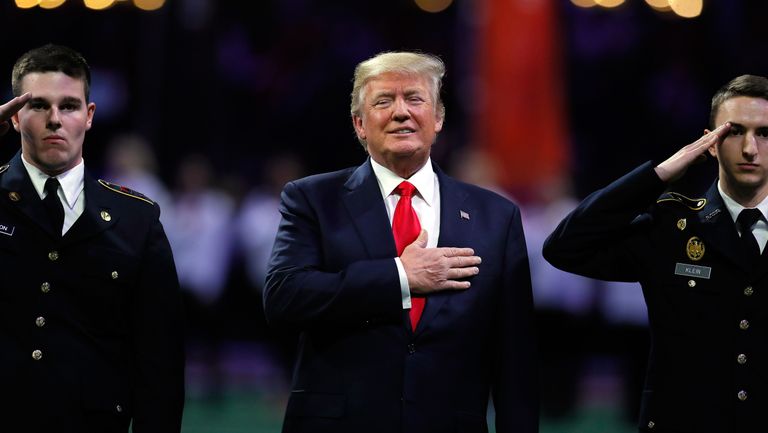 (Image credit: Getty Images)
The internet has been abuzz with questions of Donald Trump's mental stability, and adding more fuel to the fire is a recent video of him appearing to forget the words to our National Anthem.
While attending the College Football Playoff National Championship in Atlanta on Monday, the camera panned over to Trump and he seemed to be struggling with the lyrics.
Donald Trump looked like he was struggling with the words on the National Anthem for a min there pic.twitter.com/0q03Vt4w3eJanuary 9, 2018
See more
Understandably, the reaction to his fumble was that of concern and side-eyes.
It looked like Donald Trump just kept repeating "applesauce" during the National Anthem. #NationalChampionshipJanuary 9, 2018
See more
Uhhh....the President of the United States pretty obviously doesn't know the National Anthem. Oh my god. #NationalChampionship pic.twitter.com/5L5BNajgbsJanuary 9, 2018
See more
Maybe Trump could learn the lyrics to the National Anthem if we threw his name in there every 6 words or so.January 9, 2018
See more
Trump was mouthing some words during parts of the national anthem, but it was unclear what he was saying. He didn't open mouth during other parts.January 9, 2018
See more
Trump recently declared himself a "stable genius" so he'll presumably have some kind of explanation for this flub. In the meantime, this tweet is pretty ironic at the moment:
RELATED STORY