Donald Trump's New Rule Denies Funding to Clinics That Have Anything to Do With Abortions
"This is an attempt to take away women's basic rights, period."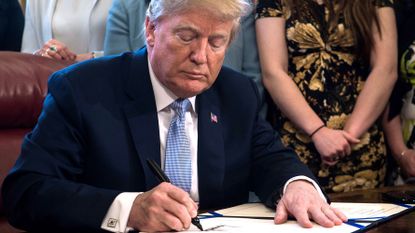 (Image credit: Getty Images)
In today's WTF is happening news: The Trump administration plans to resurrect a Reagan-era rule that would ban federally funded family planning clinics from not just providing abortions, but even referring women for abortions or sharing space with abortion providers.

The Department of Health and Human Services will announce its proposal today, a senior White House official said Thursday. The policy has been derided as a "gag rule" by abortion rights supporters and medical groups, and it is likely to trigger lawsuits that could keep it from taking effect. Many are saying it is a direct swipe at Planned Parenthood.
RELATED STORIES
Dawn Languens, Executive Vice President of Planned Parenthood Federation of America, says the organization will not stop fighting for their patients, and "will not stand by while our basic health and rights are stripped away."

"This is an attempt to take away women's basic rights, period. Under this rule, people will not get the health care they need," Languens said in a statement. "They won't get birth control, cancer screenings, STD testing and treatment, or even general women's health exams."
The Reagan-era rule barred family planning clinics from discussing abortion with women. It never went into effect as written, although the Supreme Court ruled that it was an appropriate use of executive power. The policy was rescinded under President Bill Clinton, and a new rule went into effect that required "nondirective" counseling to include a range of options for women.
According to a Trump administration summary, the new proposal will roll back the Clinton requirement that abortion could be discussed as an option along with prenatal care and adoption. Abortion is a legal medical procedure, but federal family planning funds cannot be used to pay for abortion procedures.
Abortion opponents say a taxpayer-funded family planning program should have no connection to abortion. Doctors' groups and abortion rights supporters say a ban on counseling women trespasses on the doctor-patient relationship.
"The idea that the government should instruct doctors about what they can or cannot say to their patients—a relationship Americans hold sacred—should send shivers down the spine of everyone who ever wanted to know the facts and the truth about their own healthcare," NARAL Pro-Choice America President Ilyse Hogue said in a statement.

"The notion that you would withhold information from a patient does not uphold or preserve their dignity," said Jessica Marcella of the National Family Planning & Reproductive Health Association, which represents family planning clinics. "I cannot imagine a scenario in which public health groups would allow this effort to go unchallenged."

Marcella continued, saying that requiring family planning clinics to be physically separate from facilities in which abortion is provided would disrupt services for women across the country. But Kristan Hawkins of Students for Life of America said, "Abortion is not health care or birth control and many women want natural health care choices, rather than hormone-induced changes."
Abortion opponents allege that, despite the fact that funds cannot be used for abortion procedures, the federal family planning program in effect cross-subsidizes abortion services provided by Planned Parenthood, whose clinics are also major recipients of grants for family planning and basic preventive care.
Celebrity news, beauty, fashion advice, and fascinating features, delivered straight to your inbox!