Your Official Guide to Donald Trump's Five Kids
Get to know the first family.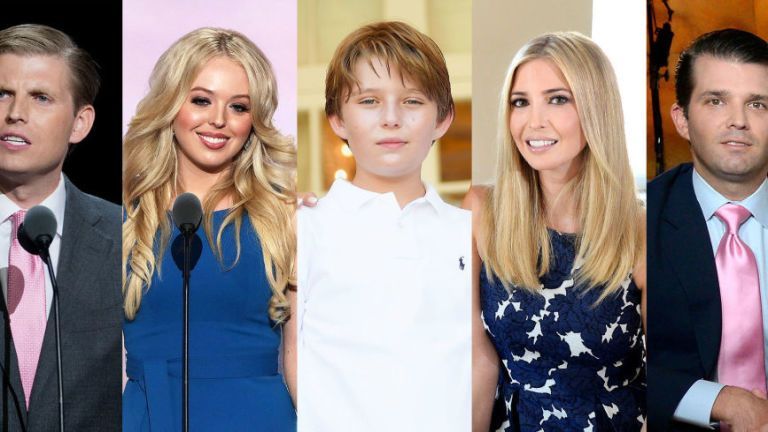 (Image credit: Getty Images)
Throughout the campaign, Donald Trump, American businessman and Republican presidential nominee, has emphasized his close relationship with his family. He has five children—the four oldest of which are speaking at this year's Republican National Convention—and eight grandchildren.
Now that Trump has won the presidential race, these five Trump children make up the future first family. Here, your comprehensive look at who's moving into the White House within the next few months.
Trump's first born, Donald Jr., is the son of Trump's first wife—Czech model Ivana Trump (née Zelníčková). He graduated from the University of Pennsylvania, like several other Trump kids. If you watched The Apprentice between the years of 2005 and 2015, you might recognize him from the dreaded boardroom, where Donald Jr. often appeared as a guest judge and boardroom advisor alongside his dad and other two siblings, Ivanka and Eric. Lately, Donald Jr. is busy serving as the executive vice president of The Trump Organization, also alongside Ivanka and Eric. There are some rumors that he might follow in his dad's political footsteps and run for New York mayor someday, but he said he'd probably have to wait until his kids are all out of school.
Here's a throwback family pic Donald Jr. posted for his dad's 70th birthday earlier this year (even extraordinarily wealthy families are subjected to tacky, color-coordinated family portraits, it seems):
Like his father, Donald Jr. married a model, Vanessa Haydon, in 2005:
And also like his father, Donald Jr. has five (really cute) children:
The first Trump daughter, Ivanka, is also a child of his first wife, Ivana, and the middle sister to Donald Jr. and Eric. She appeared occasionally on The Apprentice, and now serves as an executive vice president to the Trump Organization alongside her two brothers. Like her big brother, Ivanka graduated from University of Pennsylvania, and followed in her mom's modeling footsteps when she was younger. In 1997, she hosted the Miss Teen USA pageant (which is partially owned by her dad). Though her father has faced harassment allegations and rumors that he favors attractive female employees, she says he'sa feminist and has consistently talked about how he encouraged her success: "He always told me and showed me that I could do anything I set my mind to if I married vision and passion with work ethic," she said earlier this month.
Ivanka's first magazine cover, back in her modeling days, was Seventeen:
She has a long-time friendship with Chelsea Clinton, although that friendship might be on the rocks as of late:
She's the founder of the two-year-old #WomenWhoWork initiative, a video campaign that seeks to redefine what it looks like to be a working woman, and is releasing a #WomenWhoWork book next spring:
She got married to real estate developer Jared Kushner (the publisher of the Observer) in 2009, and they have three kids together:
The third and final child from the Donald-Ivana marriage is Eric, also a guest judge and boardroom advisor on The Apprentice and executive vice president of The Trump Organization with his two older siblings. He's credited with the creation of Trump Winery, so if you ever uncork a bottle of Trump wine, raise a toast to Eric. He also founded the Eric Trump Foundation, which raises money for terminally-ill children at St. Jude's Research Hospital.
Eric married Lara Yunaska, a personal trainer and producer for Inside Edition, in 2014:
The two don't have any children (yet), but they do have this fun dog:
He's been often criticized for his hobby of big game hunting with his older brother and was criticized by PETA in 2010 after pictures surfaced of the two brothers hunting on a safari trip to Zimbabwe:
Tiffany is the only child of Donald and actress Marla Maples, Trump's second wife. Tiffany was born shortly before their wedding in 1993, and yes, she is named after the jewelry store, Tiffany & Co. She graduated from the University of Pennsylvania (like Donald Jr. and Ivanka) earlier this year, but before that, she released a club pop song that's resurfaced recently. It's called "Like a Bird" and you really should give it a listen.
Tiffany is probably most famous for her role as one of the Rich Kids of Instagram, a troupe of incredibly wealthy kids who live in New York City and meticulously document their exploits on their Instagram accounts:
She occasionally models in her friend Andrew Warren's fashion shows:
She also interned for Vogue:
Here she is as a lil baby with her dad:
Just like you, she loves to hang out with friends and post pics on Instagram!:
5. Barron William Trump, 10
The baby Trump, Barron William, is the only child of Donald and his current wife, Melania Trump (née Knauss), a(nother) model from Yugoslavia. Like his mom, Barron is fluent in Slovene. According to ABC, Barron has the nickname Mini-Donald because he likes to wear a lot of suits and ties and will occasionally go golfing with his dad at their estate in Mar-a-Lago.
He tends to stay out of the limelight, since he's still just a little kid, but recently made his magazine debut on a cover of People:
He was born on the first day of spring:
And the "wears a lot of suits" thing is super real:
Follow Marie Claire on Facebook for the latest celeb news, beauty tips, fascinating reads, livestream video, and more.