Separating Families at the Border Is Just One Way Trump is Trying to Tear Apart Immigrant Families
I was America's first-ever Latina senator. And I will fight this.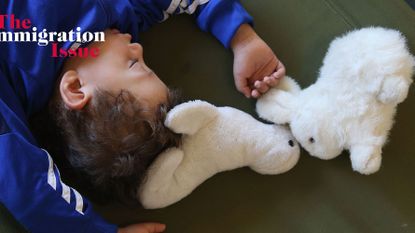 (Image credit: Getty Images)
When gangsters held a gun to her teenage son's head at a local corner store, Silvana realized she needed to leave El Salvador to keep her children safe. Her husband had already fled to Texas, and Silvana decided it was time to join him. Early this year, Silvana and her three children—ages three, 11, and 16—packed up the few things they could carry and began a 3,000 mile long journey to the United States. When they arrived at the border, Silvana received devastating news. Under Trump's new border policy,her kids would be taken away from her.
Sobbing and calling out for their mother, her children were loaded into a van and driven to a Health and Human Services facility four hours away. Silvana stayed behind in a cramped border control facility known as a "hielera," or icebox, to await prosecution. She remained in federal custody for twelve weeks.
The Washington Post published Silvana's story as part of an investigation into a new "zero tolerance" policy enacted by the Trump administration. This new policy dictates that all migrants arriving at our borders will be incarcerated and criminally prosecuted, even if they're traveling with small children. Since the policy was announced, thousands of kids have been taken from their parents.
Almost immediately, human rights groups denounced the practice of family separation. Pediatricians called it "government-sanctioned child abuse" because it does lasting damage to children and leads to post-traumatic stress, behavioral issues, and problems in school.
On Wednesday, under mounting pressure from leaders in his own party, President Trump signed an executive order to temporarily put an end to family separation. But the executive order contained no mention of a plan to bring these families back together. As far as we know, the separated children will be held in detention centers indefinitely.
I was horrified when I learned that President Trump's zero-tolerance policy was causing little children to be ripped out of their parents' arms. But tragically, it's consistent with everything we've seen so far from his administration. Donald Trump has been attacking immigrant families since the day he began his campaign, and he hasn't stopped since taking office.
Under previous administrations, immigrants with serious health issues, strong family and community ties to the United States, or a history of service in our military were considered low priorities for deportation. Immigration authorities focused their limited time and resources going after violent criminals and other individuals who posed a risk to public safety and national security. But one of Trump's first actions as President was to issue an executive order that made nearly every undocumented immigrant a priority for deportation.
As a result, immigrants with no criminal record and strong ties to their communities are increasingly at risk. In March, a long-time Reno resident named David Chavez-Macias was deported to Mexico, despite a life-threatening condition that made it dangerous for him to leave the country. David's four children are DACA recipients. They're afraid for their dad's health, but they know that if they try to visit him in Mexico, they won't be allowed to return home.
Immigration officials have also begun arresting the spouses of American citizens. Fabiano, a Brazilian native, was arrested and detained at his green card interview in Lawrence, Massachusetts. He and his wife, an American citizen, have been together for eight years and have a son.
The Trump administration's number one legislative priority is to cut legal immigration in half by ending the diversity visa lottery, placing a cap on refugee admissions, preventing immigrants from joining their siblings and children in the United States, and promoting other anti-immigrant measures. Trump wants to transform our immigration system, so that it prioritizes wealth and whiteness over family ties.
These changes are not just an assault on immigrant families. They are an assault on fundamental American values.
For centuries, the United States has been a safe haven for families seeking refuge from violence and persecution. We should celebrate our heritage, not reject it.
So many of us in this country are descendants of immigrants. I'm no exception; my grandfather on my dad's side came from Mexico. He earned his citizenship after serving in our military. My great-grandfather on my mom's side was born in Italy and made a dangerous journey across the Atlantic to start a new life.
Our immigration system should honor the sacrifices of immigrants who came before us. It should show the world who we are. It should never, ever be used as a tool to spread fear or punish parents for doing what they believe is right for their kids.
If you agree with me, there are steps you can take to help. First, call the U.S. Capitol Switchboard at 202-224-3121 to get in touch with your representatives. Ask them to speak out against this administration's zero-tolerance policy and demand that the Department of Homeland Security tell us how it plans to care for and reunite these families. Then, consider getting involved with non-profits that provide advocacy services to immigrants and refugees. And of course, make sure you're registered to vote, so you can support candidates who share your values this coming November.
I'm working in the Senate every day to make sure we have an immigration system that keeps families safe, strong, and united—not one that scares children, destroys families, and closes the door to immigrants.
I will not stop fighting to prevent President Trump from using fear and outright lies to tear immigrant families apart and shred our fundamental American values of compassion and justice.
I hope you'll join me in this fight.
Celebrity news, beauty, fashion advice, and fascinating features, delivered straight to your inbox!
Catherine Cortez Masto is the senior US Senator from Nevada and the former Attorney General of Nevada.