Donald Trump Hovers Behind Hillary Clinton at Debate and Twitter Is Creeped Out
"Make America Lurk Again"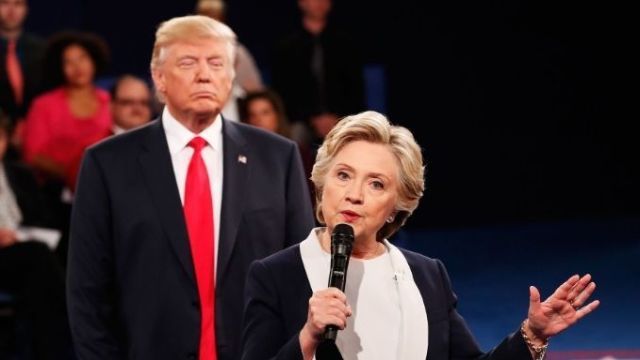 (Image credit: Getty Images)
The second presidential debate quickly turned into an insane celebrity cage match as Donald Trump and Hillary Clinton hurled insults and attacks at each other. During one particularly awkward moment, Trump hovered behind Clinton as she spoke.
People noticed. And it was not a good look.
I think he's about to give her bunny ears #debate pic.twitter.com/BKZOrvrMH7October 10, 2016
See more
Really, this isn't normal #debate pic.twitter.com/wEQqFq17oVOctober 10, 2016
See more
I don't know why Trump thinks he can possibly sneak up on Hillary from behind with all that sniffing giving him away.October 10, 2016
See more
In fact, it was downright creepy:
Trump standing directly behind Hillary, in light of his comments bragging about sexual assault, is a bad, ominous pose for him.October 10, 2016
See more
Here's the debate where Donald Trump tries to not look like a sexual predator. pic.twitter.com/N5hSGtLSGkOctober 10, 2016
See more
Like, horror movie level creepy:
This looks like a poster for a 1970s horror movie pic.twitter.com/vCVGrTLdteOctober 10, 2016
See more
Scary Halloween costume idea: Dress up like Trump, go to a party, and stand 3-5 feet behind successful women. pic.twitter.com/tz6STpkccQOctober 10, 2016
See more
This pretty much sums it up:
Make America Lurk Again. #Debate pic.twitter.com/BvoVhi545GOctober 10, 2016
See more
Follow Marie Claire on Facebook for the latest celeb news, beauty tips, fascinating reads, livestream video, and more.
Prachi Gupta is an award-winning journalist based in New York. Her first book, about Rep. Alexandria Ocasio-Cortez, is available via Workman Publishing.