Condoleezza Rice Has a Wicked Response to Trump Calling Her a 'B*tch'
Fire.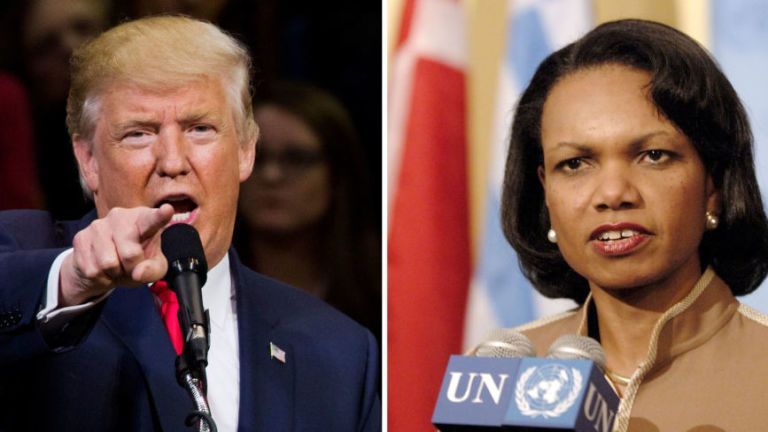 (Image credit: Getty Images)
In 2006, Donald Trump spoke at the Learning Annex convention. (Always eager to impart knowledge, that one.) In a rambling speech meant to cover real estate but veering into political territory, Trump reportedly called Condoleezza Rice, then Secretary of State, a "bitch." The New York Daily News originally covered that story in 2006, quoting Trump as saying, "Condoleezza Rice, she's a lovely woman, but I think she's a bitch." Nice.
Rice was a "bitch" because she couldn't do her job, Trump claimed. In a 2007 speech, he reasoned, "Has she made any deals? Honestly, has this woman made one deal that anybody knows, even if it was a bad deal. I'd even take a bad deal." (How presidential.)
Let's revisit Trump's Access Hollywood tapes for a moment, in which he bragged, "I moved on her like a bitch." A "bitch" like Condoleezza Rice, perhaps? A "bitch" like Condoleezza Rice who can't make a deal, even? By simple application of the transitive property, we could deduce that Trump, moving like a bitch, couldn't make the deal. The Artlessness of the Deal, if you will.
The Daily News story resurfaced Tuesday, and CNN's Kfile dug through the archives in search of that video. It found something close, a clip of Trump saying, "I wish she was a bitch. I don't care if she's a lovely woman. I want somebody that can go and make deals. She goes to countries, nothing ever happens." And we're back to using "bitch" as a complimentary term.
CNN Kfile asked Rice to comment on the "bitch" thing Tuesday. Rice simply wrote back, "Exactly. Can't wait until November 9!" Same.
Follow Marie Claire on Facebook for the latest celeb news, beauty tips, fascinating reads, livestream video, and more.
Sarah Rense is the Lifestyle Editor at Esquire, where she covers tech, food, drinks, home, and more.