Here's How President Trump Has Already Redecorated the Oval Office
Yep, there's gold—but he's not the first to use it.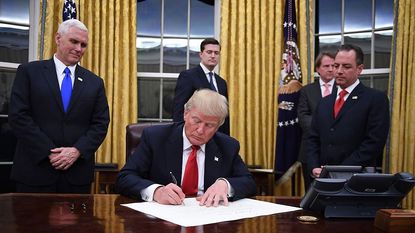 (Image credit: Getty Images)

It was only a matter of time (hours, actually) before our new president, Donald Trump, added his personal touch (opens in new tab) to the historic Oval Office.
(Curious how much the Trump family can actually redecorate? Find out here (opens in new tab).)
The most notable change is to one of our favorite room accessories: curtains. The crimson-colored drapes that once hung from the Oval Office windows during President Obama's time have been replaced with bright gold ones. We got a glimpse of them on Friday via photographs of President Trump signing an executive order at the White House.
Of course, this update isn't at all surprising. Gold is clearly one of the Trump family's favorite colors; we've seen it throughout his and First Lady Melania's New York City penthouse in Trump Tower. However, for the Oval Office, it's a classic choice. Gold curtains were also favored by President Bill Clinton and President George W. Bush (for a time).
President Trump—or at least his decorators—have also chosen to replace the rug, which most presidents do upon taking office. President Obama had a large oval rug, which featured quotes from four former presidents surrounding it, according to ABC News (opens in new tab).
Now reports say (opens in new tab) that there is a golden rug with garland edges, which appears to be similar to or the exact one used by President Ronald Reagan.
Contrary to earlier reports, Trump has not removed the bust (opens in new tab) of Dr. Martin Luther King, Jr. from the office, but instead simply moved it to another place in room. Trump did, however, bring back a Winston Churchill bust that President Obama had placed in another room during his terms.
CNN also claims that Trump has replaced the gray couches (opens in new tab) with (you guessed it) gold ones, but has decided to keep the Resolute Desk. The desk was a gift from Queen Victoria to President Rutherford B. Hayes (opens in new tab) in 1880, and was brought back into the Oval Office by Jackie Kennedy for her husband. Since that time it's been used by many heads of state, including Presidents Jimmy Carter, Reagan, Clinton, George W. Bush and Obama.
According to the White House Historical Association (opens in new tab), the First Family is given $100,000 allowance to redecorate the Oval Office and the private residence. Both President Reagan and President Obama declined the money in favor of using personal funds. President Trump may also choose to do the same, although it's unclear if he is going to make any other changes. In an interview with People (opens in new tab), when discussing the White House, he said he would "maybe touch it up a little bit," noting that it's a "special place."
[h/t Daily Mail (opens in new tab)
Follow Marie Claire on Facebook (opens in new tab) for the latest celeb news, beauty tips, fascinating reads, livestream video, and more.