Tiffany Trump Is Reportedly Registered to Vote in Two States
The reports come the same day her dad, President Donald Trump, announced a voter fraud investigation.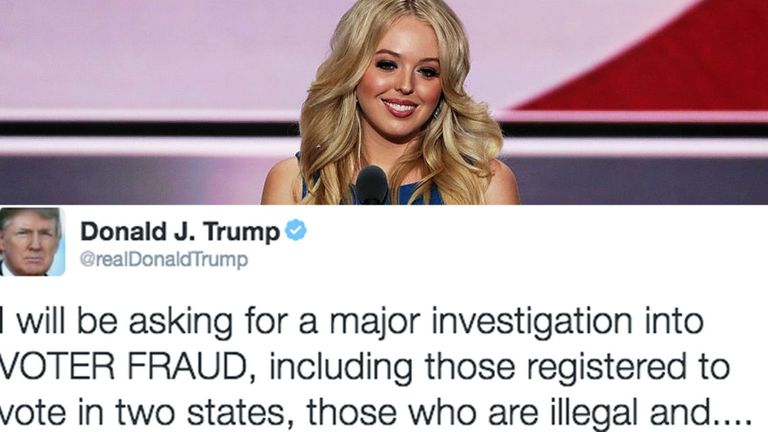 (Image credit: Getty / Twitter)
Hours after President Donald Trump announced he is asking for "a major investigation into VOTER FRAUD, including those registered to vote in two states," several news publications reported that Trump's daughter, Tiffany Trump, as well as his chief strategist Steve Bannon are themselves registered to vote in two states.
As first reported by Heat Street, Tiffany is reportedly registered to vote in both Pennsylvania and New York. "There is nothing illegal about that," Fred Voigt, deputy election commission for Philadelphia, explained to Heat Street. "There illegality only occurs if one votes in two places, not if you're registered in both."
Tiffany is allegedly registered to vote in Pennsylvania because she attended the University of Pennsylvania, where she graduated from in May. Voigt added that it's not uncommon for college students to be registered both where they attend school and in their home state.
According to the Washington Post, which also reports Tiffany's dual registration, the error could have occurred because New York state's voter registration doesn't provide a place for voters to identify where they've been registered before, making it more difficult to consolidate voter registration.
Based on Trump's announcement via Twitter, and a later press conference by Sean Spicer, it's unclear whether or not Trump is investigating dual voter registration (which is not illegal), or cases in which people used that dual registration to vote twice. There are no reports that allege Tiffany attempted to vote more than once.
Follow Marie Claire on Facebook for the latest celeb news, beauty tips, fascinating reads, livestream video, and more.