Donald Trump Is Reportedly Obsessed with His Employees' Appearances
And requires his female staffers to "dress like women."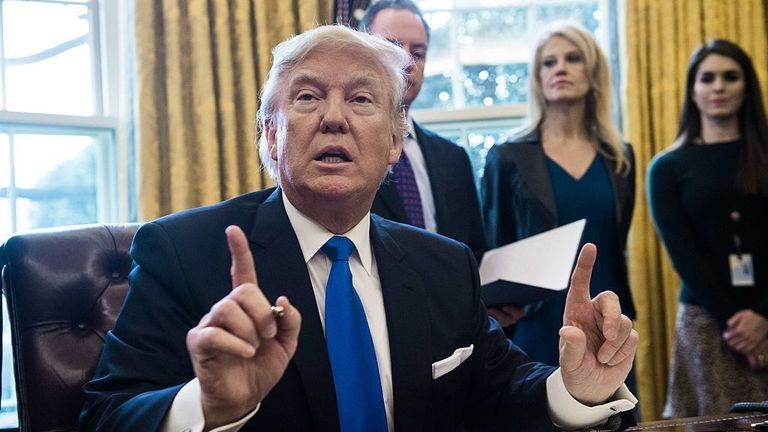 (Image credit: Archive)
The fact that Donald Trump is overly fixated on aesthetics is not brand-new information to anyone. Even setting aside his pathological obsession with gold (opens in new tab) and his desperation to prove that his crowds are the biggest crowds (opens in new tab), it's clear in the way he consistently reduces women to their physical appearances (opens in new tab). So it's not a huge surprise to learn, in a new report from Axios (opens in new tab), that Trump is extremely particular about the way his employees dress.
Trump reportedly likes his female employees to "dress like women…even if you're in jeans, you need to look neat and orderly." But he's equally judgmental of men's appearances, the report claims, with a source explaining, "You need to have a certain look. That look—at least for any male—you have to be sharply dressed. Preferably, I would say, solid colors. You should have a good physical demeanor, good stature, hair well groomed." Trump is apparently very particular about ties, despite using Scotch tape to keep his own in place.
And yes, the memorably ill-fitting suit that Sean Spicer wore during his disastrous first White House press briefing (opens in new tab) bothered Trump. "He had a gap in his collar," one source close to Trump said with horror. "I was like 'Oh God, he's going to get reamed.'" And sure enough, it took only two days for Spicer to sharpen up, swapping out the baggy pinstripe look for tailored dark suits.
What remains unclear is why chief strategist Stephen Bannon is still allowed to come to work looking like this (opens in new tab). "Steve is Steve," said a source by way of explanation. "He's cavalier about what he wears." More to the point, Trump allows him to be cavalier about it, which hints at an inverted power dynamic that could have implications (opens in new tab) way beyond the workplace dress code.
Follow Marie Claire on Facebook (opens in new tab) for the latest celeb news, beauty tips, fascinating reads, livestream video, and more.
Emma Dibdin is a freelance writer based in Los Angeles who writes about culture, mental health, and true crime. She loves owls, hates cilantro, and can find the queer subtext in literally anything.