"I Just Don't Want a Poor Person" in the Cabinet: A Real Thing Trump Just Said
Also, he invented something called a "solar wall."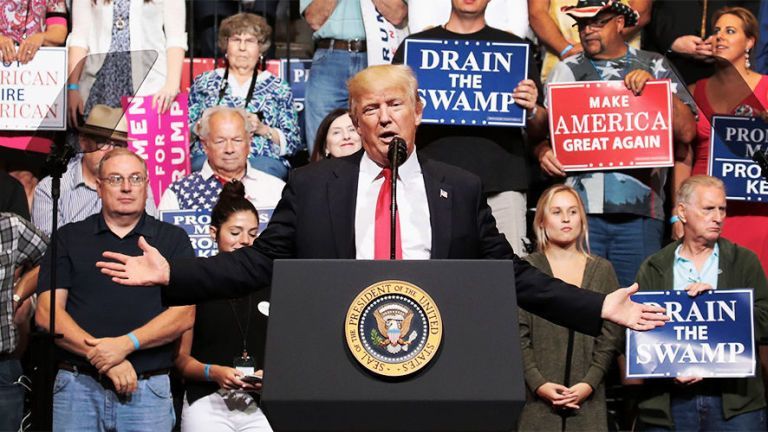 (Image credit: Getty Images)
Sometimes, the truth slips out. At a Wednesday night rally in Cedar Rapids—no, the rallies will never stop—President Trump got to free-associating about the members of his cabinet who came along for the trip. He referenced Gary Cohn and Wilbur Ross, two of the Wall Street bigwigs he recruited to run his National Economic Council and Commerce Department, respectively. Trump rambled about their great business minds, but more importantly, about how rich they are. And in the process, he couldn't resist letting this one out:
"And I love all people, rich or poor," the president said, "but in those particular positions, I just don't want a poor person. Does that make sense?"
The problem isn't having rich people in the cabinet—the issue is that Trump ran a populist campaign in which he frequently railed against Wall Street, particularly Goldman Sachs, which he often intimated was controlling his opponents Ted Cruz and Hillary Clinton. Now, he's hired a bunch of Goldman Sachs alumni to run the management of his economic policy, including Steven Mnuchin, who ran a foreclosure mill during the Great Recession.
The concern isn't whether they're rich, or even if they know what kind of policy will spur or maximize economic growth. It's whether they will prioritize making the economy work for everyone—even the Appalachian coal workers who tied their futures to Donald Trump, and yes, even the poor.
At the same event, he also haphazardly invented a "solar wall":
Follow Marie Claire on Facebook for the latest celeb news, beauty tips, fascinating reads, livestream video, and more.