Ivanka Trump Sat in for Her Father With World Leaders at the G20 Summit
She was seated between Chinese President Xi Jinping and British Prime Minister Theresa May.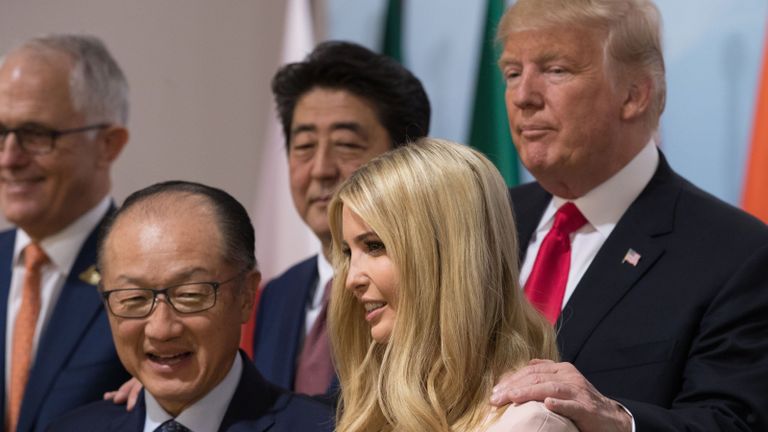 (Image credit: Matt Cardy)
Ivanka Trump and her husband Jared Kushner have accompanied Donald Trump to the G20 meetings in Hamburg, but yesterday Ivanka took her role as daughter and special assistant to the president one step further and sat in for her father briefly at the meeting of world leaders in Germany.
When Donald Trump stepped away from the main table for a short meeting, his daughter took his place between Chinese President Xi Jinping and British Prime Minister Theresa May. As Bloomberg reported (opens in new tab), one official who was watching said it happened on two occasions and Ivanka did not speak.
Russian G20 Assistant Tweets, Deletes Picture of Ivanka Trump sitting in for Donald Trump During G20 Sessionhttps://t.co/kfkwx7iEIo pic.twitter.com/hpSWZJY7xkJuly 8, 2017
See more
G20 leaders are reportedly allowed to bring staff into the room for some of the meetings—Ivanka serves in an unpaid but official role in her father's White House—and sometimes these staff members fill their bosses' vacant seats.
Ivanka, who entered the session with her father, "briefly joined the main table when the President had to step out" a spokesman for the first daughter said (opens in new tab).
It isn't the first time that Ivanka has participated in high level meetings at the summit. According to the Washington Post, on Thursday evening, she and her husband—who like his wife has an official role in the White House (opens in new tab)—joined the president at a meeting with German Chancellor Angela Merkel. Kushner took part in Trump's meeting with Mexican President Enrique Peña Nieto as well.
Oh .. Ivanka Trump is at the G20 table now too?!? #ImOut pic.twitter.com/QAcP5JP5GWJuly 8, 2017
See more
For her part, Ivanka also participated in a World Bank discussion of a fund for women entrepreneurs, one of the causes she has championed in her role as daughter-cum-presidential-advisor. At the event, President Trump praised her efforts: "I'm very proud of my daughter Ivanka, always have been from day one. I have to tell you that, from day one," he said. "If she weren't my daughter it'd be so much easier for her. It might be the only bad thing she has going if you want to know the truth."
It's also not Ivanka's first appearance at a G20 event. In April, she travelled to Berlin to participate in the women's summit, where she appeared on a panel with Merkel and Christine Lagarde, director of the International Monetary Fund. At that appearance she called her father a "tremendous champion of supporting families and enabling them to thrive." Her appearance on that panel made headlines because it was met with a smattering of boos from the audience.
Follow Marie Claire on F (opens in new tab)acebook (opens in new tab) for the latest news, long reads, video, and more.
Elizabeth Angell is the Executive Editor, Digital for Town & Country, where she writes about the British Royal Family, the Kennedys, Ivy League shenanigans, superstars of interior design, and trends in style, beauty, and home.