Hillary Clinton Is More of a President Right Now Than Donald Trump Will Ever Be
We know: She lost, he won. But she's still proving to be the stronger leader.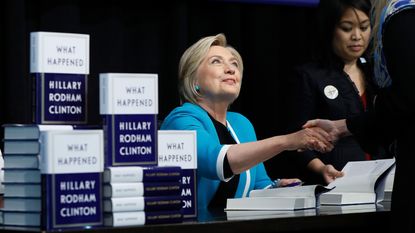 (Image credit: archive)
Marie Claire Newsletter
Celebrity news, beauty, fashion advice, and fascinating features, delivered straight to your inbox!
Thank you for signing up to Marie Claire. You will receive a verification email shortly.
There was a problem. Please refresh the page and try again.
As Hillary Clinton embarks on a book tour, talking about her 2016 presidential loss and the most bizarre campaign in American history, it's hard not to notice something: The woman who lost the election is actually more of a president than the man who won. In a time of unbelievable political discord and pain, it's Clinton who is offering wise counsel, deep thinking, and leadership. The only thing our actual president seems to be offering is misspelled tweets and refuge to white supremacists.
Here, five examples of how Clinton is more of a president than Trump will ever be:
While Donald Trump can't seem to get behind any policy for more than a hot second ("big beautiful" walls that will never be built aside), Hillary Clinton's updated website lists all of the policies she believes in, complete with substantive plans for how they would be executed. Trump, on the other hand, relays his bumbling policies via Twitter while his staff is kept in the dark, and doesn't seem to understand even the most basic foundational tenets of the GOP's agenda.
MORE FROM JESSICA VALENTI
2. Unlike Trump, she's concerned about the future.
The future of the world is quite literally dependent on what we do about climate change. While Clinton offered words of support to protesters at the historic Climate March this year and outlined a plan for undoing the damage we've been unleashing on the environment, Trump insists that climate change is a Chinese hoax and pulled the United States out of the Paris Agreement.
3. She focuses on helping the victims of natural disasters as opposed to bragging about how big the storms are.
Speaking of climate change, Trump's reaction to the historic hurricanes that have destroyed towns and killed dozens people in the last two weeks seemed to be increasing excitement at the historic sizes of the storms rather than measured concern over the devastation they caused. He also found the time to RT a joke about his former opponent. (Clinton, on the other hand, was spreading the word on ways to help victims.)
4. She's not afraid to call out hate groups.
After white supremacists and neo-Nazis marched through the streets of Charlottesville in a demonstration that left one woman dead, Trump made a disgusting statement that there was violence and wrong-doing on "both sides." Even now, Trump's White House won't commit to signing a resolution condemning white supremacy. Clinton directly named white supremacy and gave sympathy to all "who feel unsafe in their country." Only one of those responses is presidential.
5. She's the one most of the country supports.
This one should be a given, but generally the person who is president is the person who has the support of most Americans. Clinton won the election by millions of votes, even after potential tampering by a foreign government. Meanwhile, Trump's approval ratings are at their lowest since taking office, a measly 35 percent. Perhaps that's why—despite all the insistence that the former Secretary of State is widely disliked—people lined up around New York City blocks for a chance to see her this week. (This is what it looked like the last time Trump visited his home city of New York, by the way.)
So while critics, many of them misogynists, bash Clinton for daring to show her face after losing the election—suggesting instead that she retire from public life forever—she is leading by example and acting a whole hell of a lot more presidential than the man who currently sits in the Oval Office.
Sadly, though, while Clinton can influence policy makers and comfort the American people, she doesn't have the same governmental powers that our racist-in-chief currently has. So while we consider just how un-president-like our president is, let's not give up easily, no matter how much opponents may want us to. Like Clinton, we're not going anywhere.
Jessica Valenti is a contributing editor to MarieClaire.com—read her weekly column here.
Celebrity news, beauty, fashion advice, and fascinating features, delivered straight to your inbox!
Jessica Valenti is a columnist and author of five books on feminism, politics, and culture. Her latest book, Sex Object: A Memoir, was a New York Times bestseller. Valenti is also editor of the ground-breaking anthology Yes Means Yes: Visions of Female Sexual Power and a World Without Rape and the founder of Feministing.com, which Columbia Journalism Review called "head and shoulders above almost any writing on women's issues in mainstream media." She has a Master's degree in Women's and Gender Studies and lives in Brooklyn with her husband and daughter.