Trump Wants to Make Giant Budget Cuts to the Crime Victims Fund, Anti-Poverty Programs, and the Arts
And 5 more reasons the president's proposed budget should terrify you.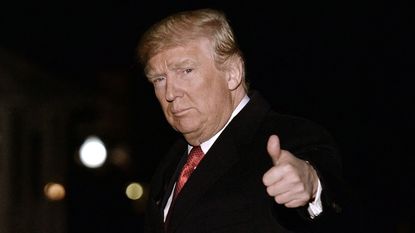 (Image credit: Archives)
Marie Claire Newsletter
Celebrity news, beauty, fashion advice, and fascinating features, delivered straight to your inbox!
Thank you for signing up to Marie Claire. You will receive a verification email shortly.
There was a problem. Please refresh the page and try again.
Today, President Trump is sending an outline of his proposed 2018 budget to Congress. The theme of his plan? Slash funding for government agencies like the EPA and National Institutes of Health and increase spending on the military and homeland security. He even used a budget maneuver to enable him to spend less on funds classified as "mandatory," like the Crime Victims Fund.
The plan is a pared-down first draft—a broader budget that includes Trump's tax proposals and government spending on programs like Social Security, Medicare, and Medicaid will be released in the spring.
According to the New York Times, the chances of Trump's proposed budget passing Congress in its current form are slim but his suggested changes are still alarming.
Here are the 5 scariest things he's proposing:
This would mean eliminating funding for climate change research (which the President has called a hoax). What's more, Trump's plan would cut 1.5 billion from the Commerce Department, erasing more than $250 million in National Oceanic and Atmospheric Administration grants, including a program that helps coastal communities adapt to climate change and maintain healthy water. (Remember Flint, anyone?)
The brunt of the cuts would impact the National Institutes of Health, the nation's top medical research agency. Although it's not clear what research on diseases or disorders would lose the most money, it could mean reducing or halting research for diseases like breast cancer, diabetes, and heart disease.
This budget will do serious harm to the country's poorest citizens. It would do away with the $3 billion Community Development Block Grant program, which funds programs like Meals on Wheels (which delivers food to the homebound) and other anti-poverty programs. That also means less money for affordable housing and public facilities improvements, like parks, health-care and child-care facilities, neighborhood rehabilitation, and disaster relief.
Trump's plan would throw out a $1.2 billion initiative that supports before- and after-school programs as well as summer programs, a move that is really a hit to working moms.
Trump's budget calls for eliminating all federal dollars for the Public Broadcasting Corporation, which backs PBS and NPR. (So, no more Serial.) Additionally, independent agencies like the United States Institute of Peace, the National Endowment for the Arts, the National Endowment for the Humanities, the Corporation for National Community Service, and the African Development Foundation would no longer be supported by tax dollars.
Follow Marie Claire on Facebook for the latest celeb news, beauty tips, fascinating reads, livestream video, and more.
Celebrity news, beauty, fashion advice, and fascinating features, delivered straight to your inbox!
Abigail Libers is a journalist with more than a decade of experience specializing in health, food, fitness, sex, relationships, and beauty. In addition to Prevention.com, her work has been featured in Everyday Health, SELF, O: The Oprah Magazine, Glamour, Cosmopolitan, WellandGood.com, Refinery29.com, and more.