The Trump White House Can't Even Throw the Easter Egg Roll Properly
The event will not be big-league.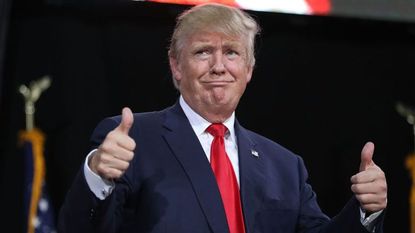 (Image credit: Getty Images)
The Trump administration has been scrutinized for every action it has taken since President Donald Trump was sworn in to office. Now, they're facing their latest test: whether they can pull off the annual White House Easter Egg Roll. And, honestly, it's not looking great for them.
The 138-year-old celebration is one of the most high-profile public events (opens in new tab) that the president hosts each year. Last year event drew roughly 37,000 guests; past events have included A-list celebrity guests and performers.
Neither of those things are likely to happen in 2017. The Trump administration has struggled in the past (opens in new tab) to bring in high-profile performers, with numerous celebrities turning down requests to perform at his inauguration. Previous Easter Egg Rolls have featured Beyonce and Justin Bieber. This year, there will be a performance by a boy band called Bro4 (opens in new tab).
Stephanie Grisham, Melania Trump's new communications director, said the White House expects attendance to be around 20,000 people, according to a New York Times report (opens in new tab). The smaller crowd is partially due to the fact that the White House waited too long to order this year's commemorative eggs.
In February, Wells Wood Turning & Finishing, the provider of the event's commemorative eggs, tweeted at the president, his wife, and his daughter, Ivanka.
@FLOTUS @realDonaldTrump @POTUS @MELANIATRUMP @IvankaTrump FYI manufacturing deadlines for the Easter eggs are near. Please reach out! pic.twitter.com/D78YqWVPBiFebruary 20, 2017
See more
The White House did not follow through and place an order until early March, by which time it was considered a rush. The limited manufacturing window means fewer eggs can be provided, increasing the likelihood that the event will have to scale back in size dramatically.
RELATED STORIES
Though on its surface it may seem silly, the administration's ability to host a large, public event says a lot about their attention to detail and their ability to get granular. For example, the first lady's office normally plays a large role in preparation of the event. Because Melania Trump lives in New York and has been slow to hire members of her event staff, the Easter Egg Roll is expected to suffer. She still has not hired a director for the Visitors Office (opens in new tab), a staffer who normally plays a major role in the planning.
Grisham told the Times that the event will be staffed by about 500 volunteers—half as many as usual. That same report found that local elementary schools that normally receive thousands of tickets have yet to receive any, even though the event is scheduled for Monday. The same is true of military families in the DC-area that are typically given tickets.
Even the costumed characters will fall short of standard. The event normally features a host of "Sesame Street" characters, but reports suggest that this year, there will be just one.
The annual Easter Egg Roll is scheduled for Monday, April 17, 2017.
We're nominated for a Webby Award—but we need your vote to win! Vote for the Women and Guns project here. (opens in new tab)