I Finally Had a Threesome and All I Got Was a Crush on a Couple
You can't have feelings for two people, right?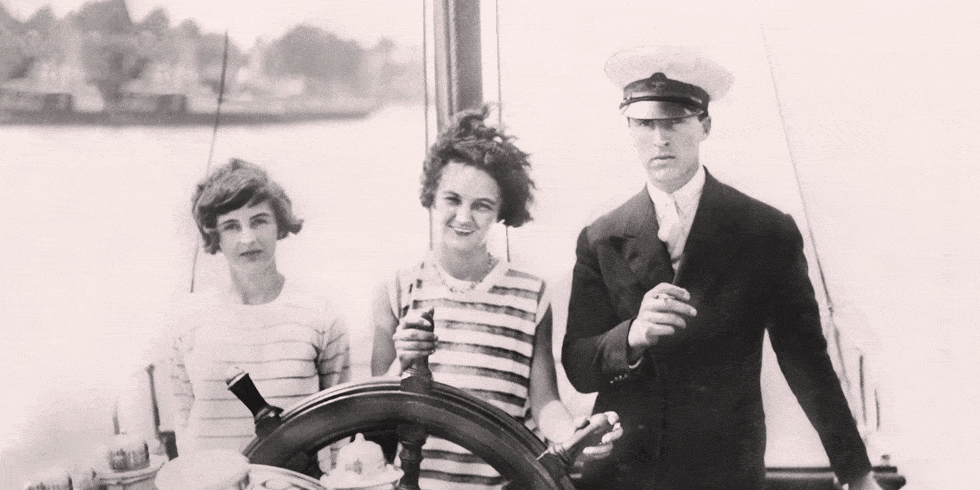 (Image credit: Getty + Katja Cho)
After five years of being single, I thought I was done getting anxious before first dates. But one dusty August evening while walking to a bar, my nerves hit me like oncoming traffic. I took deep breaths, trying to calm down. It's just like any other first date, I reassured myself. Only this time, you're meeting two people.
I found them the same way I found everyone: through my phone. The app was called 3nder, with the tagline, "Trios Made Easy." In non-App Store English, this meant it was for threesomes. I'd always been curious about a threesome, but more importantly, online dating with single guys wasn't working out. People online seemed to find each other replaceable, probably because we all were replaceable—swipe one of us away and a new one would grow in our place. Each date felt routine, as did the emotions I inevitably felt after them: Either desperately wanting the guy to call me, or never wanting anything to do with him again.
But a date with a couple could be different. It wouldn't make sense to picture our future together, since they'd already have a future of their own. And a threesome seemed like the ideal form of meaningless sex: There wouldn't be room to get emotionally invested. To quote the poet Fat Joe, "What's luv got to do with a little ménage?" Ideally nothing.
I downloaded 3nder and wrote a quick sentence about my interests: typography, vegan food, and Amy Schumer. Hours later, I got a message from a guy who claimed his name was "Boy," saying he and his girlfriend ("Girl") also loved Amy Schumer. One common interest was enough, and we made plans for a drink.
At the bar, I found Boy and Girl near the back, both sitting on the same side of a high table. I ordered a whiskey on the rocks, hoping to impress them. When we clinked glasses, I awkwardly tried to meet both of their gazes, skirting my eyes between them. They didn't look like their pictures—they looked better. This couple was radiant, flush with the glow of an impending adventure.
Girl did most of the talking. She was a photojournalist. He was an app developer. They'd met eight years ago at Burning Man, and by now were such festival veterans that they didn't feel the need to convince me—or anyone else—to go. (Non-aggressive Burners are a rare gem).
I noticed they were wearing rings. They'd spontaneously gotten married in Prospect Park last month, and still looked like newlyweds: glittery eyes, beaming smiles. I imagined their wedding as the final scene of a romantic comedy, and wanted to curl up inside it until the credits began to roll.
The conversation veered toward online dating, and I realized I was the resident expert. Though it usually filled me with ennui, in this context, my experience seemed to give me edge.
"It's crazy that a phone can bring cool humans together like this," Boy squealed.
I lit up at the compliment, but laughed at his innocence. "You've been out of the game for eight years. These days, that's what apps are supposed to do."
The night flowed effortlessly. We shared our favorite YouTube videos. Girl showed some of her photos, featuring naked people walking through Times Square. Boy explained why he thought California was "too perfect." I wondered if our night was also too perfect; if the chemistry could just be the excitement of new friendship.
Then the lights dimmed, and they told me the history of their sex life. They'd taken in a third person once before and the dynamic had only fueled their fire, awakening them to each other in a whole new way. I listened intently, in awe that such a thing was possible. They hadn't fought, or broken up. My chest felt weightless—and I realized—I had a crush! But it was on them, as a couple. Was that even allowed?
As if noticing my revelation, Boy and Girl reached across the table and placed their hands on mine. Something shifted. I was no longer a mere spectator of their relationship. They were inviting me to become part of the fabric of it. This wasn't a meaningless one-night stand anymore. Something about it felt real.
We left and went to their place. The apartment had the quaint optimism of people starting a life together, packed with personal art and wedding gifts. I felt a burst of glee as I walked into their bedroom. Let the wild rumpus start! This was supposed to be the craziest sex of our lives. I'd gotten this far; I was ready to try anything.
But Boy and Girl immediately set a different tone. They moved slowly, kissing every visible patch of my skin, constantly checking with me to make sure that I felt comfortable. And,though keeping track of six hands was slightly awkward, I did feel comfortable—safe, even. It was like being in a shroud of new romance, where you get the sense that, in your lover's eyes, you can do no wrong.
Hours later, I slid my clothes back on. They offered to let me spend the night, but I had to work the next day and decided against it, even though the last thing I wanted to do was leave.
My imagination powered up on the ride home. I envisioned the exact scenes I'd thought I wouldn't: the three of us out to dinner, or at the movies, or on vacation, taking up a whole row on the plane. I wondered which room in their apartment would be mine (or would we share?), and even started planning the speech I'd give my parents, rehearsing the pronunciation of the word "throuple."
The next day, I texted them: "That was fun." They responded six hours later, and we carried on a brief conversation, wherein I talked the most. Soon they stopped responding to my questions. I checked my phone compulsively for the next week: no new messages.
The rejection felt dull, impersonal, and painfully obvious. Of course they didn't want to hang out again. They were busy being in a relationship with each other! Our night had felt real because their relationship was real. The dangling question mark in my text illuminated how carried away I'd gotten, like finding spinach in my teeth after a long, smile-filled day. It could have felt twice as bad to get shut down by two people, but it actually felt a lot like standard rejection.
In hindsight, I'd really only had one crush. Separately, Boy and Girl didn't affect me—I'd fallen for the electricity between them, the strength of their bond. They'd let me jump in and experience that romance with them, and together, we'd answered Fat Joe's rhetorical question: Sex was always better when it meant something, no matter how many people were involved.
Follow Marie Claire on Instagram for the latest celeb news, pretty pics, funny stuff, and an insider POV.
Celebrity news, beauty, fashion advice, and fascinating features, delivered straight to your inbox!