What Men Really Think When They Propose
It's only the highest-stakes moment of his life so far.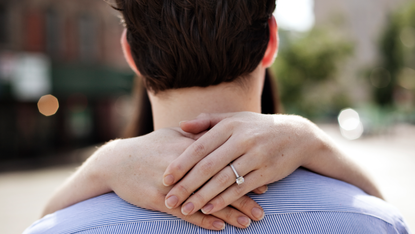 (Image credit: Archives)
Marie Claire newsletter
Celebrity news, beauty, fashion advice, and fascinating features, delivered straight to your inbox!
Thank you for signing up to . You will receive a verification email shortly.
There was a problem. Please refresh the page and try again.
"How did he pop the question!?" is inevitably the first thing friends ask when you tell them you're engaged. But does your guy remember that day? We asked three newly married husbands what was going through their heads when they mustered the courage to ask, "Will you marry me?". (Curious how their stories sync up with those of their significant others? You can read their takes here. (opens in new tab))
New Zealand-born stylist Marina Didovich (opens in new tab), and Steven Chee, an Australian photographer (opens in new tab), met eight years ago in Fiji, where they were each working on beach-themed fashion shoots.
Their proposal from Steven's POV:
We had been living together for six years when I proposed—Marina would say it was way overdue. Getting the ring was the easy part. I had definitely listened over the years to some casually dropped hints. Most of the preparation actually involved getting Marina to New York without suspecting anything. I used a work trip as cover and asked her to come along.
I knew I would propose in Central Park—it was the first place in New York City where I worked as a photographer and I wanted Marina to have a connection with it. It was one of the hottest, most humid days in New York, above 90 degrees. We walked to Sheep's Meadow to the spot where I shot many years ago. It has a magical view of the Manhattan skyline sprouting from the tree line.
I could see clouds forming in the distance so I led Marina to a clearing. With my hands sweating, I struggled to fish the ring out of the little plastic bag I'd tucked into my pocket, and then I bent down on one knee.
After I had a "Yes!", we made our way to the perimeter of the park. A lady stopped us and said she thought something special might be happening so she had taken some photos. She produced her phone and flicked through what was like a little animation of my proposal, about 20 shots. It was such an amazing gift from a stranger.
When we left the Meadow, the clouds opened up and we ran for it! We found refuge in a hotel and had champagne to celebrate.
Click here (opens in new tab) to read what Marina thought of the proposal.
Dana Drori, a model and founding editor of Aftertastes (opens in new tab), a literary food website, met Darrell Hartman, a writer and co-founder of Jungles in Paris (opens in new tab), a travel magazine, during New York Fashion Week.
Their proposal from Darrell's POV:
After three and a half years, marriage was mentioned more often. It started with ifs, and then those ifs dropped out. We knew it would happen.
The ring took planning. I decided to redesign my grandmother's engagement ring, and I worked closely with a designer, creating exactly what Dana would want.
The proposal was much simpler. We had been spending time in the Catskills, in Upstate New York, and I knew I wanted to go there more together in the future so it made sense to propose there on top of a mountain.
When we woke up on Saturday morning, I packed the backpack and hid the ring, a bottle of champagne, and a blanket inside. I wasn't nervous about giving anything away because I didn't think Dana was expecting it at all. We made it to the top early and no one else was around. Then I took out the blanket. My one screw up was giving her a bag of trail mix—she immediately shoved a handful in her mouth. Then I went right down on one knee asking Dana if she would marry me. She was taken aback but couldn't say yes because her mouth was full. I think she was overwhelmed and happy, but also like, "You do this once and you chose this moment when I have my mouth full!" She mumbled "yes" through a mouthful of raisins and nuts, but then asked me to do it again, properly. So actually, she said yes twice.
Click here (opens in new tab) to read what Dana thought of the proposal.
Darroch Putnam and Michael Putnam, the duo behind Putnam & Putnam floral design company, met in college.
Their proposal from Darroch's POV:
I asked Michael to marry me after we had been dating for about a year. There's something very special about him—you can see it in his eyes. He has this really amazing energy. We had spoken about the future a bit, but not about marriage specifically—unless we were joking.
Where we lived in Santa Barbara, there was always a really good happy hour, so we'd get margaritas. One night afterwards I woke up around three in the morning. I literally hadn't thought about proposing at all, but I decided, "I'm going to drive Micky to the top of this mountain and ask him to marry me." It just came to me at that moment—I hadn't even bought a ring yet. I convinced him to get up and he wasn't happy.
As we were driving I think he could tell something was up. We got to the peak and you could see all the way down the coast. The sun was just starting to rise. It was so stereotypical, but I got on one knee. I knew he'd say yes. We both started crying and hugging.
Click here (opens in new tab) to read what Michael thought of the proposal.
Follow Marie Claire on Instagram (opens in new tab) for the latest celeb news, pretty pics, funny stuff, and an insider POV.