Why I Left My Beta Husband
The alpha female/beta male conundrum.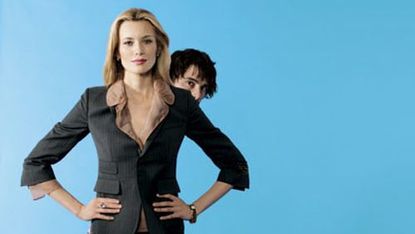 (Image credit: Chris Buck)
Marie Claire Newsletter
Celebrity news, beauty, fashion advice, and fascinating features, delivered straight to your inbox!
Thank you for signing up to Marie Claire. You will receive a verification email shortly.
There was a problem. Please refresh the page and try again.
A few years ago, my husband, Mark, and I were at one of those hip downtown restaurants sipping mojitos and nibbling on lime-spiked seviche when one of my bosses appeared from a cloud of Cuban-cigar smoke and patted my shoulder. When I introduced him to Mark, he naturally asked what he did for a living. We both froze.
"I do some freelancing," Mark said.
"He studied film at NYU," I said at the same time.

Mark looked at me and shrugged. "I stay home with our daughter," he said, as my colleague quietly balked.
"He makes it possible for me to do my job," I said, laughing. But inside, I was mortified. Technically, I had it all back then, including a gorgeous toddler and a cool job.
What I didn't have was a husband I felt proud of.
God knows I wanted to be proud of him. Mark is smart and funny and the only person I know who gets off on explaining why the Sherlock Holmes tales are more colonialist than patriarchal. And if you asked me about somebody else's stay-at-home husband, I'd be all over the subject, spouting statistics about how important the father-daughter bond is to girls' self-esteem and how limiting it is to expect women to mind the home front. But living it was completely different.
Maybe it's because the plan wasn't for Mark to be a stay-at-home dad. I went to work when he started graduate school, thinking that I'd head back for my own Ph.D. once he was done. I envisioned us as hard-core academics, reading passages from Joyce to each other while I put together a fancy dinner of organic rutabaga soup with apple crème fraîche swirls on top. Instead, I fell in love with my first job at a small food magazine, and eventually, after a few promotions, I found myself working as a staff writer for a national women's magazine.
Things went less smoothly for Mark. By the time we found out I was pregnant-three years into our marriage-he'd been looking for a job teaching film for six months with no luck. Then he began applying for any old job, but nothing panned out. Still, the minute my pregnancy test flashed its double pink lines at me, I knew I needed to put my career on hold.
I stayed home with our daughter for six months after she was born while Mark continued, yes, looking for a job. In 18 months, he got just two calls. Meanwhile, I was being pursued by headhunters. Eventually, I took an editing job at a health magazine.

I felt like myself again-pitching ideas, doing the witty-banter thing in the halls with my colleagues. But my marriage started to fall apart. I felt guilty about being glad to go back to work, and in my head, I made it Mark's fault. Because he couldn't find a job, I blamed him when I was working late and had to miss the baby's bedtime; it was his fault I had to go in early every day, since the fact that he couldn't find a job meant that I couldn't afford to lose mine.And when I got home, I seethed. I couldn't walk across the living room without tripping over some plastic toy or container of wipes. The baby was in the same little nightgown she'd slept in the night before. There wasn't a hint of dinner on the horizon. He was home all day-couldn't he at least run a freaking load of laundry?
Eventually, communication between Mark and me deteriorated to the point where all we talked about was the baby. Had she gotten enough sleep? What had she eaten for lunch? How could she have run through an entire value pack of diapers in one weekend? "Wait till I tell you what she did," he'd say every once in a while, as we gazed adoringly at the baby and at each other. In those moments- watching him gently rock her to sleep while singing "Punk Rock Girl"-I was reminded why I had once thought Mark was the sexiest man in the world.But our sex life was in ruins. I chalked it up to the transition period all new parents go through. Then one day, I realized it had been almost a year since Mark and I had made love.
Sometimes he'd say, "I really think things would be better for us if we could just be intimate again." Or he'd put the baby to bed early and come into the living room with two glasses of wine and a book of poetry-our classic recipe for seduction-but just the thought of him touching me made me recoil. "Maybe I'm just not a sexual person anymore," I told him, and I honestly meant it.The truth is, I wasn't attracted to him anymore. It wasn't that he'd changed-he still had the same floppy brown hair, bright green eyes, and long freckled limbs that had literally made me quiver when I first met him. But in my head, I'd neutralized him as a sexual being. I wanted to be overwhelmed by the sheer power of his masculinity in the bedroom, but I wasn't. Because I felt like the man in our relationship.
We went to see a therapist. "Don't you think I resent you for how easy it is for you?" Mark asked me during one session. "You have this great job, and I'm home like a slave, running errands, taking care of your shit, and you can't even spare me five minutes of conversation at the end of the day." I think it was the first time I'd actually listened to what he had to say in years. He said that he was angry with me for always putting work first and angry with himself for not being able to find a job. He said he didn't appreciate being treated like a nanny-slash-housekeeper- slash-gardener. But what alternatives was he offering?We separated a few months later.
In retrospect, I realized I had this preconceived idea of what a sexy, attractive man should be like. I imagined being married to, well, someone like me. Someone whose job sounds interesting to other people. Someone who walks out the door with a pressed shirt on, a leather briefcase, and a confident gait. Someone who wins bread. Does that make me a sexist? "I always felt embarrassed and guilty-you had all these ambitions for me that I felt like I wasn't living up to," Mark said to me after our divorce.
So nobody was more surprised than I was when I went ahead and fell for another stay-at-home dad.
Here's the difference, though: Jason knows what he wants-and it's not a corner office. He wants to have his afternoons free to hit the park with my daughter or paint or translate the writings of Pablo Neruda. There's nothing thwarted or self-pitying about him. When we're cooking dinner together on Friday nights in a kitchen fragrant with curry, or trying to drink coffee in bed on Sunday mornings while my daughter dances around us, I'm so attracted to him that it's all I can do not to rip his clothes off then and there.
Put it this way: Whether it's me or the fort he's holding, I think it's damn sexy.
Celebrity news, beauty, fashion advice, and fascinating features, delivered straight to your inbox!