21 Things You Should Know About Painting Your Nails
From the basics to the top-secret tricks.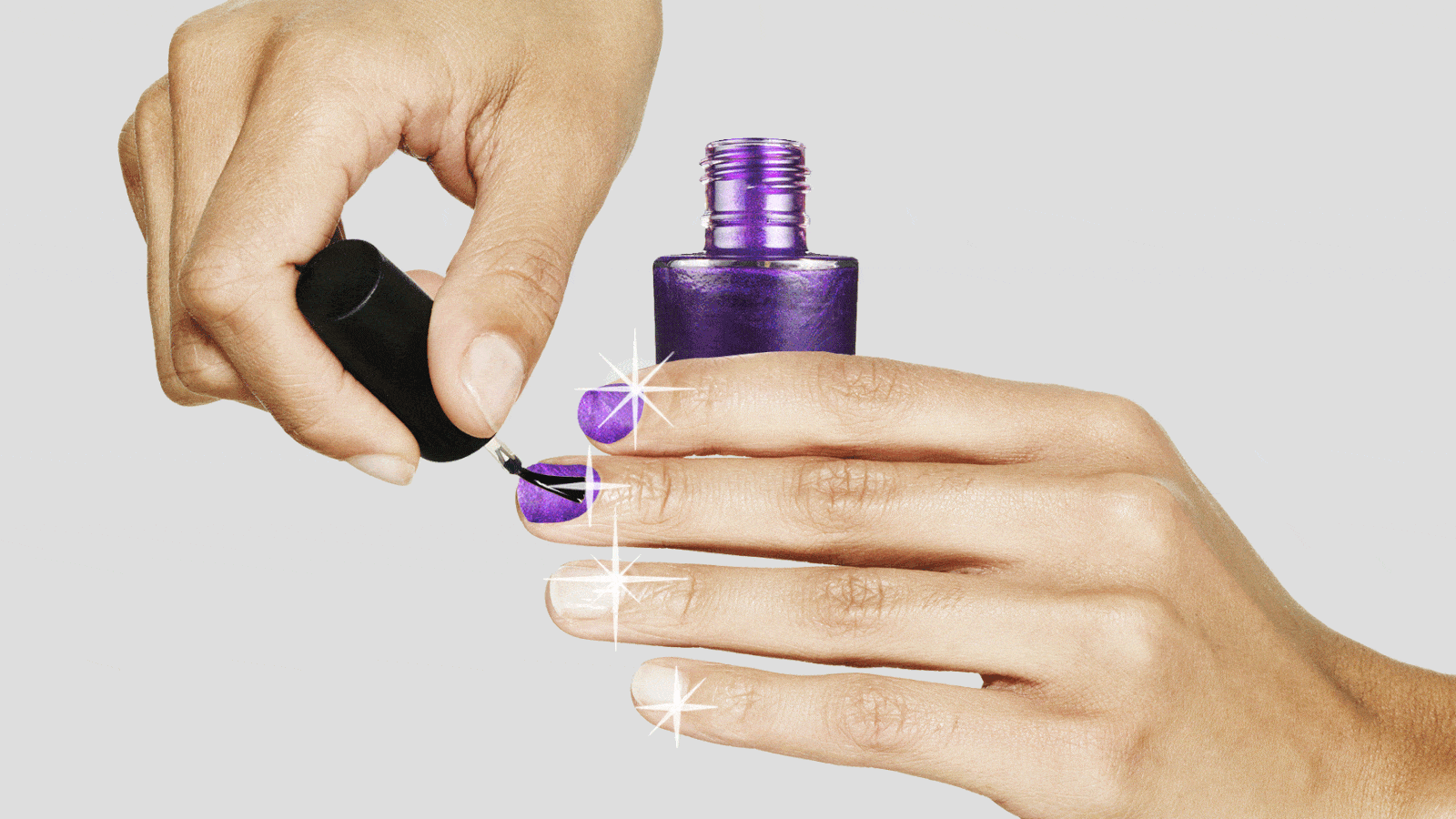 (Image credit: Getty Images)
Marie Claire Newsletter
Celebrity news, beauty, fashion advice, and fascinating features, delivered straight to your inbox!
Thank you for signing up to Marie Claire. You will receive a verification email shortly.
There was a problem. Please refresh the page and try again.
1. Three strokes are all you need. As you're painting your nails, it's best if you use three strokes to apply the polish. "First, you want to dip the brush into the bottle and get a decent-sized bead of polish at the edge of your brush," nail pro Simcha Whitehill says. "You want the polish to do the majority of the work and spread out as it's placed on the nail—the brush is there to just guide the dot of polish into place. Starting at the base of your nail, stroke the brush to the left, to the right, and then down the center." Voila!
To see the process in action, watch the below video starting at 1:40:
2. Always use a base coat. "It might take you some extra time, but it gives the colored polish something to adhere to, making your manicure last a couple of extra days longer, and it prevents staining on your nails from pigmented paint," Whitehill explains.
3. Repurpose your old lip brush to help tidy up the edges of your nail. We've all colored outside of the lines, but when you do it with nail polish, you want to be precise in your clean-up technique. Whitehill suggests dipping an old lip brush into nail polish remover and swiping it around your nail bed to clean up the edges.
4. Find the right white. White nail polish couldn't be cooler than it is right now—it's a super-mod, must-wear shade. But when you're choosing a bottle, you want to make sure the formula is thick and creamy, so that it doesn't go on too sheer or streaky. To make sure it's opaque, take the brush and wipe it against the inside of the top of the bottle; if the polish is sheer against the inside of the bottle, it's not pigmented enough. One to try: Essie Nail Polish in Blanc.
5. Stay away from quick-dry nail polish. It's typically dehydrating and can dry out your nails.
6. Swipe on cuticle oil religiously. "An instant way to look like you've just stepped out of the salon is to use cuticle oil," Whitehill says. "It instantly hydrates them. Then, apply it over your entire nail after you've painted your nails—if you accidentally hit them against something, the oil offers some slip, so they're less likely to nick."
7. Hold your hands under cold water post-paint job. Holding your hands under cold water or dipping your fingertips into ice water for a bit helps them dry faster.
8. Make your neon polish pop. To get your neon paint to be even brighter, apply a white or an opaque nude shade as your first coat of polish. Neons tend to be sheer, so this helps make them seem thicker.
9. Apply thin—not thick—coats of polish. Anytime you're painting your nails, to get your polish to dry faster, apply three thin coats as compared to one or two gloppy layers, because they'll never dry.
10. Keep your paint in a cool, dry, dark place AKA your fridge. Storing your nail polish in the refrigerator helps the formula to last longer—especially since heat and sunlight can alter the thickness and color.
11. Thin out too-thick nail polish with thinner. "You can pick up nail polish thinner at your local beauty store—a few drops added to your polish that's too thick is all you need," she says.
12. Never shake your nail polish. "Instead, roll it back back and forth between your two hands, holding the polish vertically," Whitehill notes. "This ensures there will be no air bubbles in the lacquer or on your nails as you paint it on."
13. Never cut your cuticles. It's a no-no. Here's why.
14. Only bust out the nippers when you have a hangnail. This is the ONLY time you should be reaching for the cuticle nippers. "Hangnails are inevitable, even if you use moisturizer often, and unfortunately the only way to get rid of them is to trim them away," she says.
15. Never saw your nails back and forth when you file them. "Always stroke the file in one direction, otherwise it will tear the tip of your nail and leave it jagged," Whitehill explains. "Filing them incorrectly can also lead to splitting, peeling, and breaking."
16. Stay away from hot water. "Don't do your nails and then do the dishes or hop into the shower," Whitehill says. "Hot water is nail polish's natural-born enemy — it causes the nail bed to expand, forcing the polish to expand with it, typically causing it to crack in the process."
17. Use a cotton ball to help remove your glitter polish. Glitter polish is a bitch to get off of your nail. For that reason, Whitehill suggests soaking a cotton ball in acetone remover, forming the cotton ball over each nail, and then letting it sit on your fingertips for a few minutes. "Then, gently apply some pressure and wipe the polish off with the cotton ball — the glitter should slip right off with it."
18. Go for glitter. Glitter polish or polish that's shimmery lasts longer on your nails than regular formulas.
19. Use non-acetone nail polish remover whenever possible. "Non-acetone isn't as drying to the nail, so if you have a problem with peeling or dry nails, you'll want to use this formula, especially if you're trying to strengthen your nails," she says.
20. Always use three-free (or five-free) polish. Formulas labeled as such are free of formaldehyde, toluene, and dibutyl phthalate (DBP)—ingredients that can raise health concerns if you're exposed to them over a prolonged period of time—are safer and healthier to be using over the course of your life, she says. Try brands like Essie, Butter London, and Deborah Lippmann to name a few. Five-free brands (that in addition lack formaldehyde resin and camphor) include popular luxury brands like Chanel, Dior, and Givenchy.
21. Always use a top coat. And when you apply it, always swipe the very tip of your nail. That way, when you're typing and hitting your tips against the keys constantly, you'll be less likely to get chips.
There, nailed it.
From Cosmopolitan.
Follow Marie Claire on Facebook for the latest celeb news, beauty tips, fascinating reads, livestream video, and more.
Celebrity news, beauty, fashion advice, and fascinating features, delivered straight to your inbox!
Carly Cardellino was the beauty director at Cosmopolitan. If you follow her Instagram, then you know she'll try just about any beauty trend or treatment once (the pics of her purple hair are on IG to prove it). But her favorite part about being in beauty is finding the most effective products, and then sharing that intel with others—because who wants to spend money on stuff that doesn't work? No one, that's who. Her most recent discovery: De La Cruz Sulfur Ointment, which will change your blemish-clearing game! Hopefully through the beauty stories she writes—and the experiences she shares—you can see exactly why she's in this business.