Runway Hair & Beauty Trends to Try This Fall
Here, the top hair and makeup trends that'll be turning heads soon enough.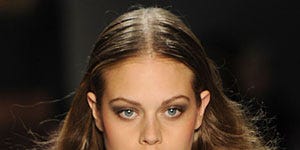 As fashion writers clamor to predict which styles will hit big this fall, it's very clear what direction beauty is heading: glowing skin, bursts of color, and low-maintenance tresses. Here, the top beauty trends that'll be turning heads soon enough.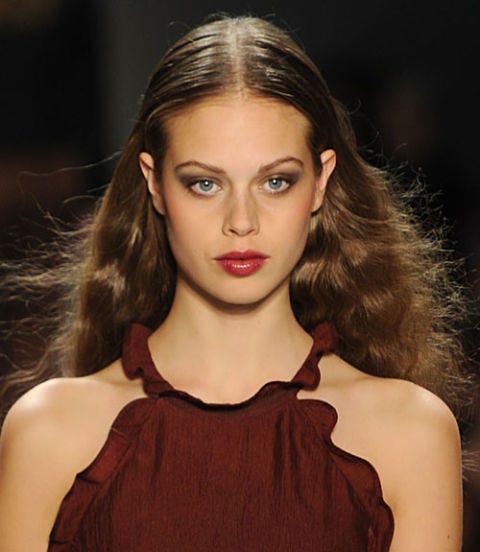 Loose Ends
Rebecca Taylor
Soft and feminine, the designer's fall line paired delicate textures with free-flowing locks — the combination created an air of raw and effortless elegance.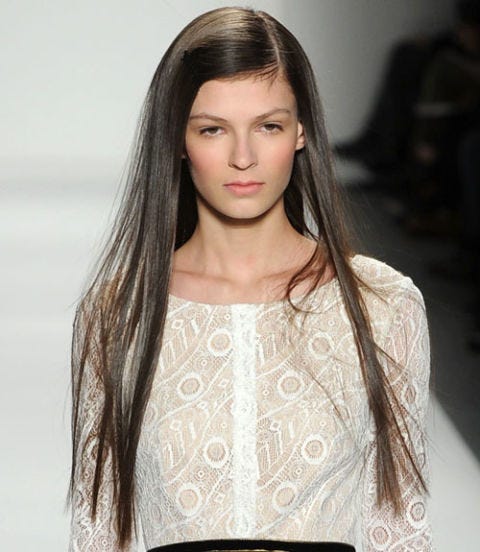 Loose Ends
Tadashi Shoji
Paired with one of this spring's most popular styles — the extreme side part — models walked the runway with stick-straight tresses cascading over their shoulders.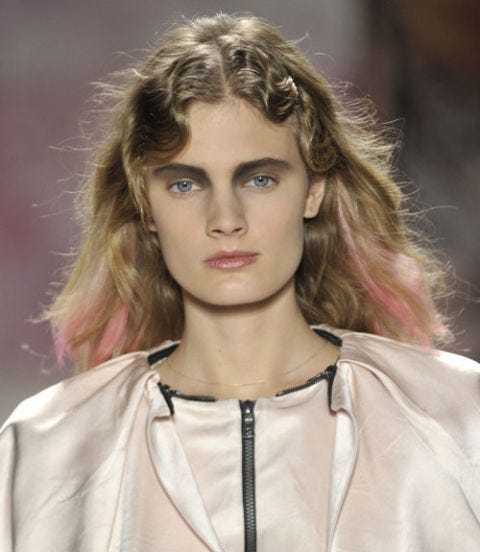 Flashes of Pink
Prabal Gurung
Mixing retro finger curls with satin textures, stylists used pink extensions to add edge to an iconic beauty reference: the flapper.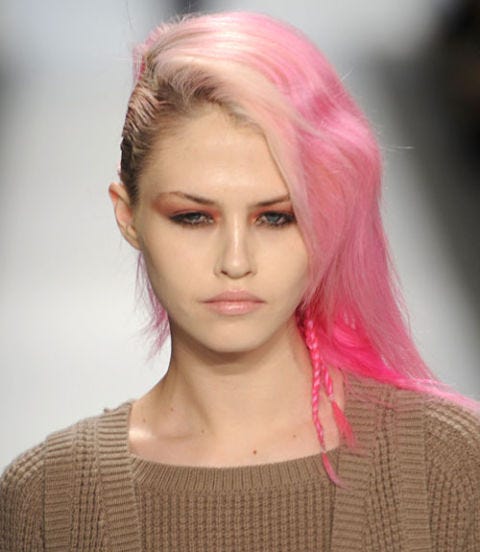 Flashes of Pink
Charlotte Ronson
Ronson's runway was stocked with motorcycle jackets, scull caps, heavy textures, and a streak of color — courtesy of model Charlotte Free's distinctive strands.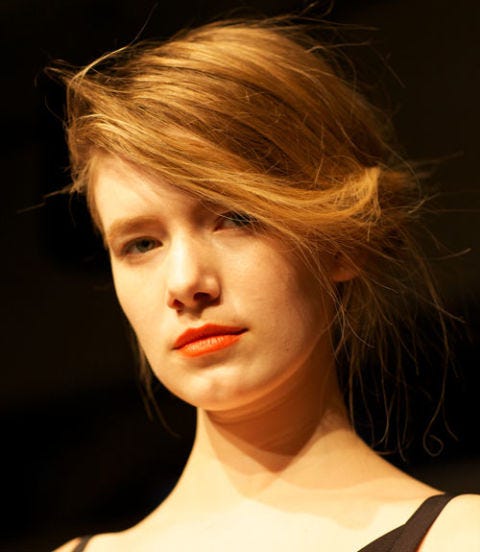 Statement Lip Color
The Lake & Stars
Elisa Flowers, the makeup artist behind the label's fall 2011 makeup look, says she wanted to achieve a sense of "eerie and feminine beauty." She used a defined rouge to complement the models' glowing skin — the look's primary focus.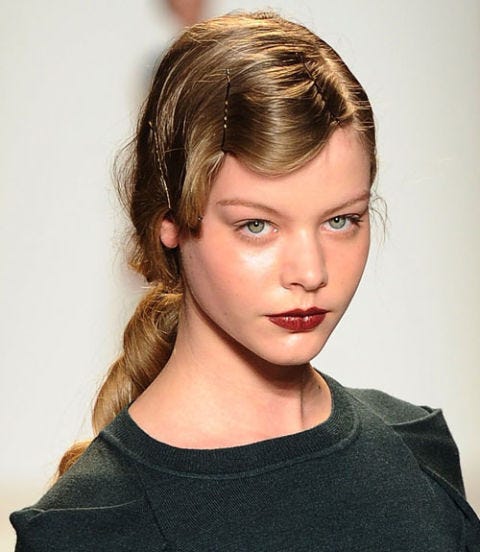 Statement Lip Color
Lela Rose
With an otherwise natural face, the deep ruby shade at the Lela Rose runway show is a perfect example of statement lips.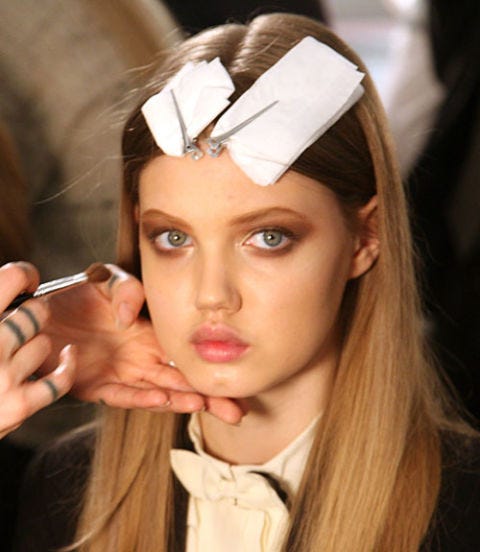 Strong Brows
Jill Stuart
Another trend that was routinely featured on the runway was prominent, expertly shaped eyebrows — one of the most universal looks of Fall Fashion Week.
Strong Brows
Timo Weiland
The meticulously groomed and well-defined brows at the designer's presentation created beautiful symmetry and drama on otherwise naked faces.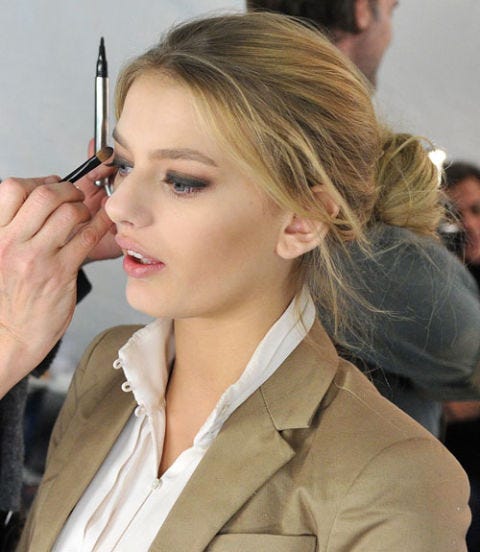 Strong Brows
G-Star Raw
Known for their edgy, street inspired look, the makeup team at G-Star kept faces clean and brows strong.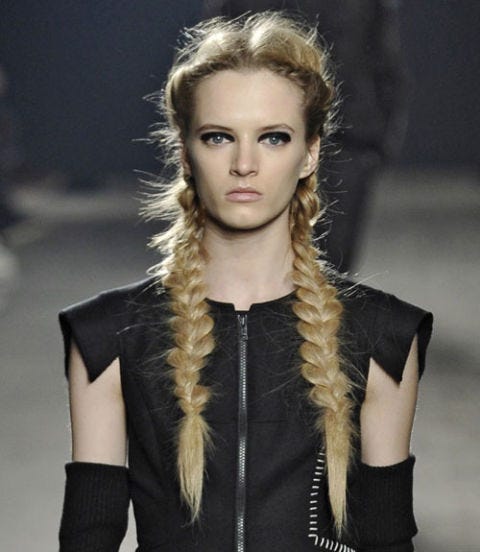 Graphic Eyes
Y-3
"Highlight beautiful skin with a bold statement eye or lip," says Flowers, "but you must choose one or the other." The statement, or graphic eye, was one of the more popular looks this season — including the thick, geometrically top-lined eyes at Y-3.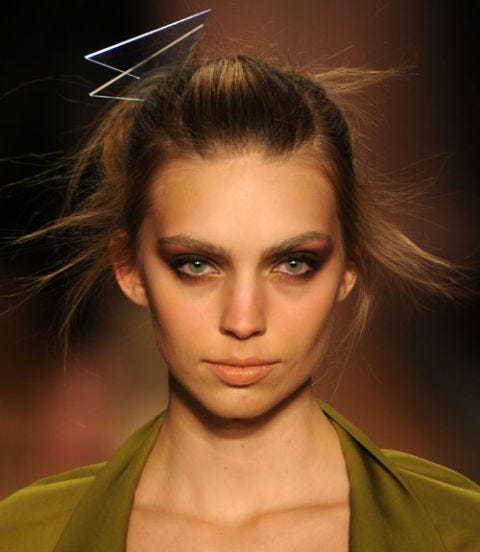 Graphic Eyes
Cynthia Rowley
Using dark and heavy shadows, Cynthia Rowley's beauty look was completely dependent on a stark, standout eye.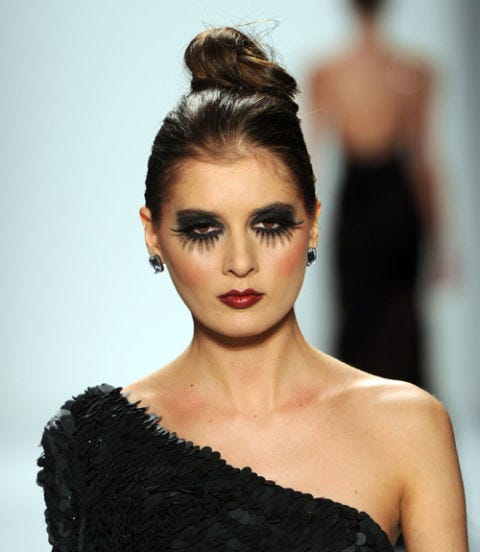 Graphic Eyes
Venexiana
Taking the statement eye to new a level, stylists at Venexiana used extreme lash extensions to create a surreal blend of fantasy and feminine flourish.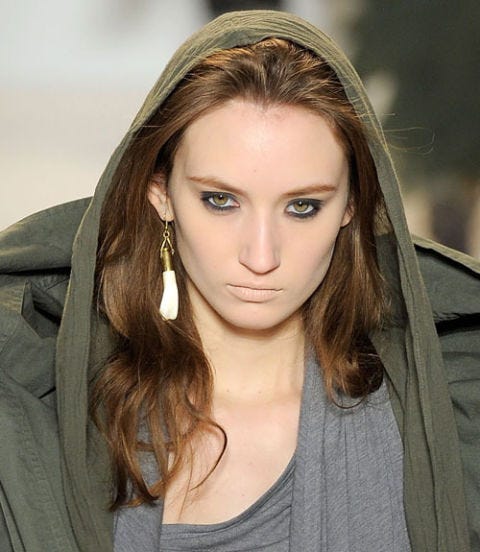 Neutral Palette
Nicholas K
Stylists chose to forgo blushes and shadows and powdered down skin's natural color to a solid matte cream tone — essentially creating a canvas on which one feature could be dramatized.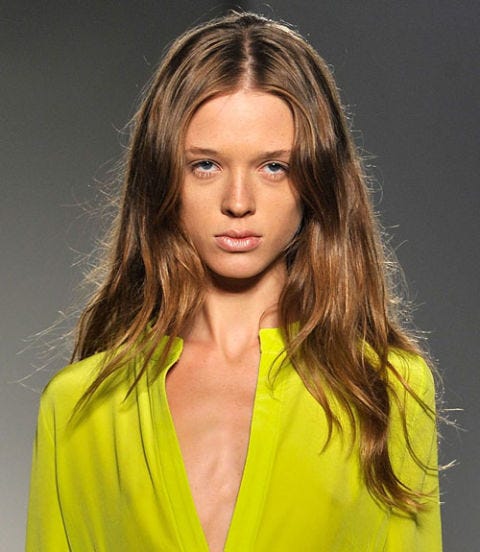 Neutral Palette
Elise Overland
With a slight '70s vibe, the models showed off glowing, natural faces — a look so lovely not even this bright chartreuse dress could overshadow it.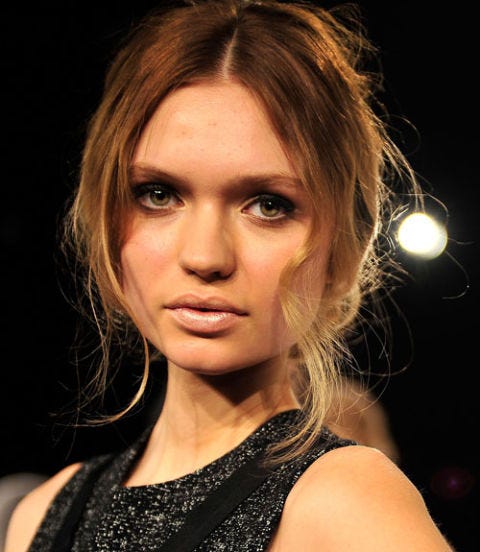 Neutral Palette
Behnaz Sarafpour
In homage to natural beauty, models gave the allusion of being "makeup-less" as both eyes and lips were made-up in neural, flesh-toned pigments.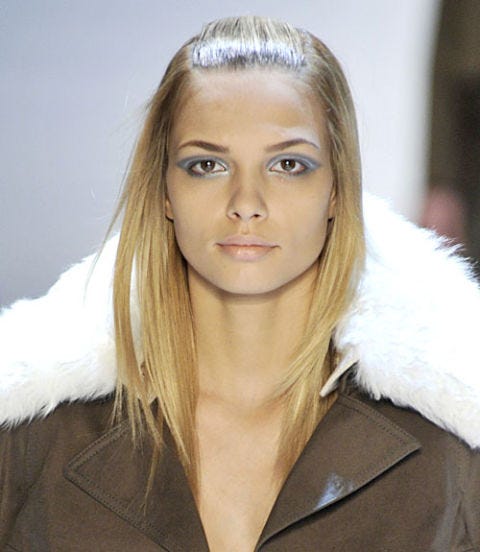 Slicked Back Tresses
Derek Lam
By taking pieces of hair at the top of the forehead and clipping them back, hairstylists at Derek Lam created a simple but functional way to frame the face and highlight bolder statements — in this case, intense silver eye shadow.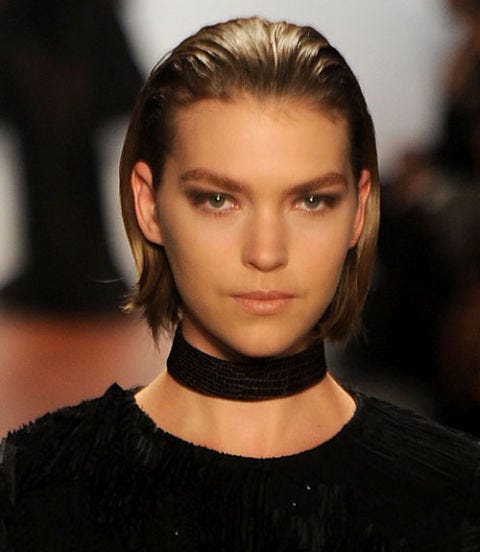 Slicked Back Tresses
Max Azria
Fresh-faced models' skin seemed even more luminous with their hair combed straight back from their foreheads in severe and minimalist styles.
This content is created and maintained by a third party, and imported onto this page to help users provide their email addresses. You may be able to find more information about this and similar content at piano.io