30 Incredible Celebrity Hair Transformations
Beyoncé's got a new look.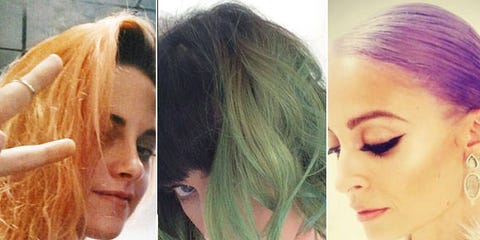 So far, 2014 has been a year of drastic change in the celebrity hair department. We've seen a handful of celebs head to the salon and walk out almost unrecognizable. Whether for a role or just a change of pace, these stars switched things up good.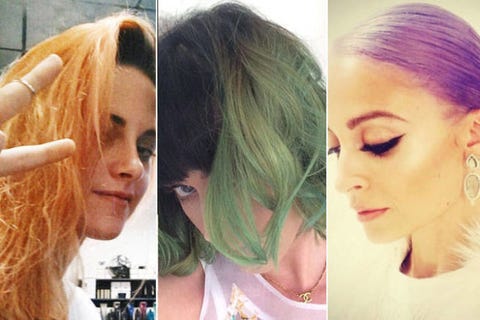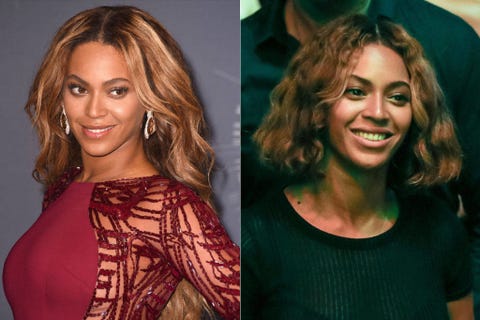 Beyoncé
Queen Bey has ditched her extensions and is back to the bob. Though she's gone short before, it's still a refreshing change from her usual mermaid waves. Here's hoping she does that wet look she did at the Grammys again...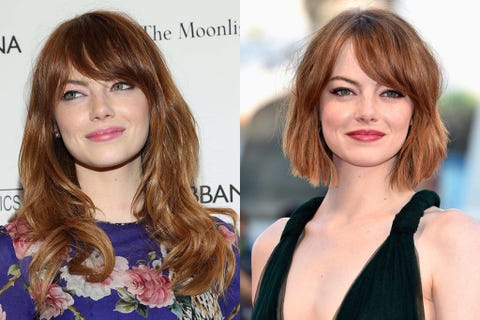 Emma Stone
We thought Emma Stone couldn't get any more gorgeous, then she showed up at the Venice Film Festival with a freshly shorn bob that shows off her sexy neck and shoulders. Boom.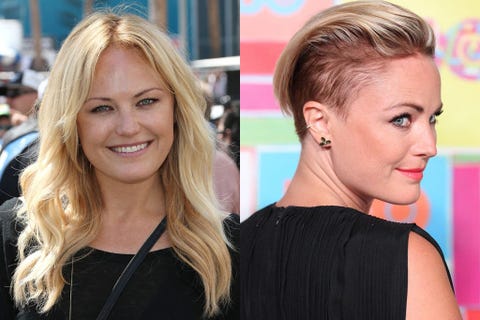 Malin Akerman
Something exciting really did happen at the Emmys—or at least after. Malin Akerman showed up at the HBO party sporting a new dramatic pixie cut with the sides shaved (do you think Miley was her inspiration?). It's a daring move for the actress, but we're all about going from basic to bold—as Akerman tweeted last night "Yup! #changeisgood #Emmys2014."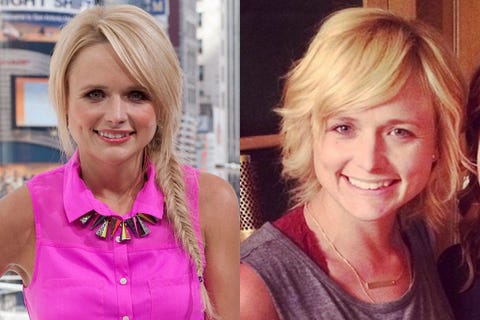 Miranda Lambert
The country singer, known for her long locks, cut her hair not once but twice this summer. She originally went short in June and debuted her latest look, a chin-length platinum bob, on Instagram this August, writing "Fresh cut! Fresh color!" It's a fresh look indeed!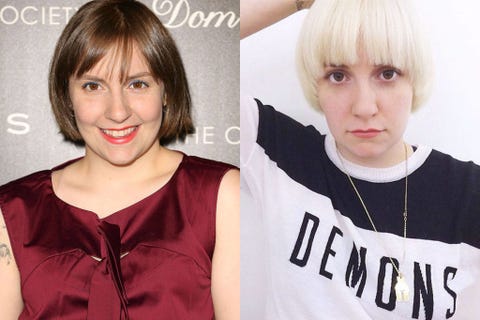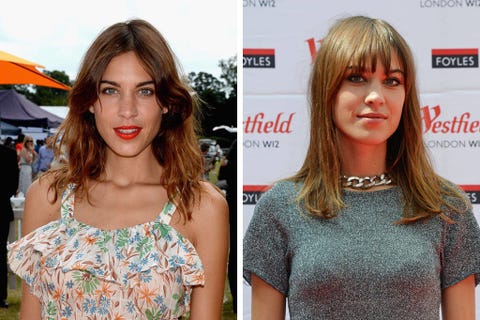 Alexa Chung
For a long time this It Girl's bangs (or fringe as she'd probably say) were a part of her signature look. Then she grew them out and we got used to her long layers. But it looks like Alexa Chung couldn't stay away for too long, as she popped up this week with freshly cut face-framing hair. These bangs are a little more piece-y than the thick ones of her past, and she's blonder too.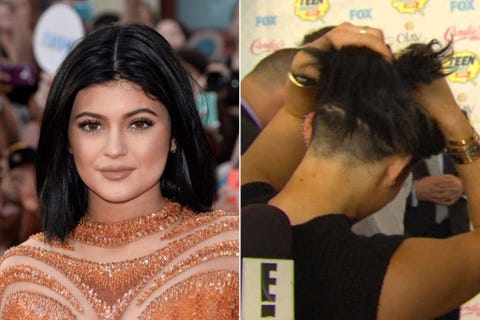 Kylie Jenner
At the 2014 Teen Choice Awards, hair chameleon and now 17-year-old Kylie Jenner revealed that she shaved the back side of her head as a birthday present to herself. The inspiration for the edgy 'do? Surprisingly, it was big sis Kim Kardashian, who had the same cut when she was 12.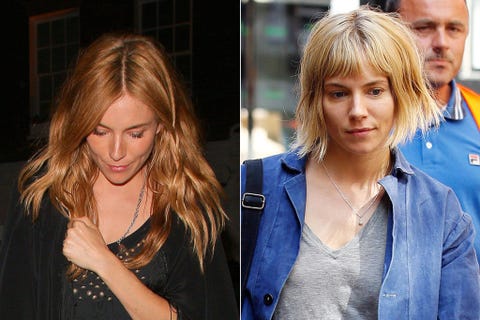 Sienna Miller
Sienna Miller may be just as known for her covetable style and her long, sometimes golden, sometimes strawberry blonde locks as she is for the indie flicks she usually stars in. But her signature hair is no longer: She chopped it into a bob earlier this month and showed up at the set of her latest film Adam Jones this week with freshly shorn bangs as well.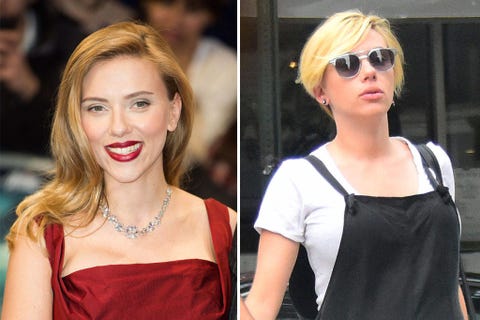 Scarlett Johansson
The mother-to-be just stepped out with majorly shorter (and possibly lighter) locks. Maybe she wants a new look to match her new life as a mom?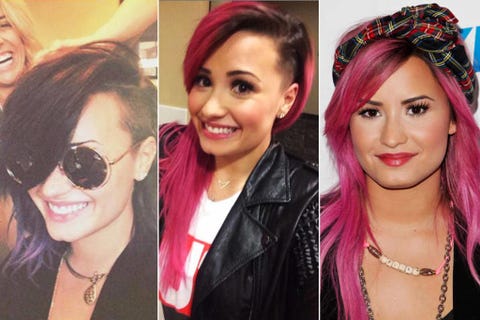 Demi Lovato
Another day, another 'do for this chameleon pop star. Already this year, Lovato has gone pink, then shaved the sides of her head, and now she's chopped it into a layered bob with purple tips.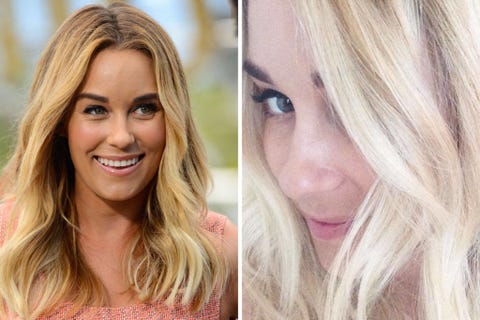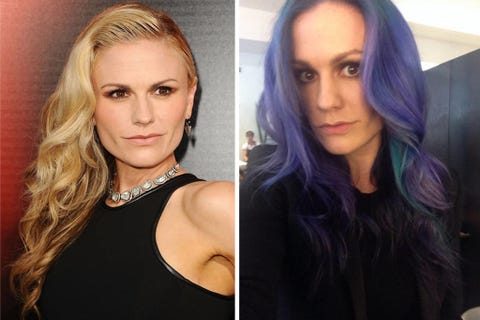 Anna Paquin
So long Sookie. Anna Paquin took to Twitter to ask her hubby and co-star Stephen Moyer if he was into her fulfilling her teen dream of being a mermaid (i.e. dying her hair purple). He quickly responded with "Wow wife... You look amazing." Awww, True Blood love.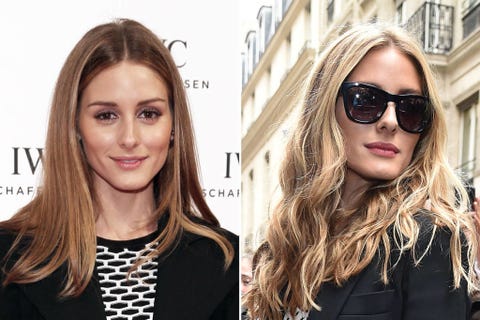 Olivia Palermo
It's a subtle change compared to some we've seen lately, but the new Mrs. Johannes Huebl debuted some lovely honey-blonde locks at the Valentino show during Paris Couture. She is one of those girls that would look good with any hair color, but we're particularly feeling this Blake Lively-esque hue.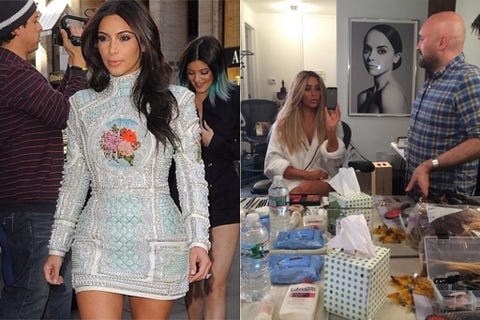 Kim Kardashian
We had a feeling Kim K might be back to blonde sooner or later. With the wedding and North West's first birthday behind her, it looks like it was time for an attention-grabbing change.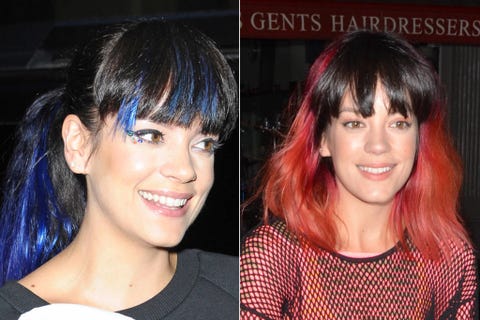 Lily Allen
From Cookie Monster blue to Elmo red!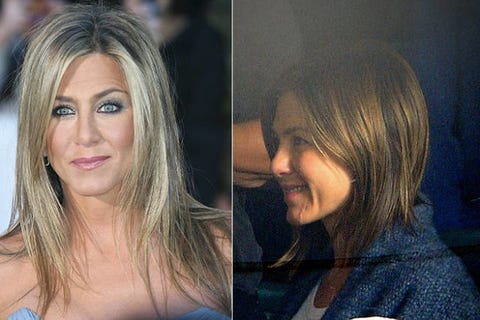 Jennifer Aniston
First she went short, now she's gone dark. Will we ever see "The Rachel" again?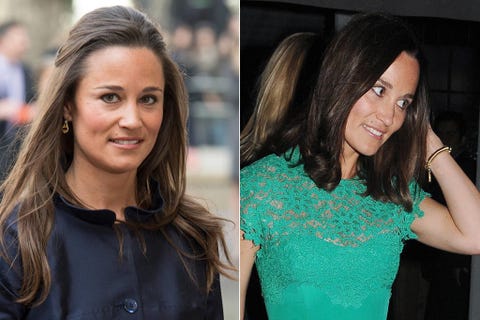 Pippa Middleton
Chopping off a few inches may not be considered a drastic hair transformation for just anybody, but Pippa is a near-royal. Plus, those Middleton sisters are known for their signature long, chocolate brown locks. Do you think the Duchess will be the next to try out the long bob trend?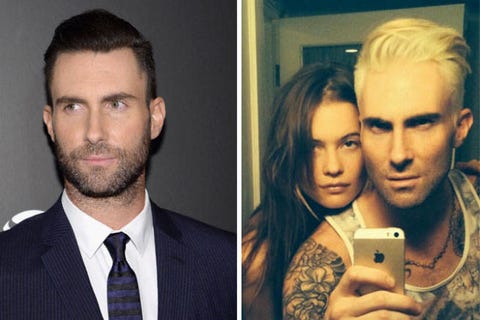 "Twitter/Adam Levine Getty"
Adam Levine
The first guy to be added to our list, Adam Levine took to Instagram with his fiancée Behati Prinsloo to show the world his new bleach-blonde 'do. Then he took to Twitter to tell all the haters, "I hope people understand that when they say my hair looks creepy, I take that as the highest compliment." Which is weirdly, also kind of creepy. I guess we should say, "You're welcome?"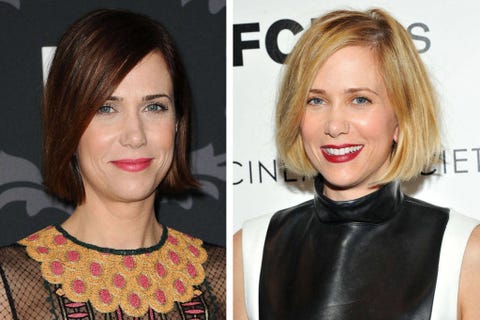 Kristen Wiig
Do we see a trend here? First go short, then go blonde. This funny lady followed in Maggie Gyllenhaal's footsteps with a chop, and a few months later, a bleach job.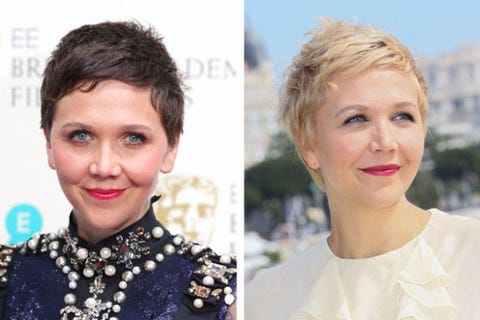 Maggie Gyllenhaal
Gyllenhaal has been sporting a pixie for a while now, so she is no stranger to drastic hairstyles. But she took her look one step further and debuted a new bleach-blonde chop at Cannes.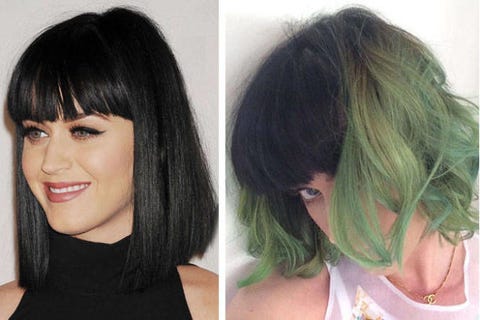 Katy Perry
Just when we thought she'd decided to stick with a hairstyle (it's been a dark lob with bangs for quite some time now), the pop star is back on the bold hair color train. Maybe she's on a mission to check off all the boxes of the rainbow? She's been blue, purple, and pink, and today she took to Instagram to show off a new algae-like, green hue.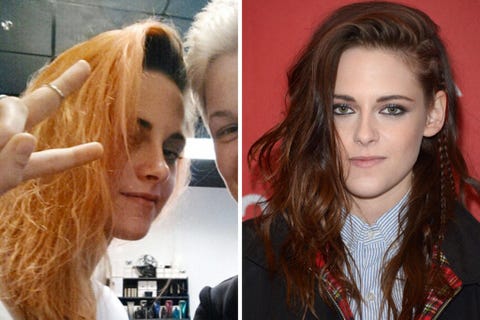 Kristen Stewart
Stewart is no stranger to drastically changing her 'do in the name of a movie role: Who can forget when she took on Joan Jett's black, choppy crop for The Runaways? The actress is at it again, this time going orange (with very dark roots) for her upcoming gig in American Ultra.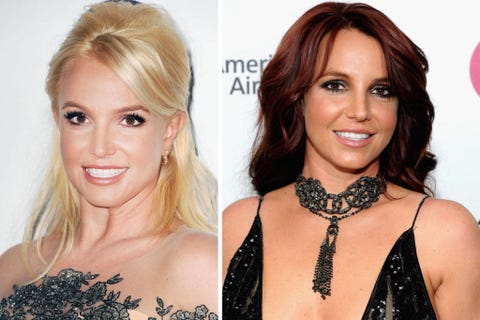 Britney Spears
Though certainly not her most dramatic hair transformation, Spears' dark auburn locks are a big change from her usual blonde 'do.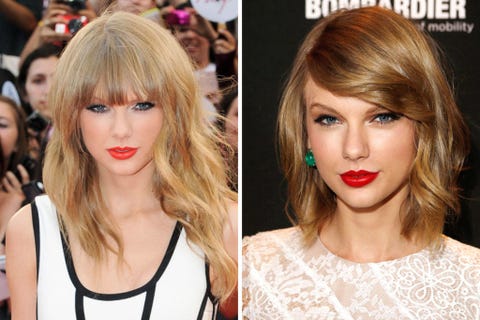 Taylor Swift
Cutting your hair into a long bob is not a particularly drastic move for an average person. But if you're T. Swift, it's almost like losing a limb. How will she ever head bang again?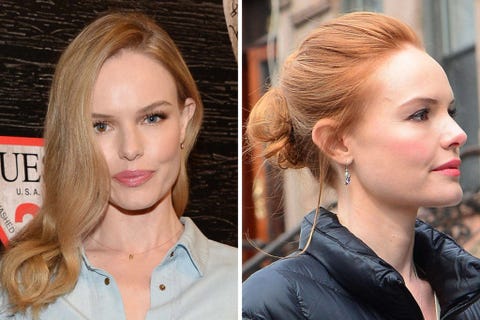 Kate Bosworth
The usually token blonde showed up on the set of her new film Still Alice this month with a freshly-dyed head of red hair, and she looked gorge per usual.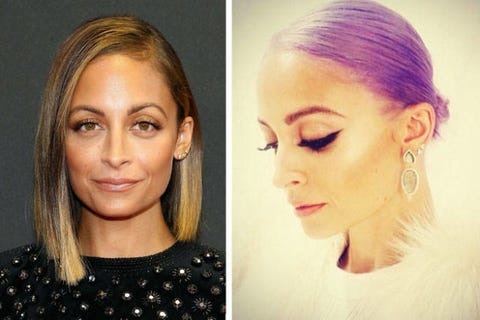 Nicole Richie
After faking us out by posting a picture on Instagram with Photoshopped purple hair, Nicole Richie decided to really take the plunge.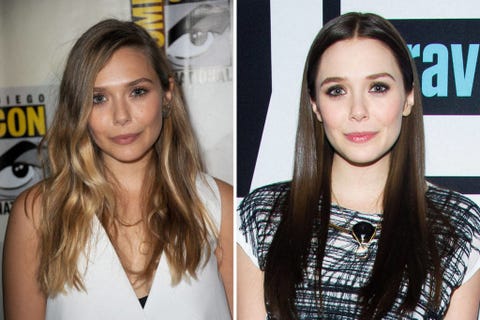 Elizabeth Olsen
This February, the younger Olsen traded in her beachy blonde waves, similar to that of her sisters', for a sleek brunette look.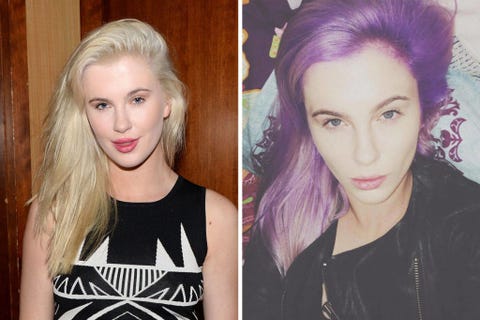 Ireland Baldwin
After years with lavender hair, it seems Kelly Osbourne may have finally sparked a trend. First, Richie followed suit, and days later, a newly single Baldwin debuted her purple 'do.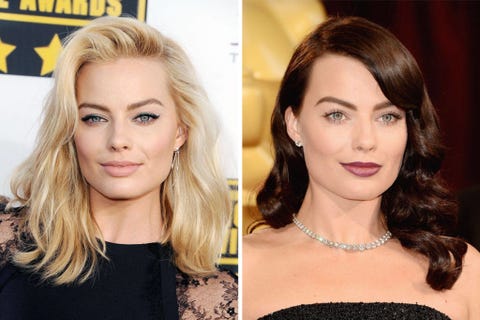 Margot Robbie
When Robbie appeared on the Oscars red carpet, it took us a second before we realized the stunning brunette was in fact the bombshell blonde from The Wolf of Wall Street. Apparently, this was not the first time the actress went dark. She told ELLE.com she had this color all through high school and was devastated when she had to go blonde.
This content is created and maintained by a third party, and imported onto this page to help users provide their email addresses. You may be able to find more information about this and similar content at piano.io