Burgundy Hair Is the Prettiest Fall Hair Trend You Need to Try ASAP
It's like a glass of wine for your hair.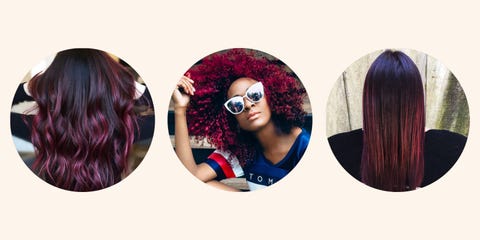 When Neil Diamond sang "Red Red Wine" in 1978, we're pretty sure he was actually talking about his love of merlot-hued hair (...approximately 30 years before the trend took off, but hey).
[contentlinks align='left' textonly='false' numbered='false' headline='Related%20Stories' customtitles='5%20Secrets%20Behind%20Jennifer%20Aniston\'s%20Hair%7CThis%20Selena%20Look-Alike%20Has%20to%20be%20Her%20Secret%20Twin%7C\'90s%20Throwback%20Hair%20Accessories%20Are%20Back' customimages='||' content='article.28796|article.28839|gallery.4954'] Because in case you've been living in a cold, wifi-less cave for the last few days, we're here to tell you that burgundy hair is officially the prettiest new hair trend on social media, and we are *here* for it.
And, bonus, it looks good on virtually all hair types and skin tones, thanks to its mix of cool blue and warm red undertones, making it a surprisingly easy style to pull off. So to get you inspired to call your colorist, we rounded up the most screenshot-worthy pics, ahead, that would make even Neil Diamond swoon.

This content is created and maintained by a third party, and imported onto this page to help users provide their email addresses. You may be able to find more information about this and similar content at piano.io