Kim Kardashian's Makeup Artist Reveals His Drugstore Beauty Essentials
See what's in Mario Dedivanovic's CVS shopping basket.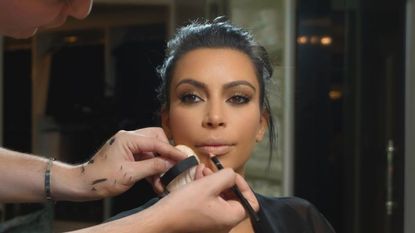 (Image credit: KimKardashianWest.com)
Mario Dedivanovic has been the main makeup artist behind Kim Kardashian's famous face for years, along with her sisters' and an impressive roster of other A-list celebrity clients.
As the frontman of Kim's glam squad, Dedivanovic is a regular feature on her app/website (opens in new tab), breaking down the reality star's favorite looks in step-by-step tutorials. Plus, he shared a slew of life-changing tips and tricks (opens in new tab) during a Master Class in Los Angeles earlier this year, including a crazy-long list of products and tools (opens in new tab) used in Kim Kardashian's 50-step beauty routine. The price tag on this fully-loaded Kim-worthy makeup bag? An eye-watering $1,700. And when you're the Kween of the Kardashian empire, why not splurge? Fortunately for the rest of us, that doesn't mean Dedivanovic can't appreciate a good drug (opens in new tab)
The beauty pro made a CVS run recently and snapped the whole thing for our viewing/note-taking pleasure. (Follow him on Snapchat: @makeupbymario) From false lashes to mascara to hairspray, here are the drugstore essentials that Dedivanovic stocks up on:
Ardell Natural Demi Wispies, $8, ulta.com (opens in new tab).
[/image]
L'Oréal Paris Voluminous Mascara in Carbon Black, $8, drugstore.com (opens in new tab).
Beauty 360 Jumbo Cosmetic Wedges, cvs.com (opens in new tab).
Essence of Beauty Face Wedges, $4, cvs.com (opens in new tab).
L'Oréal Paris Infallible Eye Shadow Butterfly Collection, $8, ulta.com (opens in new tab).
Redken Control Addict 28 Hairspray, $9, ulta.com (opens in new tab).
I am an experienced editor, writer, and creative strategist, specializing in fashion, beauty, and lifestyle content for digital media outlets, as well as video and social platforms. While I currently operate as a freelance contributor/consultant, with such clients as The Zoe Report, my 10+-year background in the industry was cultivated at the dot-coms of elite publications, including Harper's BAZAAR, ELLE, and Marie Claire.