Year in Review: All the Many Crazy Hair-Color Trends of 2015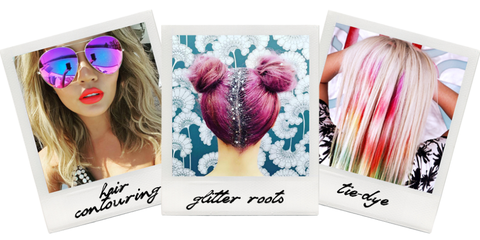 Once upon a time balayage highlights were considered a momentous transformation. These days, they're a total snooze in comparison to the technicolor hair treatments of 2015. From chocolate chip cookie dye jobs to glitter roots, here are all the crazy hair trends that graced our Instagram feeds this year.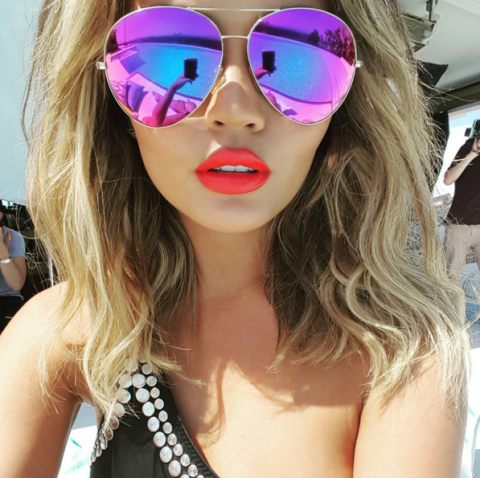 It was only a matter of time, right? Developed by the Charles Worthington Salon in the UK, the bespoke technique uses meticulously placed highlights and lowlights to frame your features based on face shape and skin tone.
"By using light and dark tones to create shadow and depth on the face, as well as applying color in specific areas of the hair, you can completely alter either an entire face shape or specific areas," creator Marc Trinder told us earlier this year.
Find the best highlights for your face shape, here.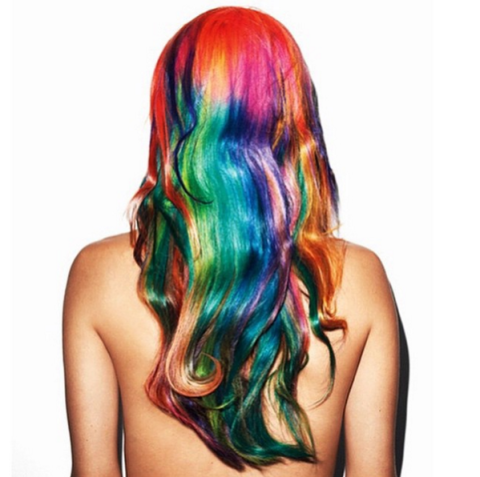 It was model Chloe Nørgaard's thing for years, but rainbow hair went mainstream with this statement-making dye job. The approach is inspired by the glass bottles you filled up with stripey layers of vibrant-hued sand in the '90s.
Editors' Tip: Toss the at-home box color and leave this one to the pros.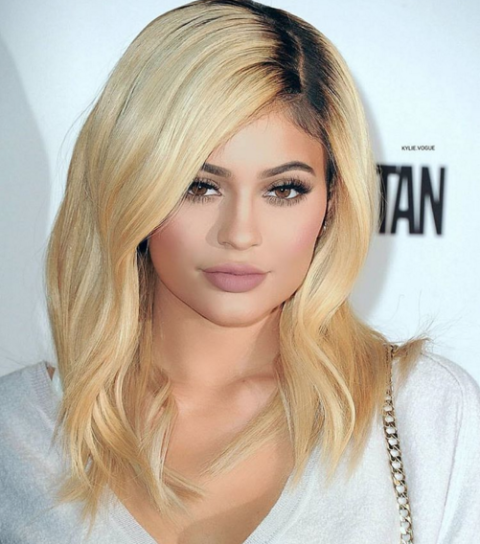 For so long, roots had been shunned—we wouldn't have dreamed of skipping a touch-up appointment. Now, Instagram It girls like Kylie Jenner are purposefully making their colorist appointments few and far between as the super-contrasty, laissez-faire look is totally bold and on trend.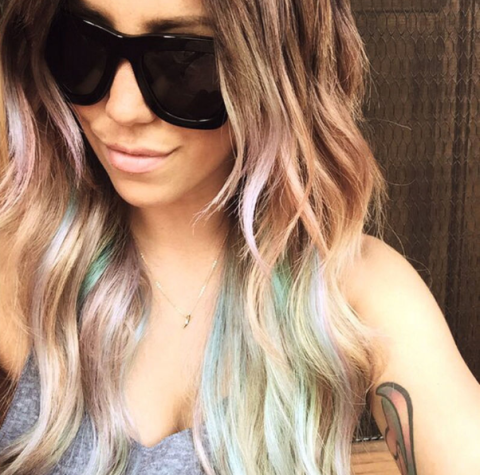 A cross between ombré and color play, you can introduce vivid hues to your mane, but only beginning mid-shaft, fading into the ends. Our verdict: It's less taxing on the hair with the same cool-girl benefits 👌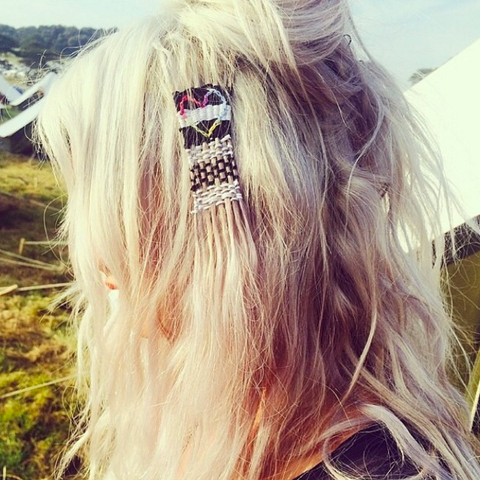 Looking to add a dash of color to hair without hitting the peroxide? The mad hair scientist geniuses at Bleach London dreamed up music-festival-ready hair tapestries, which weave thread into the hair like a tapestry loom—creating intricate, eye-catching patterns.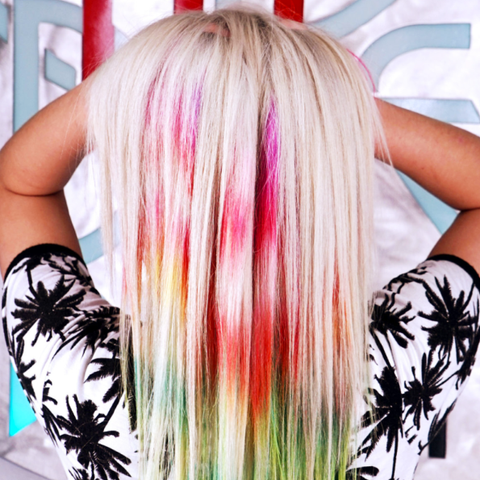 This is basically your dad's perfectly worn-in Grateful Dead T-shirt in a hairstyle. What sets this look apart from other rainbow hair trends is the technique, which entails separating the hair into chunks, sectioning them off at 3-4 inch intervals from roots to tips, then tying them with rubber bands/pieces of fabric (like you would an actual tee) to ensure the color doesn't bleed. Then, you know, dyeing them.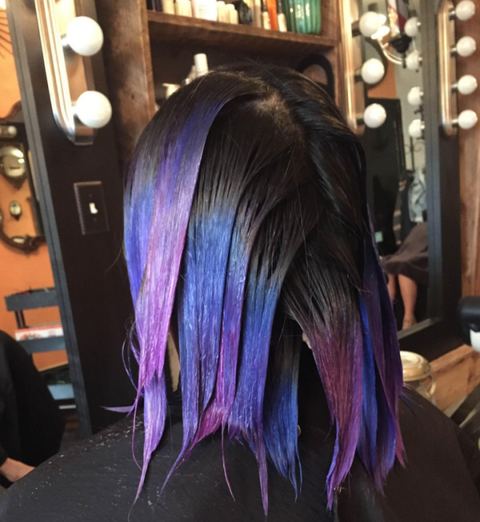 Dreamed up by Jenny Regec, owner and lead colorist at Brooklyn-based salon The Paint Box, the look consists of "multi-tonal hair color flowing from blues, purples, greens, sometimes reds as well as silver tone—typically more pigmented and less pastel." While it's a decidedly Insta-worthy job, be forewarned it's an hours-long process in that you have to bleach the hair, then have your colorist methodically apply different jewel-toned hues with a faded finish.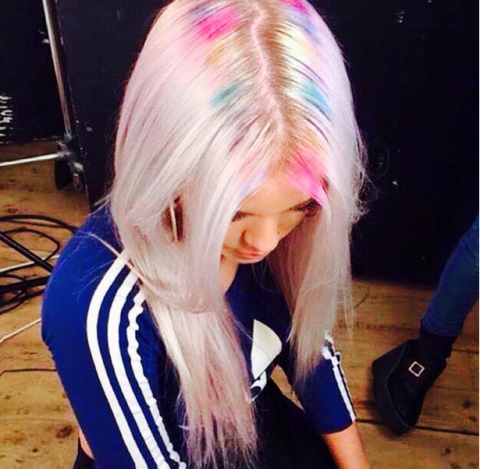 Given that women are 1) Harlequin color obsessed and 2) Getting creative with roots, rainbow roots were pretty much a given. It began with Lottie Tomlinson (yes 1D's Louis' little sister) who decided to paint on multi-colored chunks at the roots of her white-blonde hair. So. Cool. Enough. Said.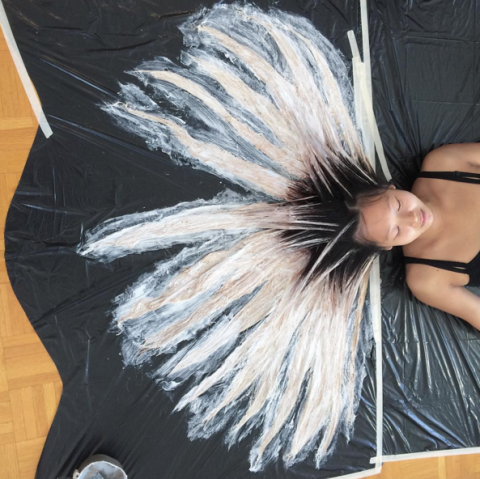 Bid adieu to foil because fluid hair painting could very well be the future. Instead of traditional highlights or balayage, the technique has you laying down with your hair sprawled out on a flat surface so that it can be painted for more fluid highlights.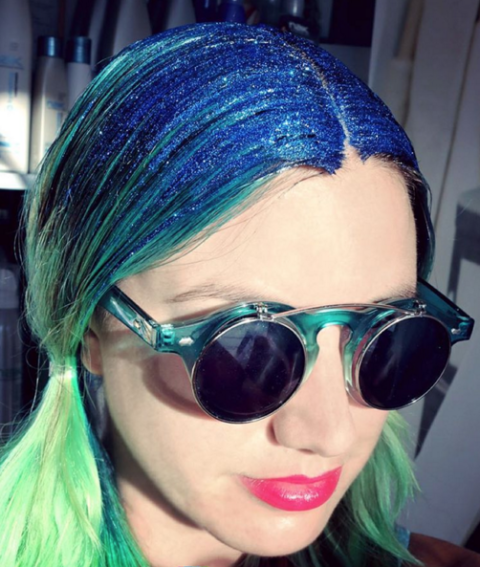 Contrasty roots may be another hair trend, but '90s lovers are embracing there by loading heaps of technicolor glitter on to theirs. The result? A slightly cosmic look, particularly when married with other hair color trends, like opalesuqe hair or colombré.
11
Hand-Pressed Hair Color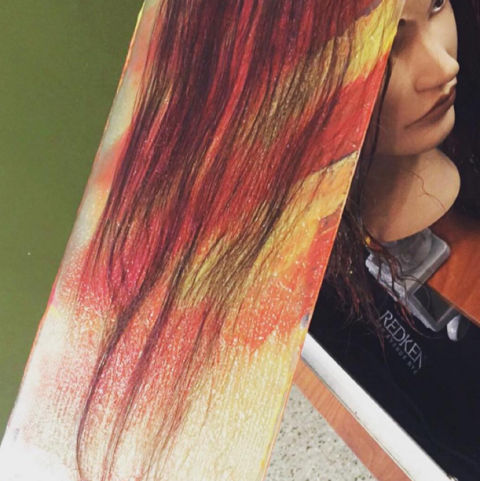 Quite literally dreamt up by Redken colorist Chiala Marvici (yes, it came to her in an actual dream), hand-press color is like taking a screen printing approach to hair color. Basically, Marvici uses a sheet of plexiglass as a canvas to create a swirly designs that leave the hair more dimensional/saturated with pigment.
12
Chocolate Chip Cookie Color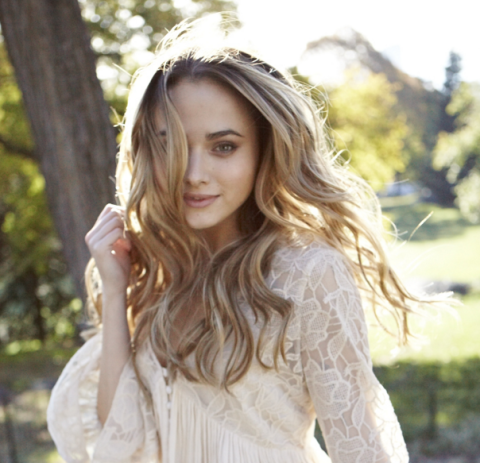 The brainchild of Ryan Pearl at Cutler Salon, the look is intended for brunettes and dark blondes, using soft, ribbon-like honey hues for dimensional, natural-looking highlights. The term "chocolate chip cookie" was Pearl's of way of finding the most exact way to express the shades. And we dig it.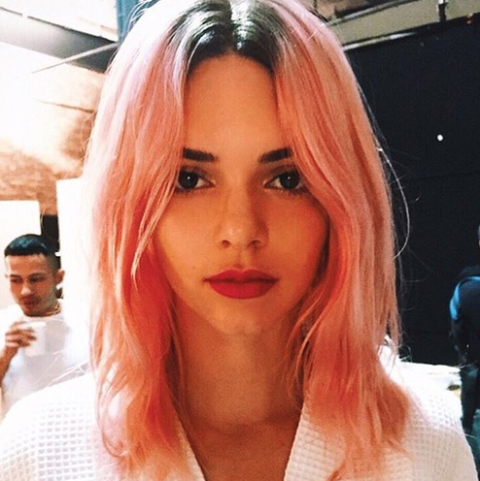 Whether they were strawberry sorbet (ahem, Kendall) or rose gold strands, many a star had us itching to give our hair a pinkover. For over slides of inspo, check out our 30+ slide slideshow of celebs channeling their inner pink lady.
This content is created and maintained by a third party, and imported onto this page to help users provide their email addresses. You may be able to find more information about this and similar content at piano.io