Kim Kardashian Not Opposed to Making Another Sex Tape, as Long as It Stays Private This Time
Seriously, she and Kanye may have already filmed one. Or two, or six! Who knows. They might be filming one right now; the call is coming from inside the house!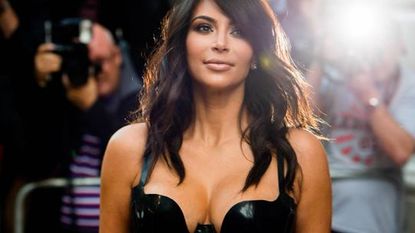 (Image credit: Archives)
British GQ have, at least so far, only released a few tantalizing excerpts how to deal with making pleasantries with y\'all Americans.)
Anyway, it\'s probably amid a discussion of celebrity sex tapes, because Kim continues to wax poetic on the subject. "So far as the sex tape is concerned, whether or not [Kanye and I'] made another … If we have, it's never something I want to go public," she says. "I never want to make the same mistake twice." Sexy bed sheet photo shoots are still fair game though. Why shouldn't they be?!
Also, when your first sex tape helped vault you to superstardom, can/should you really call it a mistake? That's a question for another interview — likely one that ends abruptly.
Kim also told the magazine that, of all people, it was encouragement from Vogue editor Anna Wintour that finally helped her and Kanye decide that North really was the best name for their firstborn. Kim says Anna said the name was "a genius idea," so there you go. Pharrell Williams also encouraged the nomenclature.
Look for more from Kim in British GQ's new issue, or at GQ-Magazine.co.uk
Oh, and P.S. in other delightful Kardashian/Vogue news, The Cut noticed that Andre Leon Talley had his face blurred in the Kimye wedding scenes (specifically, the pre-wedding brunch) during recentKUWTK episodes. Presumably he refused to sign a waiver; this despite the fact that he wrote about the experience for Vogue. The other noticeably blurred face is Vogue Italia editor Franca Sozzani — it maybe seems that, despite that Vogue cover, the fashion world isn't quite ready to embrace all things Kardashian, at least publicly.
Related:
The Most Insightful Kim Kardashian Quotes
Kim Kardashian and Elizabeth Taylor, Two Women Who'll Never Apologize for Their Success
Kimye Partied With Celebs Galore in Ibiza This Weekend
Marie Claire email subscribers get intel on fashion and beauty trends, hot-off-the-press celebrity news, and more. Sign up here.
I'm the news director here at Cosmopolitan.com, and I could really use a cup of tea right now. When I say I'm a lady on the street but a freak in the sheets, I mean that I'm eating mint chocolate cheesecake in bed. (Also, I'm a guy.)