The Timeline of Rihanna and Leonardo DiCaprio's Fake Relationship
A little list of every rumor and "sighting" of their would-be romance.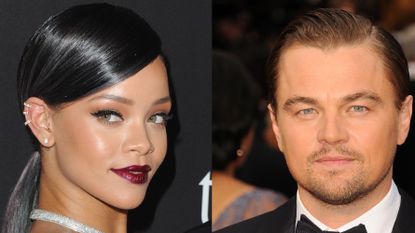 (Image credit: archive)
Thanks to a couple of probably coincidental sightings of Rihanna and Leonardo DiCaprio hanging out in the same vicinity, rumors have been swirling for weeks about the possibility of a romantic relationship between the pair. Here, a definitive timeline of every rumor, tabloid headline, and "insider" quote on the matter.
Some background: Talk about meant to be: At the end of 2014, Rihanna had reportedly "sworn off rappers," since "those guys only bring her pain and heartache," and "are whack and very childish" according to "a source very close" to the singer. Therefore, it only made sense that RiRi go running into the arms of man-child Leonardo DiCaprio, actor and modelizer with a reputation for partying and doing karate on yachts with dozens of his closest maybe-20-something female friends. Yep, this guy is clearly all about approaching romance with a delicate hand.
December 31, 2014: The duo is first linked when they both choose St. Barts as their destination to ring in the New Year. But before you're all, "St. Barts is like, this whole island, and anyway Leo hangs out there all the time, sometimes with 20 women at once," we say, ha! He was only there with eight women this time, and this group was possibly at the same club as Rihanna. So they obviously hooked up.
January 10, 2015: They were spotted together next at the place where all lasting relationships are born: The Playboy Mansion, at Hef's Golden Globes party. Two attendees swore they saw the couple "swapping spit," a phrase that should be used never. Friends of the celebs later vehemently denied this, but one of the partygoers tweeted it, so it must be true.
"@MissCarlyLauren: Just saw Leo and Rihanna make out while "pour it up" was playing. What is this life 😳" 👀👀👀January 11, 2015
See more
January 21, 2015: They were within a 500-yard radius of one another on New Year's and maybe made out at the Playboy Mansion, which can only mean one thing: It's time to meet the parents! According to InTouch and Hollywood Life, RiRi is so smitten with Leo's "sweet smile and little nose" that she's gearing up to bring him to Barbados to meet her family, a sure sign that she "adores him."
February 14, 2015: After three weeks spent probably planning their impending marriage, the duo of course spends Valentine's Day weekend together. More specifically, they spend it on a romantic tour of New York's hottest clubs, including Up & Down and 1Oak, before hitting a secret Paul McCartney concert where they "whisper and stare into each other's eyes," according to Us Weekly.
February 18, 2015: But, wait! Was it all a lie? Were the "sources" wrong, for the first time ever in celebrity history?! The Daily Mail throws out a curveball to all things Rionardo by suggesting that Rihanna is not dating Leo, but his good friend Richie Akiva—hence why they've been frequenting the same locales. To which we say, psh, whatever—we don't pay attention to unsubstantiated rumors.
February 20, 2015: Leo might not love celebrating the birthdays of the young folk he's dating (though he's a young 40), but he was kind enough to grit his teeth and be there for Rihanna when she celebrated her 27th year with a big bash in Hollywood Hills. Despite the long list of celeb attendees, E! says that Rihanna apparently "only had eyes" for Leo, and according to yet another reliable source, the pair was "seen kissing, touching and dancing with each other" all night.
February 28: Deep romantic stares, meeting the parents, and cute little noses aside, their relationship is totally casual, guys. In fact, the main argument now seems to be who is more into whom. According to Hollywood Life, Rihanna is all too aware that Leo "is hooking up with a new model pretty much every week" and is totally cool with just hooking up, while Leo worries that "his privacy would be compromised" if he were to seriously date Rihanna. (Good thing they're flying under the radar right now.)
March 2, 2015: Today was a big deal in this Rihlationship, for good and bad reasons. For one, the couple's first tabloid photo! The truth was confirmed with a snap of Rihanna lighting Leo's cigarette, which is not an innuendo but a very literal show of deep love and affection. However, the plot thickens: TMZ eloquently reports that the two are "banging but it's a little one-sided." An equally well-spoken source classifies RiRi as a stage five clinger: "She's the baddest bitch in the party, but she's following him everywhere."
There's already so much between these two, it's hard to imagine what twists and turns this soap opera of a romance holds for us next.
You should also check out:
25 Times Rihanna Killed It on the Red Carpet
Celebrity news, beauty, fashion advice, and fascinating features, delivered straight to your inbox!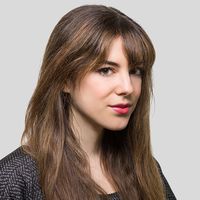 Victoria Hoff is the associate editor at ELLE.com, covering everything from fashion to beauty to wellness. She first joined the team as the editorial assistant in 2013. When she isn't working, she spends her days in Brooklyn eating (vegan) tacos, yoga-ing, and curating her collections of healing crystals and mom jeans.