Rebel Wilson Made a Play for Justin Bieber's Heart in the Most Old-Fashioned Way
And it actually worked.
Online dating be damned. Rebel Wilson is keeping it old school—or should we say, middle school—when it comes to finding a Valentine this year. During an appearance on The Graham Norton Show on Friday, the How to Be Single star revealed how she scored a date with none other than Justin Bieber using a very old-fashioned method.
"It was Jennifer Lopez's opening night in Las Vegas a couple weeks ago.… and [Kelly Osbourne and I] noticed Justin Bieber was sitting two rows behind us," Wilson recalled. "And we thought, you know what, Valentine's Day is coming up, we're both single, let's just make a play for him. At first we thought it'd be funny, but then it actually worked. We sent Justin a note through our bodyguard… he ticked yes."
"As you can see from Exhibit A (above), it is ticked seven times, yes? So I believe that means like, seven dates he owes me. You know, I'm thinking horseback riding or private pool party. He hasn't like, got back in touch with me about the actual date. I should probably stop talking about it because he's going to think I'm really weird."
Better hurry up, Biebs—Valentine's Day is tomorrow!
Marie Claire email subscribers get intel on fashion and beauty trends, hot-off-the-press celebrity news, and more. Sign up here.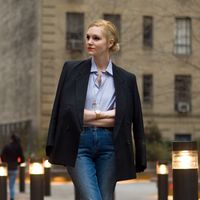 I am an experienced editor, writer, and creative strategist, specializing in fashion, beauty, and lifestyle content for digital media outlets, as well as video and social platforms. While I currently operate as a freelance contributor/consultant, with such clients as The Zoe Report, my 10+-year background in the industry was cultivated at the dot-coms of elite publications, including Harper's BAZAAR, ELLE, and Marie Claire.