Lady Gaga and Bradley Cooper Make The Coolest Biker Gang
Just look at those leather jackets.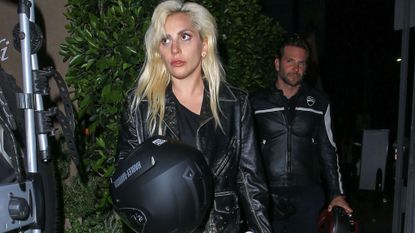 (Image credit: Getty Images)
Sign us up for this biker gang: Last night Bradley Cooper gave Lady Gaga a lift to dinner in Santa Monica, California — on the back of his motorcycle. The two friends looked like true bikers: Lady Gaga in her ripped jeans, studded boots and leather jacket and Cooper in his Ducati jacket and tight pants.
Before you start speculating about anything romantic, remember that Cooper is dating model Irina Shayk and Gaga is smitten with fiancé Taylor Kinney.
The more likely reason for their motorcycle hangout is well, they're just the coolest. But also they could potentially be working on a movie together according to US Weekly and hopeful fan commenters. It wouldn't be a surprise considering the amazing past year Gaga has had in the acting world. For now, let's just enjoy this meet up for how badass it is.