The Naked Celebrities in Kanye West's Video React
"Why I gotta have the plumbers butt/crack showing WAX figure?"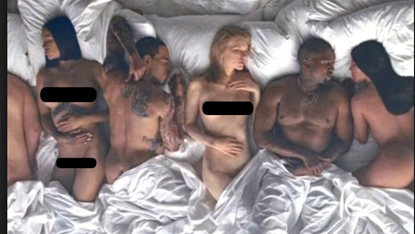 (Image credit: Tidal)
Kanye West has appeared like an angel to make an otherwise slow news day into an ~event~. Thank you, Big Baby Yeezus!
Last night, Kanye debuted the very-filled-with-naked-celebrities music video for his single, "Famous." Today, celebrities featured in the video are speaking out. The first? Why, Chris Brown, of course.
"Why I gotta have the plumbers butt/crack showing WAX figure?" he captioned the photo. "This n----a KANYE CRAZY, talented, but crazy."
So, that seems to imply that he had no idea that he would be in the photo, right? Or maybe this is all to generate even more publicity. (Which, let's be real, they won't have a problem doing with this video.)
As for the other celebs, an aide for former president Bush simply and succinctly told Us Weekly, "That's not him."
Both Anna Wintour and Caitlyn Jenner's reps had no comment, and nobody else has spoken out yet. YET. (Please excuse me while I go pray to the goddess above that Taylor Swift releases a statement about this.)
According to an interview with Kanye over on Vanity Fair, the music video was "filmed over a period of three months and cycled through four different formats and several different collaborators until West felt he'd achieved the result he wanted."
Well, good job, team! The result is definitely internet chaos — and you know Kanye wouldn't want anything less.
Watch the *majorly* NSFW video and live streams below:
I write on Fox's THE GREAT NORTH. Before that, I wrote and edited for Cosmopolitan magazine and the Jezebel blog. My writing has also appeared in the New York Times, The New Yorker, Esquire, VICE, Marie Claire, McSweeney's, California Sunday, BUST, Elle, Village Voice, Harper's Bazaar, LA Weekly, Eater, Fast Company, Mic, Atlas Obscura, and more. I co-host/co-produce a comedy/storytelling show on the first Friday of every month at Stories in LA. I have a degree in Film and TV from NYU's Tisch School of the Arts.